Britain's May Faces Bumpy Road to 'Special Relationship' with U.S.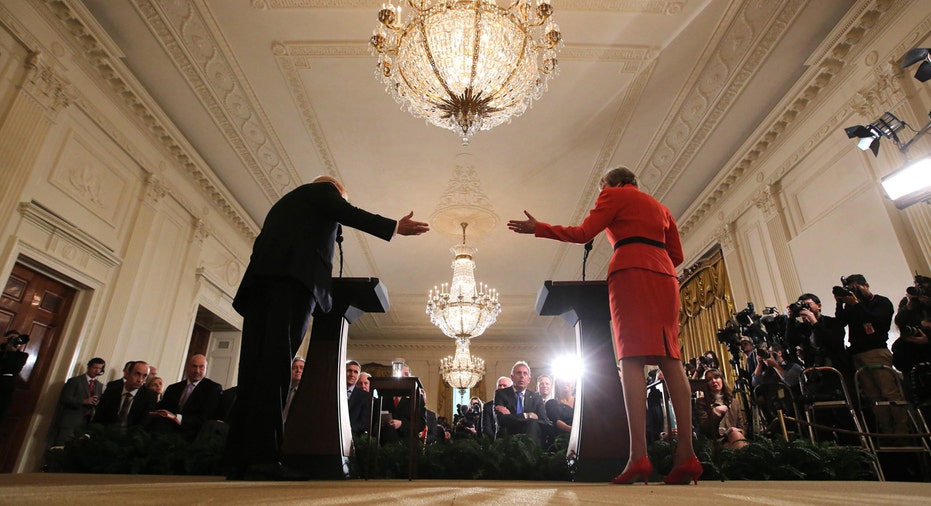 It was an invitation to seal Theresa May's bid to revitalize the "special relationship" with the United States, but the promise of a state visit for Donald Trump is turning into another headache for the British leader.
May is determined to strengthen her hand before launching divorce talks with the European Union by bolstering ties with world powers like the United States. Her trip to the United States last month that aides described as successful ended with Trump's acceptance of a chance to meet Queen Elizabeth.
But any enjoyment of what a source in May's team praised as a "warm, free-flowing and unscripted conversation", one that yielded a Trump promise of a trade deal as soon as Britain leaves the EU, was short-lived.
On her return home, May came under fire for not immediately condemning Trump's summary curbs on immigration. Since then over 1.8 million people have signed a petition urging the visit be canceled or downgraded to avoid embarrassing the Queen, though about half of Britons say it should go ahead.
On Monday, the speaker of Britain's lower house of parliament, a member of her ruling Conservative Party, rejected any plans for Trump to address parliament during the visit.
"An address by a foreign leader to both houses of parliament is not an automatic right; it is an earned honor," House of Commons speaker John Bercow told parliament - to cheers from members of the opposition and near silence from his own party.
"As far as this place (parliament) is concerned, I feel very strongly that our opposition to racism and to sexism and our support for equality before the law and an independent judiciary are hugely important considerations," said Bercow, who has some say over where a parliamentary address can take place.
For many in Britain's august, centuries-old parliament, his comments broke with tradition.
The speaker is seen as a neutral voice whose main role is to keep order in the House of Commons and to keep the prime minister informed of the mood in the chamber over certain issues, mostly privately rather than publicly, lawmakers say.
SPLIT
He drew support from many in the main opposition Labour Party and the Scottish National Party. Both have voiced disquiet about according Trump a platform in Britain following his disputed executive order barring entry for refugees and people from seven Muslim-majority countries.
But for several Conservative colleagues, Bercow may have overstepped his writ, while underlining the "controversy" May must navigate as she pursues closer ties with the United States as leverage in looming EU exit negotiations.
"We've got to move the discussion on to try to rescue the visit and the relationship with the States," said Crispin Blunt, a senior Conservative lawmaker and chair of parliament's foreign affairs select committee.
He told Reuters the trip could be moved to 2020 to coincide with the 400th anniversary of the Pilgrim Fathers, the first English settlers in America, when both sides could also sign a trade deal following Britain's expected exit from the EU.
It was not known how Trump viewed Bercow's comments.
May, who is also under pressure from some of her lawmakers over her strategy for Brexit, has yet to be moved on her commitment to a state visit for Trump this year.
"We look forward to welcoming the president to the UK later this year," a spokeswoman for May said. "Dates and arrangements for the state visit will be worked out in due course."
At particular issue is whether Trump will be able to speak in Westminster Hall, the oldest wing of the Palace of Westminster where it is deemed a rare honor for foreign leaders to address both houses of parliament. Barack Obama was the first U.S. president to use the hall to address parliament in 2011.
A state visit does not automatically include an address to both houses of parliament, according to the Hansard Society, an independent charity that promotes British parliamentary democracy, and this does not have to take place in the hall.
If one is granted in Westminster Hall, the invitation rests with parliament in the form of its speakers of the two houses and the Lord Great Chamberlain on behalf of the Queen, it said.
Bercow said he was "strongly opposed" to an address by Trump in the hall even before his immigration curbs. "After the imposition of the migrant ban ... I am even more strongly opposed to an address by President Trump in Westminster Hall."
Blunt said it was very likely May was aware of Bercow's views before she went to Washington in late January and would have known she would have to engineer Trump's visit to take account of parliament's position.
"Now we have a situation that the referee has taken a view and has gone on one side of a very controversial area."
(Editing by Mark Heinrich)