Britain in Recession Again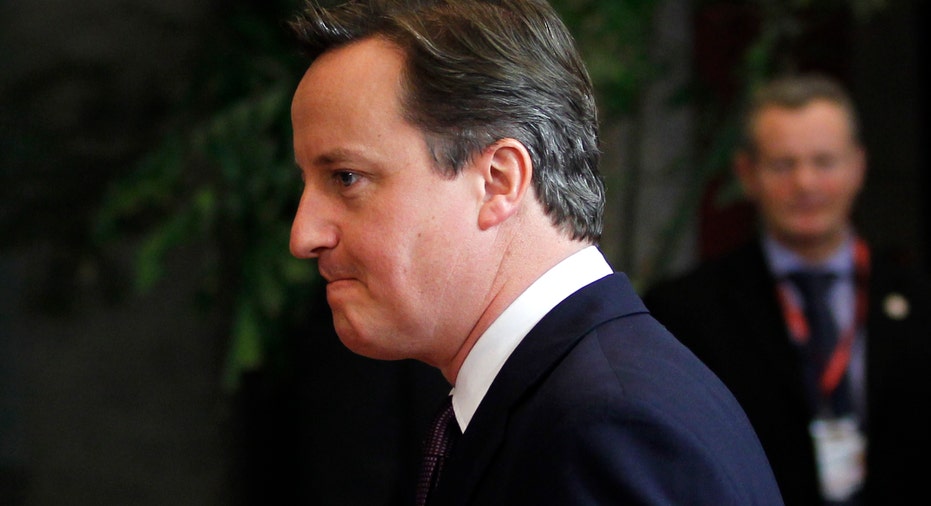 Britain's economy has fallen into its second recession since the financial crisis after an shock contraction at the start of 2012, heaping pressure on Prime Minister David Cameron's government as it reels from a series of political missteps.
Britain's Conservative-Liberal Democrat coalition has seen its support crumble after weeks of criticism over unpopular tax measures in last month's budget, and is under further pressure from revelations about its close links with media tycoon Rupert Murdoch.
With local elections taking place on May 3, there could hardly be worse timing for Wednesday's news from the Office for National Statistics that Britain's gross domestic product fell 0.2 percent in the first quarter of 2012 on top of a 0.3 percent decline at the end of 2011.
Most economists had expected Britain's economy to eke out modest growth in early 2012, but these forecasts were upset by the biggest fall in construction output in three years, coupled with a slump in financial services and oil and gas extraction.
Cameron said the figures were "very, very disappointing".
He told parliament: "I don't seek to excuse them. I don't see to try to explain them away. There is no complacency at all in this government in dealing with what is a very tough situation that frankly has just got tougher."
The government desperately needs growth to achieve its overriding goal of eliminating Britain's large budget deficit over the next five years. But this will be a challenge as many of Britain's European trading partners are already in recession.
The figures pose a conundrum for the Bank of England, which had appeared poised to end its second round of quantitative easing asset buying, having said that it was more persuaded by survey evidence that the underlying economy was strengthening.
"This could be something of a game changer for monetary policy," said Investec economist Philip Shaw. "With the weakness in the economy pervasive ... there is a genuine debate to be had over whether it is wise to suspend QE."
Gilt prices rallied and sterling fell more than half a cent against the dollar after the data.
Cameron has had a torrid time since his government's annual budget last month was attacked for cutting taxes at the top end of the income scale while taking from pensioners.
Newspapers and allies who once fell over each other to sing his praises now accuse the expensively educated Conservative Party leader of "speaking for the few" and of "vanity globe-trotting" as the economy sputters and Britons suffer the harshest state spending cuts for a generation.
Things took a turn for the worse on Tuesday when James Murdoch told an inquiry that Jeremy Hunt, Cameron's culture minister and a close ally, had numerous secret contacts with him and his top London lobbyist ahead of a controversial merger. Rupert Murdoch, James's father, was answering questions at the inquiry on Wednesday.
STALLED RECOVERY
Britain's economy contracted 7.1 percent during its 2008-2009 recession and has recovered less than half this lost output due to headwinds from the euro zone debt crisis, public spending cuts, high inflation and a damaged banking sector.
Finance minister George Osborne made clear that he saw no scope to loosen the government's purse-strings to boost growth as he tackles a budget deficit that still totals over 8 percent of GDP - higher than most of the embattled economies on the euro zone periphery
"It's taking longer than anyone hoped to recover from the biggest debt crisis of our lifetime," Osborne said after the data. "The one thing that would make the situation even worse would be to abandon our credible plan and deliberately add more borrowing and even more debt."
But the figures brought immediate attack from the opposition Labour Party and trade unions. "The Tory/Lib Dem government ignored warnings that austerity would drag the UK economy back into an unnecessary double dip recession," said the general secretary of the GMB union, Paul Kenny.
Output in Britain's service sector - which makes up more than three quarters of GDP - rose a smaller-than-expected 0.1 percent after a drop in financial services output. Industrial output was 0.4 percent lower after a sharp fall in oil and gas extraction, while construction contracted by 3.0 percent, the biggest fall since the first quarter of 2009.
Britain's Office for Budget Responsibility forecasts growth of 0.8 percent this year. Wednesday's data shows that first quarter output was no higher than a year earlier.
FURTHER CONTRACTION?
The Bank of England has warned that there is a risk of another contraction in the second quarter of 2012, due to an extra public holiday. But unlike during the previous two quarters, it does not appear keen to provide further monetary stimulus, due to sticky, above-target inflation.
Moreover, the BoE and many private-sector economists are likely to stick with their belief that upbeat private-sector survey evidence presents a truer picture than the ONS data.
Reinforcing the divergence between official and private data, the Confederation of British Industry reported the biggest quarterly rise in factory orders for 15 years in data released just after the GDP figures.