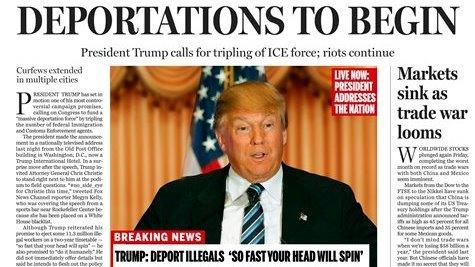 Continue Reading Below
Advertisement
During an interview on the FOX Business Network's Varney & Co., The Boston Globe
"For generations, American newspapers have had editorial pages and news operations which have been completely separate. The same goes for The Boston Globe
Kingsbury went on to say The Globe's
The headlines depicted by the paper's editorial opinion section forecast some events that would allegedly occur immediately under a Trump presidency. The fake front page was dated April 9, 2017 with "Deportation to Begin" as its main headline.
Kingsbury said some of the paper's mock-up headlines, such as "Markets Sink as Trade War Looms" and "U.S. Soldiers Refuse Orders to Kill ISIS Families," were based on fact.
"We talk to policy analysts, economists. We talk to a wide spectrum of people about what they saw the natural consequences of some of Donald Trump's statements are. And frankly, the candidate himself has not filled in those details for us. So we decided to do it ourselves," she added.