Boeing CEO Muilenburg staying on Trump's business council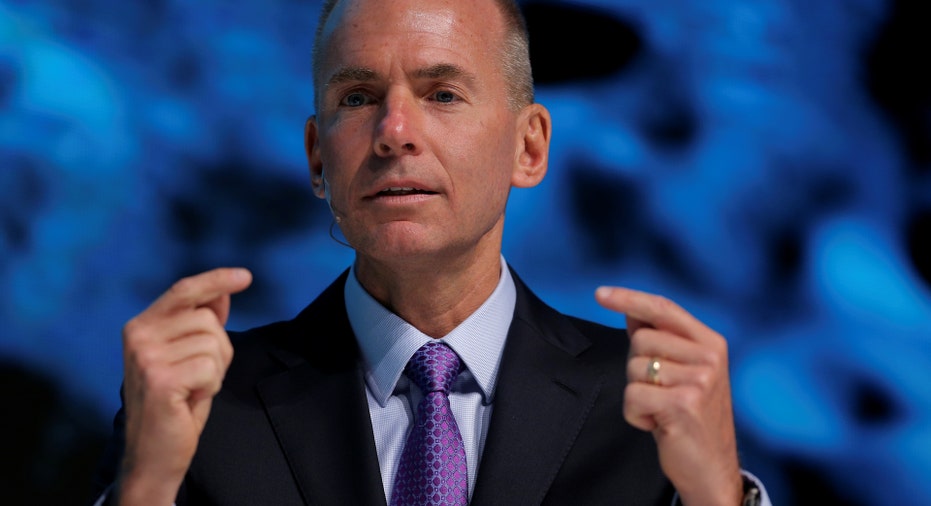 Boeing's Chief Executive Officer Dennis Muilenburg will not be stepping down from President Donald Trump's American Manufacturing Council, FOX Business has learned.
"He [Muilenburg] remains on the president's manufacturing council," John Dern, a spokesperson for Boeing, said in a statement to FOX Business.
When asked if the airplane manufacturer had a comment about the violent protests that took place in Charlottesville, Va., Dern referred FOX Business to a statement by the Business Roundtable, which Muilenburg is a member of.
"The CEOs of Business Roundtable will never accept such intolerance and hate. We will continue to build our companies around the principles of respect, trust and equal opportunity to all our employees," the statement said.
Earlier Monday, Merck (NYSE:MRK) CEO Kenneth Frazier, one of the most prominent African-American business executives, resigned from Trump's business council, in apparent protest of the president's response to violent clashes in Virginia, saying he was doing so "as a matter of personal conscience" and that he felt "a responsibility to take a stand against intolerance and extremism."
The vicious attacks that took place on Saturday by members of white nationalist, Ku Klux Klan and neo-Nazi groups, left three dead, including a young woman who was killed when a Dodge Challenger plowed into a crowd of counter-protesters.
Muilenburg is one of a handful of other CEOs who have not resigned from Trump's advisory groups after the president failed to mention white nationalist groups specifically in his remarks following the incidents in Charlottesville.
Steve Schwarzman, CEO of private equity group Blackstone and leader of Trump's Strategic and Policy Forum, condemned the events in Charlottesville but said he would remain on the forum.
"As the president said today, I believe we need to find a path to heal the wounds left by this tragedy and address its underlying causes. Encouraging tolerance and understanding must be a core national imperative and I will work to further that goal," Schwarzman said in a statement.
Jeff Immelt, current chairman of General Electric, will stay on the Manufacturing Council, even though his company said in a statement they have "no tolerance for hate, bigotry or racism."
Two days after the incidents in Charlottesville, Trump issued another statement, this time singling out the groups by name.
"Racism is evil, and those who cause violence in its name are criminals and thugs, including the KKK, neo-Nazis, white supremacists," Trump said.
While Muilenburg may be staying on board, Trump and the Boeing CEO also have a muddied history of their own. In December, then President-elect Trump, publicly attacked Boeing in a tweet for what he called "out of control" costs.
"Boeing is building a brand new 747 Air Force One for future presidents, but costs are out of control, more than $4 billion. Cancel order!" Trump said.
Boeing is building a brand new 747 Air Force One for future presidents, but costs are out of control, more than $4 billion. Cancel order!

— Donald J. Trump (@realDonaldTrump) December 6, 2016