Boehner: We're Not Even Close to a Deal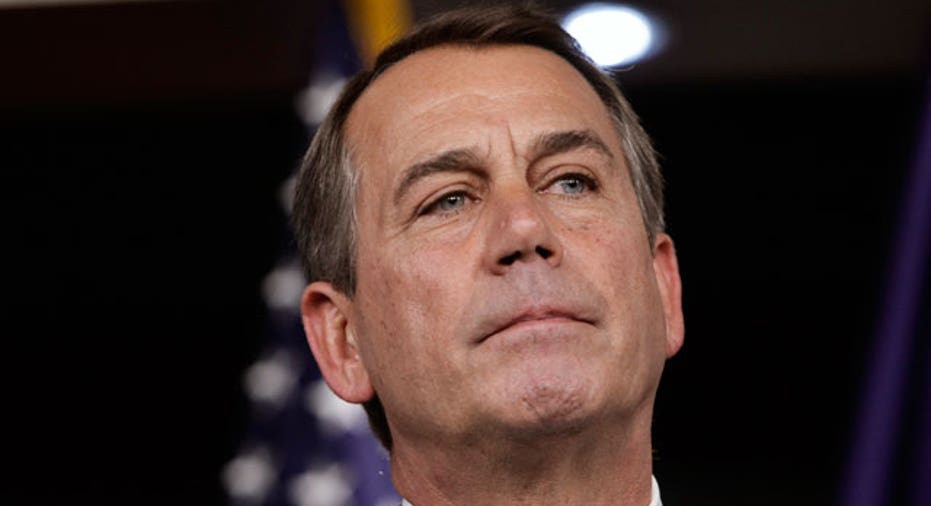 Negotiations between President Barack Obama and the top Republican in Congress were not close to producing a debt reduction deal to avert a looming unprecedented U.S. default, lawmakers said Friday.
While details were emerging about a possible $3 trillion plan, House of Representatives Speaker John Boehner said talks with the White House had so far failed to forge an agreement to cut spending and raise America's debt limit by Aug. 2.
``There was no agreement, publicly, privately. Never an agreement and frankly not close to an agreement,'' Boehner told reporters. ``And so, I would just suggest it is going to be a hot weekend here in Washington D.C.''
Negotiations between Republicans and the Democratic White House toward a deal to raise the $14.3 trillion limit on America's borrowing are at a critical phase, with less than two weeks before the world's biggest economy runs out of money to pay its bills.
Republicans have insisted the White House agree to deep spending cuts aimed at long-term deficit reduction before they sign on to any increase in America's debt burden. But talks have whipsawed and stalled over raising tax revenue, which Democrats insist must be a part of any spending cut deal.
Obama and Boehner took discussions on a so-called ``grand bargain'' behind closed doors this week. The plan taking shape there could include up to $3 trillion in spending cuts but might leave tax reform for later, congressional aides said.
Senior Democrats in Congress, who have been kept out of the talks, were furious Friday that Obama might concede to a deal with no new tax revenue, but with deep spending cuts to social programs.
Senate Democratic leader Harry Reid warned Obama to be careful what he agrees with Boehner.
``I say to both the president and to the speaker here on the Senate floor, representing my Democrats, and I'm confident many Republicans: Be very careful,'' Reid said. ``Show a lot of caution as this negotiation goes forward because any arrangement must be fair to all America, not just the wealthy.''
The White House initially set a July 22 target for a deal that would leave enough time to get it through the legislative process. But it has backed off that timeframe in recent days with both sides still far apart on the issues.
Confusion has grown amid a patchwork of proposals aimed at finding what a senior Democratic aide called the ``magic formula'' for resolving the crisis.
On Friday, Senate Democrats, as expected, blocked one of those proposals -- a Republican plan to reduce deficits by $5.8 trillion over 10 years, far more than Obama and congressional leaders are discussing in private negotiations. House Republicans had insisted on a Senate vote before they consider other options.