Biden highlights 500 new jobs at Tennessee charger manufacturing facility
New Tritium plant will be located in Lebanon, Tennessee
President Biden on Tuesday showcased a charger manufacturing facility opening in Tennessee, which is expected to produce up to 30,000 "Buy America-compliant" chargers per year for electric vehicles and create up to 500 new local jobs.
Tritium, headquartered in Australia and founded in 2001, announced its first U.S. plant would be located in Lebanon, Tennessee.
BIDEN PRAISES SURPRISINGLY STRONG JOBS REPORT: 'AMERICA IS BACK TO WORK'
The president on Tuesday, praised his administration, the bipartisan infrastructure bill, and Tennessee Republican Gov. Bill Lee, who was not at the event for working "hard to help make this happen." 
"Another example of what America can achieve when we come together, Democrats and Republicans, to get things done," Biden said. "The new manufacturing facility of Tritium that was announced today is more than just great news for Tennessee." 
Biden pointed to the job creation in the state, but also said the company will "deliver greater dignity and a little more breathing room to workers and their families." 
"And it's going to have a ripple effect beyond far beyond the one state," he said. "This is great news for workers across the country for an economy and frankly, for the planet." 
The president said the opening of the facility will " help ensure that America leads the world in electric vehicles." 
"China has been leading the rat race up to now, but that's about to change because America is building convenient, reliable, equitable national public charging networks," Biden said. "So wherever you live, charging an electric vehicle will be quick and easy, and the foundation will help American automakers set the pace for electric vehicles, which means even more good paying jobs, producing batteries, materials and parts." 
Biden said that shift will help to "save hundreds of billions of gallons of gasoline over time," and will make the United States "more economically competitive, lowering air pollution and keeping families healthier as we tackle the climate crisis." 
"Here's the key point: announcements like this don't happen by accident--they require a vision and a commitment to build a future that's made in America. I made it clear from day one," Biden said. "When the federal government spends taxpayers dollars, we're going to buy American. American products made in America, including American component parts." 
The president touted the "Made in America" office he created at the White House, saying it was established to "ensure that the trillion dollars we're investing in infrastructure is spent on American workers and American manufacturing." 
"Today's announcement is part of the drumbeat of jobs resurgence like more than anything we've seen before," Biden said. "The bottom line is the United States is in a position to out-compete the world once again." 
Ticker
Security
Last
Change
Change %
DCFC
HYZON MOTORS
8.53
+0.46
+5.70%
He added that he looks forward to working with "governors, Republican and Democrat, to keep that drumbeat going." 
"So let's keep coming together to invest in the backbone of America and American manufacturers and the workers who make it run," Biden said. "Because when we do, there's no limit to what we can achieve. None."
The White House said that the Biden administration is working to "ensure that the future is Made in America by American workers by strengthening and expanding Buy America rules to all taxpayer-funded infrastructure and public works projects."
"The future of the auto industry is electric, and America can own that future by building more here at home, creating good-paying jobs in the process," the White House said, adding that the Bipartisan Infrastructure Law included a "down payment" on the electric vehicle future, with more than $7 billion in funding to "secure" an American electric vehicle supply chain, and $7.5 billion to build out "the first-ever nationwide public EV charging network."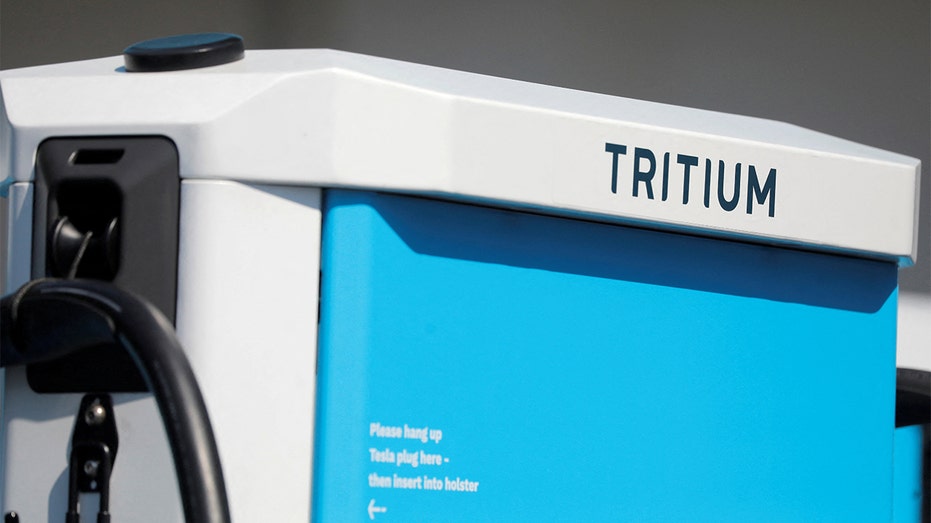 Officials said that network would "provide a convenient, reliable, affordable and equitable charging experience with a focus on serving national highway corridors, rural areas, and underserved communities."
CLICK HERE TO READ MORE ON FOX BUSINESS
"It will also accelerate the adoption of electric vehicles, fight the climate crisis, and support domestic manufacturing jobs," the White House said.
Meanwhile, later this week, Transportation Secretary Pete Buttigieg and Department of Energy Secretary Jennifer Granholm will announce the state allocations and guidance for the "Electric Vehicle Infrastructure Formula Program," included in the infrastructure law. The program will provide $5 billion over five years to help states create a network of EV charging stations along designated Alternative Fuel Corridors on the Interstate Highway System.