Biden Leaves Door Open for White House Run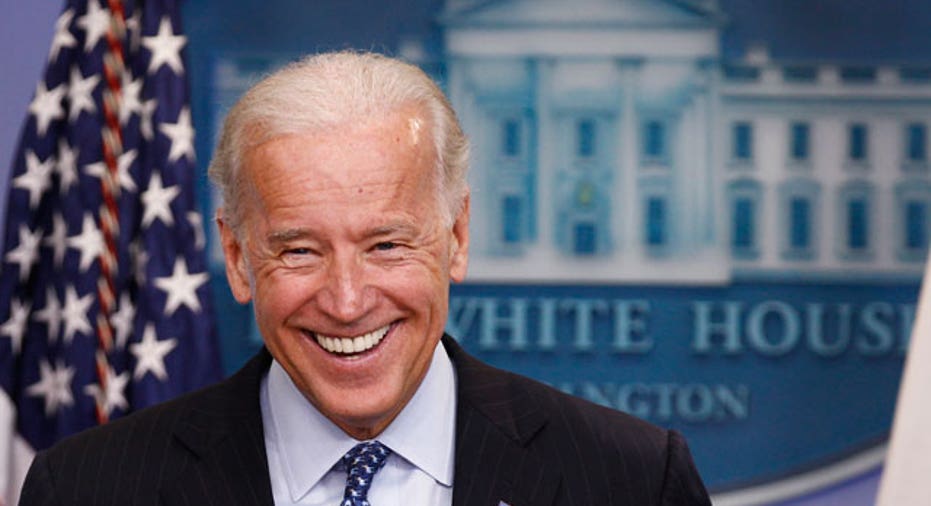 Former Vice President Joe Biden got a standing ovation on Thursday at the annual SALT Conference and made some headlines by keeping open the possibility that he could make another run for president, while also taking a dig at Hillary Clinton.
Biden, the former Vice President under President Obama, appeared to be leaning to making another run for president during the finance conference at the Bellagio Hotel in Las Vegas.
When asked if he would consider running for president, Biden said "Could I? Yes. Would I? Probably no."
However, when he was pressed by the moderator, he listed four objectives that he needed to accomplish before he ran for president, including writing his own book and getting his wife a beach house he promised her 44 years ago, and then said "If I get those four things done and I'm healthy and viable and it looks like I'm the best person to do it, I may very well do it…"
Biden, as he's done in the past, also emphasized that his "family has to be back together" before he goes back into public office again.
What he meant by that was the struggles his family have gone through ever since his son, Beau Biden, died after battling brain cancer in May 2015.
Although the former Vice President did not specify if he would consider running for the 2020 election, age could be another deciding factor for the Delaware native who will be 78 by the next election.
Biden is one of the most experienced politicians in American history. He was a Senator for Delaware for 36 years until 2009 when he decided to make a run for president.
He ended up becoming Obama's running mate where they went on to win the 2008 and 2012 elections.
During the final days of the Obama presidency, Biden was awarded the Medal of Freedom with Obama calling Biden "the best Vice President America's ever had."
The former Vice President also couldn't resist taking a jab at one of his previous colleagues, Hillary Clinton.
When he was asked about his choice not to run for president for the 2016 election and if the former Secretary of State was the correct candidate at the time, Biden said "I never thought she was a great candidate. I thought I was a great candidate."
Biden tried to walk it back, saying he thought she could have been a great president but then went on to suggest that Clinton, who eventually lost to Donald Trump in the general election, might not have been sure that she was the right person for the job.
"No man or woman should announce for the presidency unless they genuinely believe that for that moment in the nation's history they are the most qualified person to deal with the issues facing the country," said Biden.