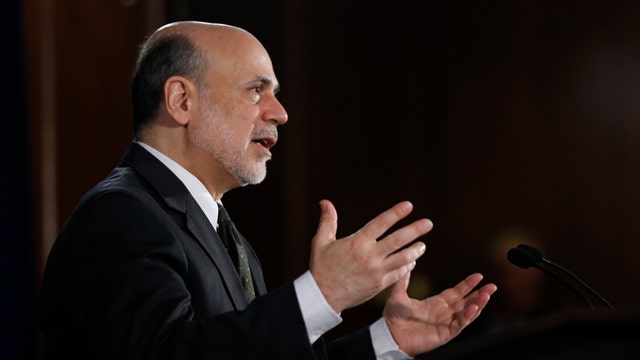 Federal Reserve Chairman Ben Bernanke said Wednesday the central bank could begin scaling back its stimulus programs by the end of the year if the economy shows continued signs of strengthening, especially in labor markets.
But, as he has for months, the Fed chief stopped well short of guaranteeing such a plan.
"With unemployment still high and declining only gradually, and with inflation running below the Committee's longer-run objective, a highly accommodative monetary policy will remain appropriate for the foreseeable future," Bernanke said.
In his opening remarks during his semi-annual report to Congress, Bernanke said the U.S. job market will have to improve "significantly" for the Fed to start gradually decreasing its $85 billion a month bond purchase program known as quantitative easing.
As he said last month in comments that rattled markets for days, Bernanke said Wednesday that the bond purchase program could be wrapped up by mid-2014, if economic conditions warrant it.
Under such a scenario the unemployment rate would probably have dropped to around 7% by the time quantitative easing was concluded. The unemployment rate currently stands at 7.6%, a level Bernanke has described as "overstating" the health of the U.S. economy.
"The jobs situation is far from satisfactory," Bernanke said in his prepared remarks. Still, the Fed believes the U.S. can eventually lower the unemployment rate to 5%.
Despite Bernanke's mostly dovish tone Wednesday, some analysts believe the Fed has been too optimistic in its forecasts, and that any plans for scaling back its easy money policies will occur later rather than sooner.
"We simply think that the Fed will be disappointed in the results and will have to rethink its plans when the time comes to make a taper decision. Nothing in Bernanke's testimony changes this view," Paul Edelstein, director of financial economics for research firm HIS Global Insight, said in a note to clients.
Bernanke noted that the economic recovery has slowly pressed forward despite "headwinds" created by federal fiscal policy. Bernanke was referring to a payroll tax increase that cut into Americans' take home pay in January and across-the-board federal budget cuts called sequestration that took effect in March.
Responding to questions from members of the House of Representative's Financial Services Committee, Bernanke said fiscal policy set by Congress is "focusing a bit too much on the short run and not enough on the long run." Instead, Congress should take more action to find a "sustainable path forward" for the long term.
Stocks weaved in and out of positive territory as Bernanke testified. The markets have veered up and down in recent months, depending on investors' interpretation of Bernanke's latest comments regarding plan for tapering off the Fed's loose fiscal policies.
Bernanke once again emphasized that the Fed is not on a predetermined course, that the central bank will act according to the economic data as it is released.
Bernanke also defended the Fed's communication of its plans. Without guidance from the Fed regarding the likelihood and timing of tapering, markets risked a dangerous buildup of "excessively risky positions."
The Fed chief has said he and other Fed policy makers don't want the markets to believe the central bank's easy money policies will go on forever.
"I think the markets are beginning to understand our message," Bernanke said Wednesday.
Low inflation was also addressed by Bernanke. The Fed wants to see inflation rise to its target level of 2% because low inflation can be as dangerous as high inflation, causing economic stagnation.
Bernanke said the economy "remains vulnerable to unanticipated shocks," and confirmed plans to keep the Fed funds rate at its historically low level at least until unemployment hits 6.5%. The Fed lowered the key interest rate to a range of 0%-0.25% four and half years ago during the worst of the financial crisis. At the same time, the Fed has increased its balance sheet to nearly $3.5 trillion through bond purchases.
"With the recovery still proceeding at only a moderate pace, the economy remains vulnerable to unanticipated shocks, including the possibility that global economic growth may be slower than currently anticipated," he said.
The Fed believes its policies of low interest rates and pumping cash into the system through bond purchases will keep rates low on important loans such as car loans and mortgages, which will spur economic activity and give a lift to the broader economy. The policies appear to be working in the housing sector as prices have risen and construction of new homes has picked up in recent months.
In response to a question, Bernanke said he doesn't believe Wall Street has benefited more from recent Fed policies than Wall Street. He said the Fed's policies have been focused on creating jobs and strengthening sectors like housing that benefit all Americans.