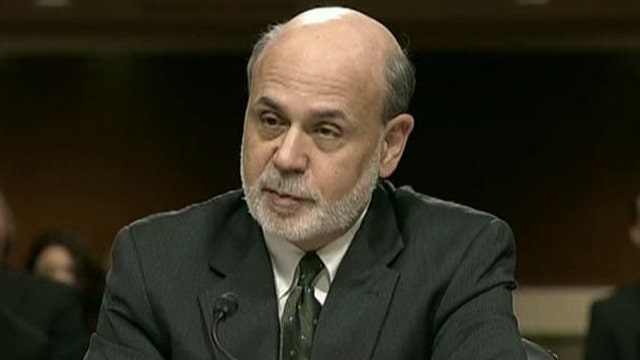 Federal Reserve Chairman Ben Bernanke confirmed Wednesday what most people expected -- the central bank will continue its easy money policies until labor markets strengthen and the economic recovery gains real momentum.
Stock markets are anxiously awaiting any hint that Bernanke and his fellow Fed policy makers are considering winding down their massive bond buying programs and perhaps even raising interest rates.
Economists and stock market analysts alike believe there could be a sharp selloff from the record highs stock markets have reached in recent months whenever the Fed tips its hand about scaling back on bond purchases or possibly raising interest rates.
Indeed, in response to a question Wednesday during testimony before Congress, Bernanke said the Fed would consider easing its bond buying purchases over the course of the central bank's next several meetings. Immediately, stock markets fell from their session highs and the Dow Jones Industrial average plunged nearly 100 points.
Apparently lost in Bernanke's comments was his remark that the Fed would also consider buying more bonds if economic data warrants such a move.
Markets later bounced back and the Dow was up nearly 120 points in midday trading.
While the bond buying programs could be eased at any time, the Fed has promised to keep interest rates at record low levels until the unemployment rate hits 6.5%. That still seems a long way off.
"It's clearly the case that we're not where we want to be," Bernanke said in testimony before the Joint Economic Committee.
Bernanke noted earlier in prepared comments that it's too soon – the economic recovery is still too weak – to consider scaling back the Fed's $85 billion a month in bond purchases.
In typically bland language, Bernanke said "in considering whether a recalibration of the pace of its purchases is warranted, the Committee will continue to assess the degree of progress made toward its objectives in light of the incoming information."
The bond purchases, known as quantitative easing, are intended to keep long-term interest rates low and encourage borrowing in an effort to spur economic growth, notably in sectors such as housing.
Bernanke noted recent improvement in the jobs market, acknowledging the drop in the unemployment rate to a four-year low of 7.5% in April. But he concluded: "The job market remains weak overall."
And citing the housing market, Bernanke conceded that some of the "headwinds" the economy has been facing "have begun to dissipate recently."
Bernanke's statement appears similar to the statement made by the Federal Open Market Committee at the end of its last meeting on May 1. He reiterated the Fed's long-held position that the FOMC expects "a highly accommodative stance of monetary policy to remain appropriate for a considerable time after the asset purchase program ends and the economic recovery strengthens."
Bernanke also warned that "a premature tightening of monetary policy could lead interest rates to rise temporarily but would also carry a substantial risk of slowing or ending the economic recovery and causing inflation to fall further."
The Fed chief also addressed critics who argue the easy money policies hurt savers by keeping interest rates low.
"Because only a healthy economy can deliver sustainably high real rates of return to savers and investors, the best way to achieve higher returns in the medium term and beyond is for the Federal Reserve – consistent with its Congressional mandate – to provide policy accommodation as needed to foster maximum employment and price stability," he said.
In response to questions from several Congressional panel members, Bernanke said a bi-partisan "grand bargain" on budget deficits that would include a mix of new taxes and spending cuts "would be confidence inspiring" and would make it "easier" for the Fed to unwind its bond purchasing program.
Bernanke also said major bi-partisan action to reform the U.S. tax code "would be very positive."
"I think everyone agrees that our tax code is very complicated," Bernanke said.