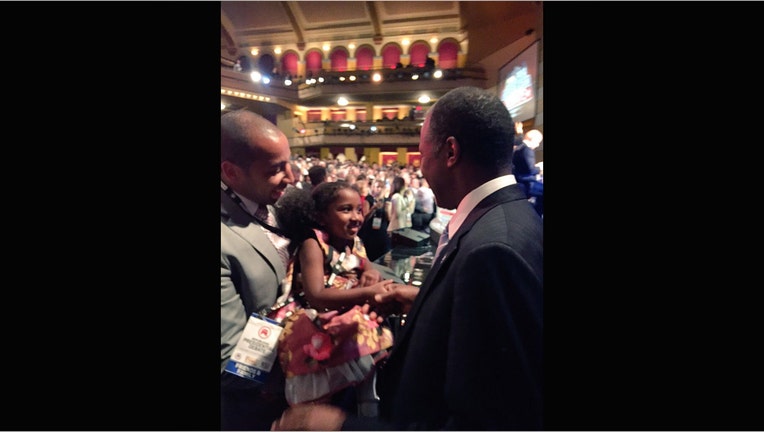 It could be one of the most memorable moments shared on social media at the Fox Business/WSJ GOP debate on Tuesday night. During a commercial intermission, Dr. Ben Carson stepped off the debate main stage to greet his 3-year-old granddaughter Tesora Carson as she waved to him while her father cradled her in his arms.
Ben Carson Jr., Tesora's father and son of the famed neurosurgeon says it was a special moment that she has been eagerly waiting for.
"Tesora was really excited to come to the debate she's been talking about it with all her preschoolers," said Ben Carson Jr.
This is the first time the three-year-old attended a debate to watch her grandpa duke it out with seven other GOP contenders. Carson says Tesora is impressed with Dr. Carson's run for the presidency but not fazed by it.
"She thinks it's pretty amazing but she also thinks it's normal, she was born during all this stuff going on so we asked her the other day who are her favorite people on Fox News and she said grandma and grandpa."
Backing Dr. Carson's presidential candidacy is all in the family. For Ben Jr. his father's success over the years has been nothing less than inspiring.
"My dads' always been my hero ever since we were little he was always accomplishing incredible things it's just the next step. The one thing about this one is that he doesn't want to do it, he feels like it is needed for the country," said Ben Carson Jr.
Ben Carson was the top Republican candidate discussed during the debate and gained the most new Facebook likes with more than 4.7 million followers, according to Facebook. It was also a financially successful night for Carson, his campaign manager Barry Bennett released a statement announcing "another million dollars raised tonight. 6 million in just November so far."
With all his growing support, Carson's family hopes more Americans will see his genuine qualities and stand behind his presidential run.
"We support him 100%. I told him when he's going to run whatever he needs we are going to do and we are just glad to be a part of it," said Carson. "He is an honest guy and he's actually out for the good of the country and he is not bought and paid for by special interests."