As Cliff Talks Freeze, House Plans Vote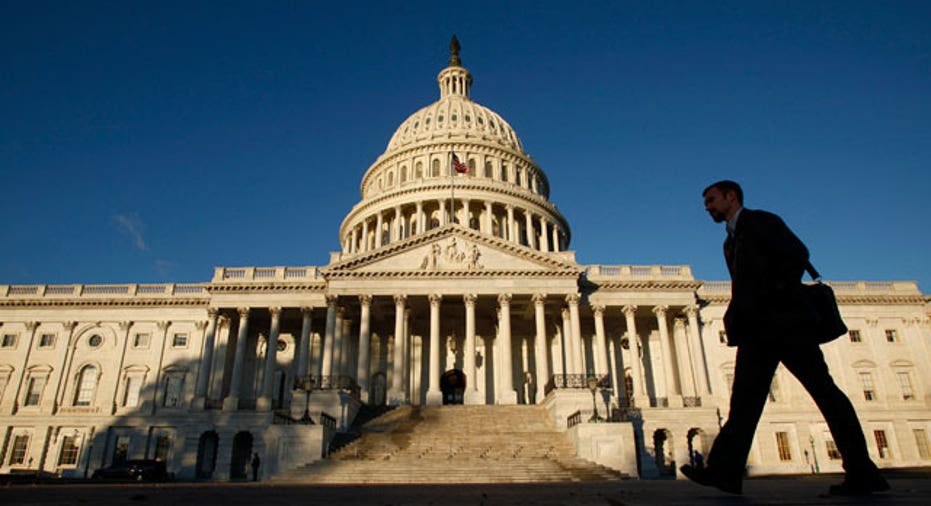 Republicans in the Congress pushed ahead on Thursday with a "fiscal cliff" plan that stands no chance of becoming law as time runs short to reach a deal with President Barack Obama to avert a Washington-induced economic recession.
House of Representatives Speaker John Boehner's "Plan B" to limit income-tax increases to the wealthiest sliver of the population appeared likely to pass the House on Thursday evening after it narrowly cleared a procedural hurdle in the afternoon.
However, Obama has vowed to veto the plan, and Senate Majority Leader Harry Reid said he will not bring it up for a vote in the Democratic-controlled chamber. White House spokesman Jay Carney called it a "multi-day exercise in futility."
Still, passage of Plan B could give Boehner the political cover he needs to strike a deal that would break with decades of Republican anti-tax orthodoxy.
"Time's running short. I'm going to do everything I can to protect as many Americans from an increase in taxes as I can," Boehner told a news conference.
Though it does not raise taxes on as many affluent Americans as Obama wants, the bill would put Republicans on record as supporting a tax increase on those who earn more than $1 million per year - a position the party opposed only weeks ago.
That could make it easier eventually to split the difference with Obama, who wants to lower the threshold to households that earn more than $400,000 annually. Obama also faces resistance on his left flank from liberals who oppose cuts to popular benefit programs, which Republicans say must be part of any deal.
Obama and Boehner will need to engage in more political theater to get lawmakers in both parties to sign on to the painful concessions that will have to be part of any deal to avert the cliff and rein in the national debt, analysts say.
"They are now in the mode where they have to demonstrate how hard they're trying to get everything they can," said Joe Minarik, a former Democratic budget official now with the Committee For Economic Development, a centrist think tank.
Even as he pressured Obama and the Democratic Senate to approve his plan, Boehner indicated that he was not willing to walk away from the bargaining table.
"The country faces challenges, and the president and I, in our respective roles, have a responsibility to work together to get them a result," Boehner said.
TIME RUNNING OUT
Obama and Boehner aim to reach a deal before the end of the year, when taxes will automatically rise for nearly all Americans and the government will have to scale back spending on domestic and military programs. The $600 billion hit to the economy could push the U.S. economy into recession, economists say.
Investors so far have assumed the two sides will reach a deal, but concerns over the fiscal cliff have weighed on markets in recent weeks. The S&P 500 index of U.S. stocks was up 0.4 percent in Thursday trading, despite a round of strong data on economic growth and housing.
"The closer we get to the end of the year without a deal, the more optimism is going to evaporate," said Todd Schoenberger, managing partner at LandColt Capital in New York.
Shares crept up after Boehner said he was prepared to work with Obama to prevent the fiscal cliff from kicking in.
Lawmakers are eager to wrap up their work and return home for the Christmas holiday, but congressional leaders kept the door open for last-minute action.
The Senate was expected to leave town on Thursday or Friday, but Reid said it could return next week to vote on any deal.
Boehner indicated the House would stay in session after Thursday's vote, scheduled for 7:45 p.m. EST (0045 GMT on Friday).
Several influential conservative groups have condemned Plan B, and some Republicans are expected to vote against it. But passage appeared likely after the House narrowly voted by 219 to 197 to bring the bill to the floor for debate.
The U.S. Chamber of Commerce, an influential business group that has often tangled with the Obama administration, offered grudging support.
"We are not comfortable allowing tax increases on anyone in this environment. However, we understand that, at times, politics requires compromise," the Chamber's top lobbyist, Bruce Josten, wrote in a letter to lawmakers.
To placate conservatives, Boehner also scheduled a vote on legislation that would shift $55 billion in scheduled defense cuts to cuts in food and health benefits for the poor and other domestic programs.
That measure also would roll back some of the Dodd-Frank financial regulation reforms of 2010. It is not expected to become law.