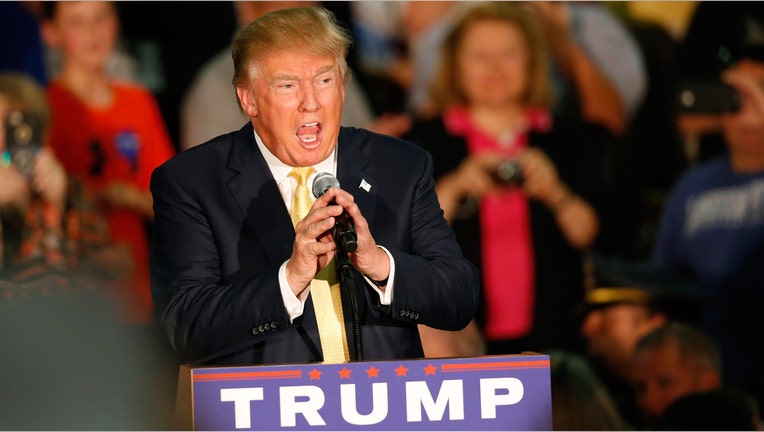 The always outspoken GOP front-runner Donald Trump is now under fire for what he didn't say. During his town hall in New Hampshire on Thursday night, Trump failed to address an audience member's anti-Muslim remarks.
The questioner, wearing a Trump T-shirt said, "We have a problem in this country, it's called Muslim. We know our current president is one — you know he's not even an American. But anyway, we have training camps growing where they want to kill us. That's my question, when can we get rid of them [Muslims]?"
Mr. Trump responded but dodged the Obama comments, "We're going to be looking at a lot of different things, a lot of people are saying bad things are happening, we're going to be looking at that and plenty of other things."
On Friday, Republican presidential candidates New Jersey Gov. Chris Christie and South Carolina Sen. Lindsey Graham added fuel to the fire by weighing in on the controversy.
"I wouldn't have permitted that," said Gov. Christie on NBC's 'Today' show. Adding he would've handled the situation differently, "I would correct him. I'd say that the president's a Christian and he was born in this country. Those two things are self-evident."
In an interview with MSNBC's Andrea Mitchell, Sen. Graham called out Donald Trump for a missed opportunity.
"At the end of the day, this is a defining moment for Mr. Trump," said Graham. "The man in that audience needs to be put in his place by the person answering the question." Graham adding, "Use it as a teaching moment. Reset the table."
Yousef Munayyer, a policy analyst for the Arab Center in Washington D.C., says that type of anti-Muslim rhetoric on a national stage is dangerous. Donald Trump, as a public figure, should have corrected it.
"Many decent Muslim families who are just trying to contribute to their communities have targets on their backs because Islamophobic rhetoric like this is not being properly condemned," said Munayyer.
"Donald Trump is at the center of public attention, people listen to the things he says and asking these questions without a proper response amplifies that message and encourages that thinking which is destructive behavior to Muslims."
This is not the first time a presidential candidate has been pressed with anti-Muslim rhetoric. In 2008, at a rally in Minnesota for Republican presidential candidate John McCain, supporter Gayle Quinnell claimed she didn't trust Democratic presidential candidate Barack Obama because, "Obama is an Arab."
McCain tried to defuse the comment with a quick response, "No ma'am he [Obama] is a decent family man, citizen, that I just happen to have disagreements with on fundamental issues."
It was that kind of increasing anti-Muslim and anti-Arab rhetoric during the 2008 election that led to the formation of the Islamophobia Research and Documentation Project (IRDP) at the University of Berkeley, California. Its mission is to study Islamophobia and track its impact on Muslim communities.
Dr. Hatem A Bazian, Ph.D. is the director of the Islamophobia Research and Documentation Project. He says there has been a rise in Islamophobia rhetoric on the campaign trail since 2008 and says this election cycle will be no different.
"It's a fringe of the Republican party that has been used and it seems that Donald Trump is trying to secure a nomination that way," said Dr. Bazian. "Trump has already written off Latinos and women with his comments and now that will include the Muslim population."
Dr. Bazian says Trump's lack of response to the anti-Muslim comments at his town hall on Thursday fuels Islamophobia.
"Trump is not showing he can be presidential, anytime our top political leaders don't challenge discrimination and racism it gives credence to the notion," said Dr. Bazain.
In May of 2013, Dr. Bazain released a study about the discrimination faced by Bay Area Muslims. He surveyed 1,108 Muslims and found that 40% said they had been personally discriminated against. About 50% said they knew someone who had been a victim of a hate crime and 23% indicated that they themselves were also victims.
Both Dr. Bazain and Munayyer agree Islamophobia has fueled fear and violence against Muslims over the years. Case and point; on Monday, 14-year-old Ahmed Mohamed, who is Muslim, brought a homemade clock to school and was later arrested for what police initially said was a homemade bomb. Later in the week more details came to light, support for Mohamed started to grow on social media and even President Barack Obama invited him to the White House, praising his love of science. Mohamed's family has decided to transfer him to a new school.
Munayyer says it's these types of "Muslim Smears" that are not going to go away unless our political leaders have a deeper understanding of the issue and open conversation to move the country forward.
"Muslims are part of the fabric of this country and discrimination of any group is not part of 'Making America Great Again'."