All-American pick-up trucks aim to lure China's wealthy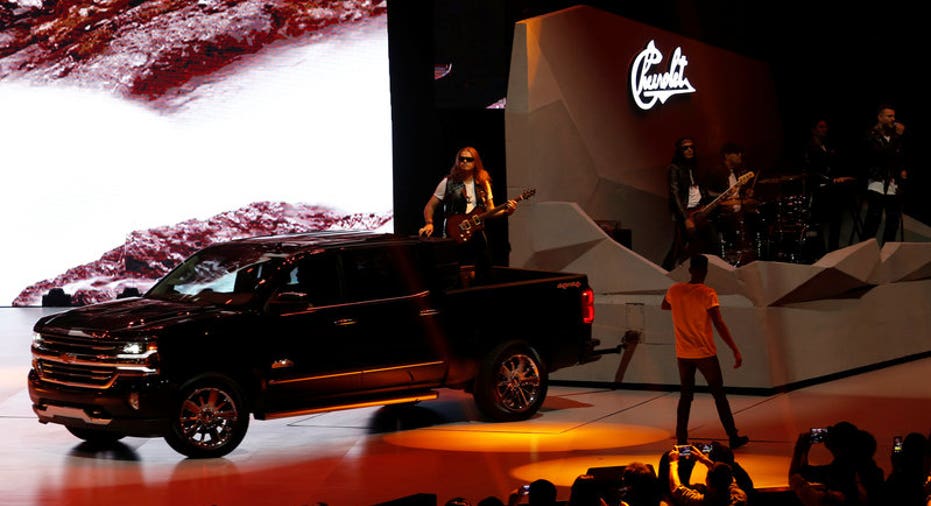 Automakers Ford and General Motors are aiming the pick-up truck, an iconic staple in the United States, at upmarket buyers in China, where most associate trucks with farmers and construction workers.
"The Chinese call it pika, pika - a very low-end worker's (vehicle). But the (Ford F-150) Raptor is totally different," said Wesley Liu, Ford's Asia-Pacific sales director, ahead of this month's Guangzhou autoshow.
Trucks are largely restricted to overnight driving in most Chinese cities, but four provinces - Yunnan, Liaoning, Hebei and Henan - have this year launched trial programmes allowing them into urban zones in an attempt to stimulate production as economic growth, and car sales, slow.
With those looser restrictions, U.S. pick-up makers aim to distance their trucks from local models made by Great Wall Motor <601633.SS>, Jiangling Motors Corp (JMC) <000550.SZ> and others - and appeal to Chinese premium buyers, like Meng Shuo. 000550.SZ>601633.SS>
The 32-year-old founder of an investment consultancy, who already owned a Chevrolet Camaro when he bought an F-150 pick-up truck five years ago through an unofficial grey market importer. He has since traded it in for a Toyota <7203.T> Tundra, and also owns a Mercedes luxury sedan and Porsche and Mitsubishi <7211.T> sports cars. 7211.T>7203.T>
Ford said in April it would bring a high-performance version of its F-series - the best-selling vehicle in the U.S. for 34 years - to China, the world's biggest auto market. A spokesman said the company is studying whether to also bring a mass-market model such as the F-150 or Ranger pick-up to China, depending on demand and future regulations.
"The people who buy the Raptor maybe own some other premium vehicle already. This is another toy," Liu said.
The truck is aimed at four types of buyers, he said - the wealthy, who want to stand out from the crowd; business owners, who want more than a traditional commercial vehicle; drivers who want a single car for all situations; and "gearheads", who just like the mechanics.
Even as Chinese authorities throw vast subsidies at green, clean auto technologies, the growing wealth of Chinese consumers has driven a boom in larger cars and sport-utility vehicles (SUV). With margins now under pressure in the crowded SUV sector, automakers see potential profits in high-end foreign pick-ups.
Ford and GM - which displayed its Chevrolet Colorado and Silverado trucks around the Guangzhou show, with t-shirt clad urban cowboys and an all-leather rock band selling the trucks' macho, all-American appeal - have not yet announced prices for their pick-ups, expected to be launched next year. But they should command a sizeable premium to locally made models as China slaps a 25 percent tax on imports.
PICKING UP
For now, pick-ups are a tiny fraction of China's market.
IHS Markit sees sales increasing by 14 percent this year to 368,791 pick-up trucks, but that would still be only 1.4 percent of China's light vehicle market.
Yan Ningya, an official involved in the Hebei pilot project, said the province, home to Great Wall and other automakers, accounts for half of China's pick-up production.
The trial has not yet resulted in higher production, he told Reuters, but the local government will need a year from the pilot project's launch in May to gauge its impact.
After that, the central government may do more to drive production, possibly reclassifying pick-ups as passenger cars rather than commercial vehicles, he said.
The Ministry of Industry and Information Technology, which directed the provinces to launch the pilot projects, did not respond to a faxed request for comment.
"China's pick-up truck market will be very large in the future," said Yan, noting domestic brands would likely upgrade their trucks to meet the tastes of middle-class drivers.
(Reporting by Jake Spring and Beijing newsroom; Editing by Ian Geoghegan)