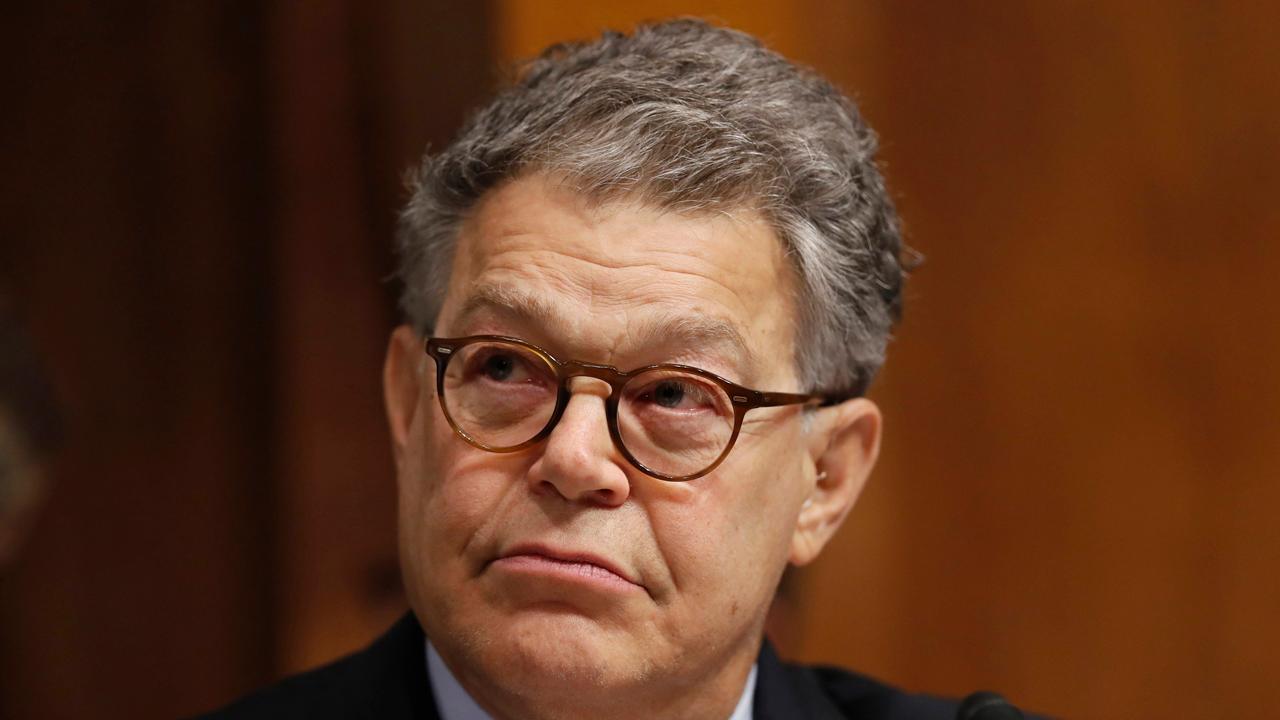 Sen. Al Franken said on Thursday he would resign in the coming weeks after facing pressure from fellow Democratic lawmakers to step down following multiple sexual harassment allegations.
"Serving in the United States Senate has been the great honor of my life. I know in my heart that nothing I have done as a senator—nothing—has brought this honor on this institution, and I am confident that the Ethics Committee would agree. Nevertheless, today I am announcing that in the coming weeks, I will be resigning as a member of the United States Senate," Franken said from the Senate floor.
Accusations that the Minnesota Democrat, and former "Saturday Night Live" comedian, groped or tried to kiss women without their consent emerged last month. Leeann Tweeden, a news personality at a Los Angeles radio station and the first to accuse Franken, alleged that he forcibly kissed and groped her during a USO tour in 2006, in a story posted on the station's website.
Franken issued an apology after Tweeden's claims.
"The first thing I want to do is apologize: to Leeann, to everyone else who was part of that tour, to everyone who has worked for me, to everyone I represent, and to everyone who counts on me to be an ally and supporter and champion of women. There's more I want to say, but the first and most important thing—and if it's the only thing you care to hear, that's fine -- is: I'm sorry," the senator said in a statement.
The senator said he would fully cooperate with a Senate Ethics Committee investigation, which Senate Majority Leader Mitch McConnell (R-Ky.) called for following the allegations.
More women have since came forward, accusing Franken of groping them while posing for photos between 2007 and 2010.
The latest allegations come from a woman who said she was groped at a Media Matters party, which took place during former President Barack Obama's first inauguration.
Franken, who denied most of the allegations, said he recalled certain ones differently, made his announcement just two days after Rep. John Conyers (D-Mich.) announced his retirement, following multiple allegations of sexual misconduct.
The senator faced mounting pressure from some of his female colleagues on Wednesday, who called on Franken to resign. Among those were Sens. Claire McCaskill of Missouri, New Hampshire's Maggie Hassan, Kirsten Gillibrand of New York, Patty Murray of Washington, Hawaii's Mazie K. Hirono, Kamala Harris of California, Debbie Stabenow of Michigan, Tammy Baldwin of Wisconsin and Heidi Heitkamp of North Dakota.
Senate Minority Leader Chuck Schumer, D-N.Y., said late Wednesday that Franken should step down from his post.
"I consider Senator Franken a dear friend and greatly respect his accomplishments," Schumer said in a statement, "but he has a higher obligation to his constituents and the Senate, and he should step down immediately."
Democratic National Committee Chair Tom Perez also called for Franken's resignation, tweeting: "Sen. Al Franken should step down. Everyone must share the responsibility of building a culture of trust and respect for women in every industry and workplace, and that includes our party."
Sen. Al Franken should step down. Everyone must share the responsibility of building a culture of trust and respect for women in every industry and workplace, and that includes our party.

— Tom Perez (@TomPerez) December 6, 2017
Minnesota Gov. Mark Dayton is responsible for filling Franken's Senate seat, though he has yet to make a decision on who he will appoint.
"Events have unfolded quickly; thus, I have not yet decided on my appointment to fill this upcoming vacancy. I expect to make and announce my decision in the next couple of days," Dayton said in a statement.
Earlier, The Minneapolis Star Tribune reported that Minnesota's Lt. Gov. Tina Smith would likely be Dayton's choice to replace Franken.