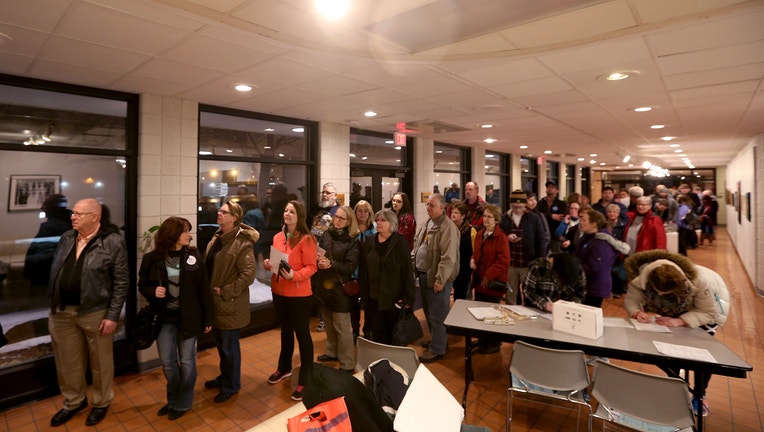 Now that the first-in-the-nation caucus is over and the results are in, the next battle for Republican and Democratic presidential candidates is in New Hampshire, the first-in-the-nation primary.
The Granite State's nominating contest comes a week after Iowa, leaving no time to waste for contenders who will be flocking to the state vying for support from primary voters.
In a recent poll conducted by the University of New Hampshire Survey Center, businessman Donald Trump holds a commanding lead with 30% support from likely primary voters.
The race for second and third place is extremely close with Texas Senator Ted Cruz with 12%, Florida Senator Marco Rubio with 11% and Ohio Governor John Kasich at 9%. In Iowa, Cruz won the GOP caucuses with 28% on Monday beating out Trump who came in second place with 24% and Rubio in third place with 23%.
Throughout the night, Cruz, Trump and Rubio remained the top three candidates in the Republican field.
"After this caucus everything changes, you will see Trump drop dramatically - his only talking point has been that he is a winner and trashing everyone else," said Cheri Jacobus, Republican strategist. "Losing Iowa will take a lot of the wind from his sails and you will see that in New Hampshire. "
New Hampshire is considered to be less conservative than other early primary states which may work to Trump's advantage. However, Jacobus says Ohio Governor John Kasich could be the dark horse to watch with recent rising numbers in several polls and new endorsements from the Boston Globe and New York Times.
"John Kasich could do really well in New Hampshire he has the most experience of anyone in the group coming from Ohio it makes him very valuable in a general election," said Jacobus. "He is an outsider on the inside, he is on the inside of the establishment always fighting the establishment."
John Kasich spent the weekend leading up to the Iowa Caucuses in New Hampshire instead, gambling on a win in the Granite state.
"As the field narrows you are going to see more of a focus on Kasich once New Hampshire voters get to know him better, as well as voters around the country," said Jacobus.
She says the other lower ranking GOP candidates that are still in the race are doing a "great disservice to their party and they need to get out" the Iowa caucus results should serve as a "final hint."
In the Democratic field, the latest poll results show Vermont Senator Bernie Sanders leading the field in New Hampshire with 57% support from likely primary voters compared to Hillary Clinton's 34%. Historically in New Hampshire, the Democratic primary electorate tends to favor the candidate that is not the favorite of the party at large. During the 1984 primary, Gary Hart won over Walter Mondale and in 2000, Bill Bradley received 46% of the vote, nearly beating out establishment candidate Al Gore.
Hillary Clinton narrowly defeated Bernie Sanders in the Iowa caucuses, the state Democratic Party announced early Tuesday morning.
Clinton was awarded 699.57 state delegate equivalents, versus 695.49 for Sanders, Iowa Democratic Party Chairman Andy McGuire said in a statement. The results were the closest in the state's Democratic caucus history, he added, and 171,109 voters turned out.
"Iowa is consequential and meaningful this time around for Democrats," said Simon Rosenberg, Democratic strategist who worked on two presidential campaigns, including the 1992 Clinton War Room.
Rosenberg says Sanders is starting to catch up and even get a head of Clinton in more states than just New Hampshire which could prove he is a real threat to her campaign.
He says Sanders has built a strong campaign machine with field teams and small donations but Clinton has bigger pull with endorsements and organization across the country.
"Sanders doesn't have the same level of organized established party that Clinton does and that really matters. Even in the last couple days you can see the difference of the showmanship of an experienced Clinton family against this 'newbie on the block' in news reports and social media," said Rosenberg.
Looking ahead, Rosenberg says even if Sanders pulls out a win in New Hampshire, the next round of primaries in Nevada and South Carolina could tip the scales in another direction.
"There are a very diverse set of states that come after New Hampshire which are the real national test so Sanders strong lead doesn't mean that will continue," said Rosenberg.