Recession fears rise: More than half of Americans say they'd lose everything
Three in four Americans fear a recession will hit this year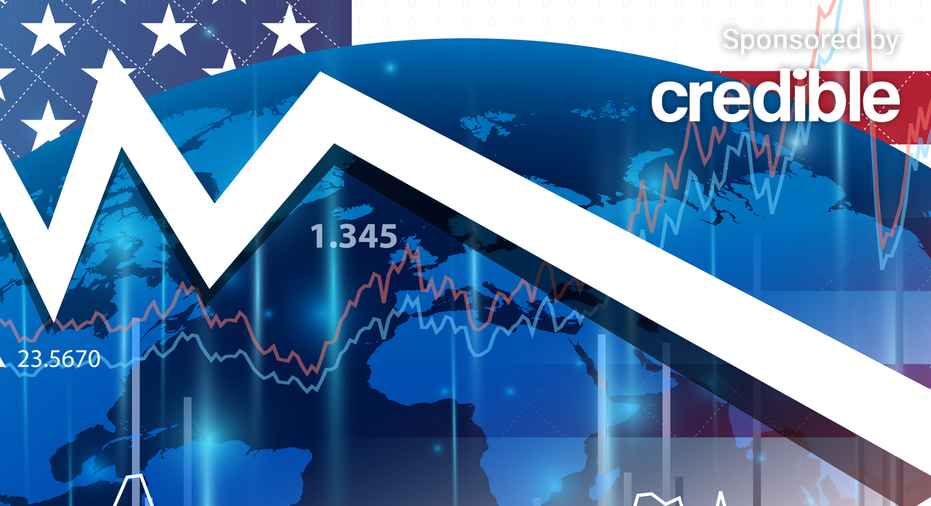 Amid high inflation, many Americans fear the country will slip into a recession this year. About 75% say they worry one is on the way, according to a survey by Real Estate Witch. And 69% of Americans believe the country is in a recession. And more than half (55%) say they would lose everything in a recession. 
Typically, economists define a recession as at least two consecutive quarters of decline in gross domestic product (GDP). This happened in the second quarter of 2022. However, the National Bureau of Economic Research, which is the governmental body responsible for declaring a recession, has yet to make a determination for last year. 
And even though GDP increased in the fourth quarter by 2.9%, it did not change many people's outlook on the economy. In fact, 63% are pessimistic about how the economy will perform in 2023.  
If you're struggling in today's economy, you could consider paying down high-interest debt with a personal loan at a lower interest rate. Visit Credible to compare different lenders at once without affecting your credit score.
RETIREES LOST 10% OF THEIR SAVINGS IN 2022, SURVEY SAYS
Consumers using credit cards to fight inflation 
As inflation soared, many Americans turned to credit cards to deal with rising expenses. In fact, credit card balances increased to $931 billion in the final quarter of 2022, according to the latest Credit Industry Insights report by TransUnion. 
"Bankcard balances and originations continue to climb as consumers seek ways to cope with inflation, and this is particularly the case among Gen Z consumers, who have seen growth of 19% in originations YoY and 64% in balances over the same period," Paul Siegfried, TransUnion senior vice president and credit card business leader, said in a statement.
In addition, credit card delinquencies have increased. Serious credit card delinquencies are expected to increase to 2.6% at the end of 2023, according to the 2023 Consumer Credit Forecast by TransUnion. That's up from 2.1% at the end of 2022. Delinquency rates could reach levels not seen since 2010, the report found. 
"Rapidly increasing interest rates and stubbornly high inflation combined with recession fears represent the latest in a series of significant challenges consumers have faced in recent years," Michele Raneri, the vice president of U.S. research and consulting at TransUnion, said in the forecast report. "It's not surprising then to see pronounced increases in delinquency rates for credit card and personal loans, two of the more popular credit products."
If you're struggling with high-interest debt, you could consider paying it off with a personal loan at a lower interest rate. Visit Credible to get your personalized rate without affecting your credit score. 
PRICE IS TOP REASON WHY CONSUMERS WANT TO DROP AUTO INSURANCE PROVIDERS
Inflation may stay high in 2023 
Inflation increased by 6% in February on an annual basis. And even though inflation has been rising slower than in previous months, many Americans are still feeling the burden of higher prices. The price of food at home increased by 10.1% year-over-year, according to the Consumer Price Index (CPI), a measure of inflation. 
To lower inflation, the Federal Reserve has been increasing interest rates. Most recently, the Fed raised rates 25 basis points, bringing the federal funds rate to a targeted range of 4.5% to 4.75%, the highest level in 15 years. Plus, the nation's central bank said it expects to keep increasing rates in 2023, albeit at a slower pace. 
"We continue to anticipate that ongoing increases will be appropriate," Fed Chairman Jerome Powell said at a press conference in November 2022. "We are moving our policy stance purposefully to a level that will be sufficiently restrictive to return inflation to 2%. In addition, we are continuing the process of significantly reducing the size of our balance sheet. Restoring price stability will likely require maintaining a restrictive stance of policy for some time."
However, the collapse of the investment bank Silicon Valley Bank on March 10 raised questions as to how the Fed will proceed at its next meeting between March 21 and 22. Goldman Sachs updated its forecast and no longer expects the central bank to raise interest rates then.
Increases to the federal funds rate may also impact interest on products like credit cards and mortgages. If you are worried about rate hikes, you could consider refinancing your mortgage to lower your monthly payments. Visit Credible to speak with a mortgage refinance expert and get your questions answered.
Have a finance-related question, but don't know who to ask? Email The Credible Money Expert at moneyexpert@credible.com and your question might be answered by Credible in our Money Expert column.