Where to get an $80,000 personal loan
It's possible to get an $80,000 personal loan — but large loans can come with higher costs, so be sure to carefully compare APRs and loan terms before selecting one that's right for you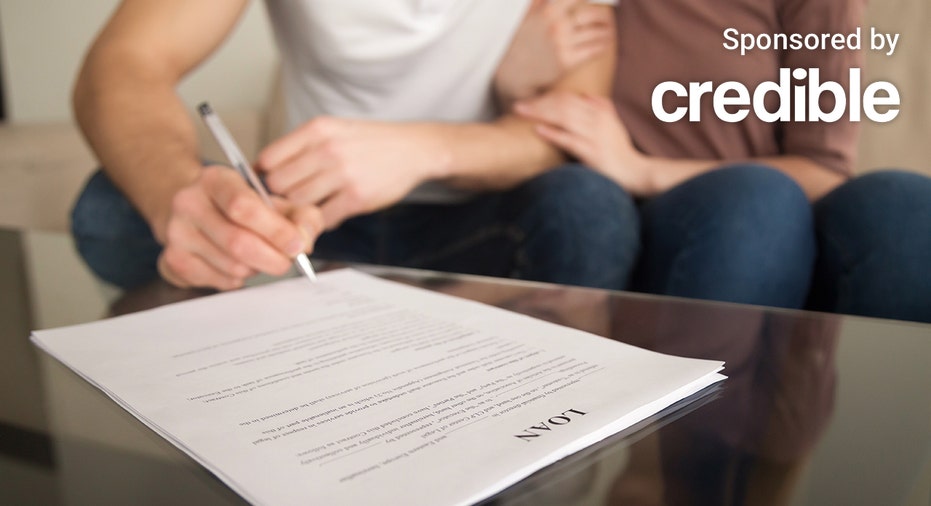 It's not easy to qualify for an $80,000 personal loan, but you may be able to find one if you have excellent credit and enough income to pay it back. 
Before you apply for an $80,000 personal loan, make sure to review all of your options to find the right loan for you. Here's where to look for an $80,000 personal loan and what to consider before signing on the dotted line.
Where to get an $80,000 personal loan
The personal loan market has continued to explode in 2022. A record 22 million Americans had a personal loan account in the third quarter, according to data from credit bureau TransUnion, and new personal loan originations were up more than 36%. 
With so much demand, a variety of financial institutions now offer personal loans — from online lenders that specialize in them, to banks and credit unions that offer them alongside traditional banking products.
Here's where to find an $80,000 personal loan.
Online lenders
Online lenders that specialize in personal loans allow borrowers to apply for a loan completely online and receive money in their bank accounts within a matter of days. Online lenders also make it relatively easy to compare interest rates and fees, and many of these lenders allow you to get a personalized loan estimate within a few minutes.
Compare personal loan rates using Credible without affecting your credit score.
Banks
Traditional brick-and-mortar banks, like Bank of America and Wells Fargo, also offer personal loans with competitive interest rates and terms. You may be able to get in-person service as you apply for a personal loan with a bank, but most banks also make it easy to apply online or over the phone. In some cases, you may be required to have a checking account with the bank to qualify. Some banks may even offer loyalty discounts if you have an existing account with them. 
Credit unions
Because credit unions are not-for-profit institutions owned by their members, they're often able to offer lower interest rates and fees than traditional banks. Today's large credit unions, like PenFed and Alliant Credit Union, allow you to apply for a personal loan online, though you'll likely need to become a member with a savings account before you can qualify.
What credit score do you need for an $80,000 loan?
Your credit score plays a major role in whether or not you'll qualify for a personal loan. Since these loans are typically unsecured, meaning they're not backed by collateral, lenders will consider your credit score and history to assess your ability to repay a personal loan. 
Many personal loan lenders have high minimum credit scores — often 700 or higher — you must meet to qualify. Having a higher credit score shows lenders that you're less likely to default on a loan, which increases your chances of getting approved. Large personal loans, like an $80,000 personal loan, may have stricter requirements.
However, you may still be able to qualify for an $80,000 personal loan with a lower credit score. In most cases, you'll need to pay significantly higher interest rates. Lenders will also consider other aspects of your financial record, such as your debt-to-income (DTI) ratio, which compares how much of your monthly income goes toward paying off existing debt. For personal loans, lenders typically look for a DTI ratio no higher than 40%. You'll also need to show that you earn enough income to handle the extra loan payment a new personal loan will require.
If your credit score is less-than-ideal, consider applying with a cosigner to increase your chances of getting approved. Just keep in mind that if you default on payments, your cosigner will be responsible for repaying the loan. 
What is the monthly payment on an $80K loan?
The amount you'll pay each month on your $80,000 personal loan will depend on the Average Percentage Rate (APR) and repayment term. 
Your APR represents your cost of borrowing money, including the interest rate and any required fees. Higher APRs mean more expensive loans: higher monthly payments and more interest paid over the life of your loan. 
The APR you pay is based primarily on your credit score. People with better credit will typically qualify for a lower APR than those with bad credit. That's because lower credit scores represent a greater risk to the lender, and companies charge higher rates to compensate. If you have excellent credit, you may qualify for APRs as low as 6% to 9%. If your credit is fair to poor, your APR may be as high as 25% or more. 
This difference in interest rates can mean a dramatic increase in the amount you pay each month. For example, an $80,000 personal loan with a 6% APR paid back over five years would have a monthly payment of $1,547. Over the course of the loan, you'd pay $92,797. With an APR of 25%, your monthly payment on that same five-year loan would be $2,348, and your total cost would be $140,886.
Loan terms can make a big difference as well. Longer terms mean lower monthly payments but result in a far greater total payment over the life of the loan. Here's how your costs break down in two different scenarios — an $80,000 personal loan with an APR of 10% and a three-year term versus one with a five-year term.
Three-year term
Monthly payment: $2,581
Total cost: $92,929
Five-year term
Monthly payment: $1,700
Total cost: $101,985
You can use Credible's personal loan calculator to estimate what your monthly payment and total cost will be based on the rates and terms you've been offered.
Comparing $80K personal loan lenders
Before committing to a personal loan, get quotes from multiple lenders to see the rates and terms they offer. Here are some things to compare:
APR — This takes into account the interest rate and any fees the lender charges and represents your cost of borrowing money. Most personal loan lenders advertise their APRs, and this number offers a better idea of the total cost of your loan than just the interest rate.
Fees — Personal loans often come with origination fees, usually a percentage of the loan amount that's deducted before the money lands in your bank account. With a good credit score, you should be able to find a lender that doesn't charge an origination fee. You should also be able to avoid application and other fees.
Repayment term — This is the length of time you have to repay the loan. Personal loan term lengths typically range from one to seven years. With an $80,000 personal loan, you'll likely want to find a lender that offers longer repayment terms to reduce your monthly payment. Keep in mind, though, that a longer loan term will increase the amount you ultimately pay in interest.
Monthly payment — Your loan amount, interest rate and repayment term determine your monthly payment. Be sure to find out the monthly payment of each loan you're considering and see if it will fit within your budget.
Total cost of the loan — All of the above will contribute to the total amount you pay for your personal loan. Higher interest rates and longer terms will increase the amount of interest you pay over time, meaning you're paying more to borrow money.
If you're ready to find a loan that's right for you, compare personal loan rates in minutes using Credible.
How to apply for an $80,000 personal loan
Before settling on an $80,000 personal loan, it's vital to evaluate all your options and find the best one for you. Following this process will help you get the best deal.
1. Check your credit 
Your credit score will largely determine whether you qualify for a personal loan and how much you'll pay for it. Arming yourself with this knowledge will help you evaluate if you're getting a good deal. You can request a free copy of your credit report each year from the three major credit bureaus — Equifax, Experian and TransUnion — using the site AnnualCreditReport.com. When you receive your reports, review them carefully and search for any errors that might be holding down your score, like incorrect loan balances or accounts listed as past due that are actually current. If you find a mistake, you can dispute the information with the credit bureau and have it corrected. This can immediately boost your score.
2. Compare lenders
Put together a list of potential personal loan lenders that work with people in your credit score range and offer $80,000 loans. Keep in mind that this amount is higher than many online lenders offer. 
A site like Credible can help you compare lenders quickly, or you can search personal loan lender websites for qualification criteria, loan amounts and the APR ranges they offer. 
3. Get prequalified
Once you've found a handful of lenders that may work for you, follow the directions on their websites to prequalify for a loan. You can typically do this quickly by filling out an online form with personal details and your Social Security number. The lender will run a soft credit check and get back to you with loan offers if you qualify. You can prequalify with multiple lenders with no penalty to your credit score. Make sure you prequalify with a few different lenders to compare multiple offers.
4. Compare loan offers 
Review all of your loan offers carefully, paying close attention to the APR, loan term and any fees charged. The best personal loans do not require you to pay any origination fees. At this stage, you can see which lender offers a monthly payment that fits within your budget.
5. Apply for the loan
Once you've found the loan offer that's best for you, the lender will give you instructions on how to complete a full loan application. You'll need to provide documents that prove your financial status, such as bank statements, tax returns or pay stubs. 
6. Accept your loan money
Your lender will give you instructions on how to receive your loan money. In most cases, your proceeds will be deposited directly into your bank account. If you need to pay an origination fee, this amount is typically deducted from your total before the money hits your account. 
Alternatives to an $80,000 personal loan
If you need $80,000 for a home project or to consolidate debt, a personal loan isn't your only option. Here are some alternatives to consider.
Home equity loan
A home equity loan is paid out in a lump sum, and the amount you can borrow is based on the equity in your home. Equity is the difference between what your home is worth and how much you owe on your mortgage.
Home equity loans typically have a fixed rate, meaning you'll have the same monthly payment over the life of your loan. Because these loans are secured by your home, they tend to have lower interest rates. But you risk losing your home to foreclosure if you can't make your payments.
HELOC
Homeowners can also take out a home equity line of credit, or HELOC, which is another loan based on the equity of your home. These loans function more like a credit card. When you take out a HELOC, you enter the draw period and are able to spend up to your credit limit as needed. Then you'll enter the repayment period, repaying the money you borrowed with interest. These loans typically have variable rates, meaning your monthly payment will change over the course of your loan. HELOCs are also secured by your property. 
Cash-out refinance
With a cash-out refinance, you take out a new mortgage that pays off and replaces your original mortgage. Your new mortgage is for a higher amount than you currently owe, and the difference comes to you as cash. These loans have lower interest rates than other options, though you'll generally pay a substantial amount in closing costs.
Add a cosigner
If you're having trouble qualifying for an $80,000 personal loan, you may consider finding a trusted friend or relative to cosign your loan. They'll be equally responsible for paying back the loan if you aren't able to make your payments. But if they have solid credit, it may help you qualify for a loan or for a low rate. 
Borrow a smaller amount
An $80,000 personal loan can be difficult to qualify for. Consider applying for a smaller loan if you're having difficulty finding a lender for the full amount.
Credible makes it easy to compare personal loan rates from multiple lenders without affecting your credit.
Personal loan FAQs
Here are answers to some commonly asked questions about personal loans.
What can you use a personal loan for?
Personal loans are versatile, meaning there are generally few restrictions on what you can use them for. Most people use personal loans for things like consolidating debt, financing a home improvement project or paying a large expense. You may not use a personal loan to fund illegal activities, investments, gambling or college tuition.
How much can you borrow with a personal loan?
Most personal loan lenders have minimum and maximum loan amounts they offer. Typically, the smallest loan you can take out will be between $1,000 and $5,000. The maximum loan can vary significantly, from as low as $35,000 to as high as $100,000. But just because a lender offers an $80,000 personal loan doesn't mean you'll qualify for one. The amount you can borrow depends on your credit score.
What's a personal loan origination fee?
Some personal loan lenders charge origination fees, which are often a percentage of your total loan amount that's deducted from the amount you receive. For example, if you borrow an $80,000 personal loan with a 3% origination fee, you'll receive just $77,600 — with the $2,400 fee retained by the lender. Not all lenders charge origination fees, so make sure to check while you're evaluating your loan options.
APR vs. interest rate: What's the difference?
Both APR and interest rate are a way of measuring your cost of borrowing money as a percentage of your loan amount. The interest rate is the percent of the loan you'll pay your lender each year in exchange for lending you money. The APR includes the interest rate plus any fees. It's best to compare APRs between lenders to get a true apples-to-apples comparison of the cost of the loans.