How to get pre-approved for a mortgage in 2023
Learn about why pre-approval is critical to the homebuying process and what you need to do to secure a mortgage loan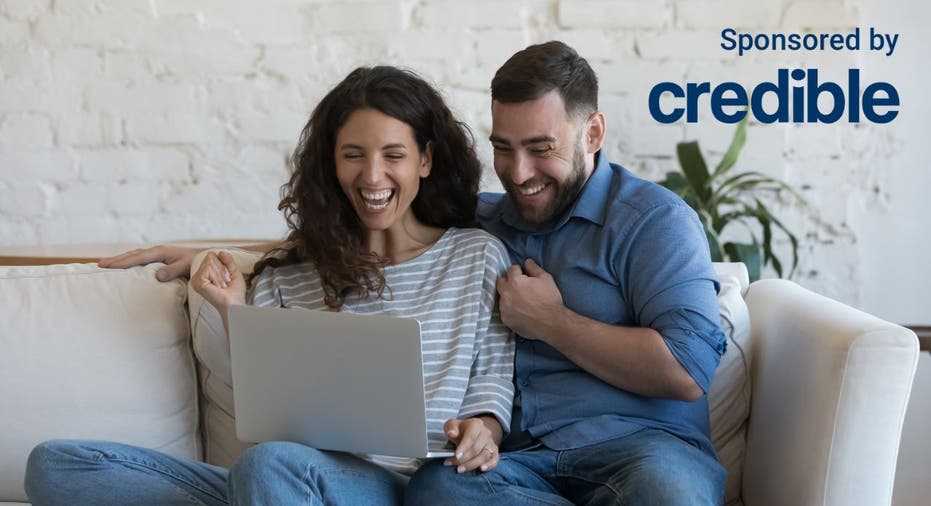 When you want to buy a home, if you're like most people, you'll probably need to apply for a mortgage. Because this loan will likely be for six figures, you'll need to go through several steps before you get your money.
Pre-approval is a key step in most home buyers' mortgage approval process. Many home sellers and real estate agents require buyers to have a pre-approval letter before submitting an offer.
 Credible makes it easy to compare loan options from multiple lenders, all in one place.
What is homebuyer mortgage pre-approval?
A homebuyer mortgage pre-approval is a letter you get from a lender stating that it would likely approve your mortgage loan application up to a certain amount. This is the letter you want to have handy once you've found a home you want to buy. It lets home sellers know you're a serious buyer, which may be even more important if you're a first-time homebuyer.
This letter isn't a guarantee you'll be approved for the loan, and it doesn't commit you to using that lender. But because a pre-approval letter is based on preliminary vetting from a lender, it holds some weight and shows that you're mortgage-ready.
After you get a pre-approval letter, the fun begins. You can now start home shopping, taking advantage of first-time homebuyer tips. When you find a house you want to buy, you (or your real estate agent) present your offer along with the pre-approval letter.
The seller might reject your offer, or if the seller accepts your offer, you might not want the house after having it inspected. In these scenarios, it's back to the drawing board — you keep looking for a house and presenting the same pre-approval letter until it expires.
How to get pre-approved for a mortgage
You get pre-approved for a mortgage by contacting a lender, letting them know you're interested in buying a house and telling them you'd like to get pre-approved for a home loan.
Lenders want to know your financial information before they'll lend you money. So, before you request a pre-approval letter from a lender, it's a good idea to check your credit report and find out your credit score. If your credit score is not as good as it could be, improve your credit score before going through the pre-approval process.
Your realtor may recommend a lender that offers pre-approval. And as mentioned, you're not locked into borrowing a home loan from the lender that initially pre-approves you. With that said, you can compare mortgage lenders seamlessly online without undergoing a hard credit check.
Pre-approval helps homebuyers estimate affordability
You'll also want to determine how much home you can afford to buy. You might be pre-approved for a higher loan amount than you're comfortable with, for example.
While it's nice to be approved for a high amount, you don't have to borrow up to that maximum. The best way to gauge affordability is to have a monthly budget of all your expenses. Then, use a mortgage payment calculator to determine how much your monthly payments will likely be.
Note that the higher your credit score, the more likely you'll get offered lower interest rates, which directly affects the monthly payment. Mortgage payments include:
The principal amount you borrow
Interest
Property taxes
Homeowner's insurance
To secure a mortgage and buy a home, you'll also need to have money saved to handle the down payment and closing costs.
Other potential costs of homeownership include:
Private mortgage insurance, or PMI, if you make a down payment of less than 20% of the home's cost
HOA fees, if the home is governed by a homeowner's association (HOA)
Cost of repairs and maintenance
Requirements for mortgage pre-approval
To get a pre-approval letter, you need to send the lender commonly required documents. Be prepared to present the following:
Proof of identity: Driver's license (or passport) and Social Security number
Proof of income: Pay stubs, tax returns and bank statements (usually two years' worth)
List of assets and debts: Any money you earn through work or investments and how much you owe creditors each month
That last category helps lenders determine your debt-to-income ratio (DTI), but note that the requirements for being pre-approved for a mortgage loan vary between lenders.
When should you get pre-approved?
You should get pre-approved for a loan when you're ready to buy a house and have confirmed that…
Your credit is good enough to secure a mortgage with a competitive APR
Your budget, which lists all of your monthly expenses, can realistically handle the associated monthly payment
You have the savings to cover a down payment (perhaps via first-time homebuyer programs) and closing costs
You have the cash-flow to maintain or build a reserve fund for repairs and maintenance
Keep in mind that the pre-approval letter is only good for a certain amount of time, such as 30, 60 or 90 days. If you haven't found a house to buy by the time your pre-approval letter expires, you'll need to reapply.
Frequently asked questions
What's the difference between prequalification and pre-approval?
Some lenders offer both a prequalification letter and a pre-approval letter.
The prequalification letter is typically based only on what you tell the lender. You might be asked, for example, how much you earn annually, what debts you have and how much you have in savings. The prequalification letter is more for your general knowledge.
The pre-approval letter is more substantial. Lenders will do a deeper dive and ask for documents to back up what you tell them. The pre-approval letter is what sellers and real estate agents want to see.
How do I raise my credit score?
Lenders look to see how you handle your bills over time. A fast way to build your credit score is to apply for and start using a credit card, using no more than 30% of your available credit and paying off your balance in its entirety each month. Be careful to not miss payments on any of your bills. If you're not disciplined, you can enroll in automatic payments. It takes time to raise your credit score.
Keep checking your score each month, and after following your finance plan, you should start to see it going up.
How do I budget for a house?
A rough estimate to determine how much house you can afford is to multiply your annual gross income by 2.5. That gives you a starting point.
A more specific way to budget is to try to keep your monthly mortgage payment to no more than 28% of your gross monthly income. The lower your overall debt load, the higher you can go on a mortgage payment. Try to keep your total debt to no more than 36% of your gross monthly income.
When forming your budget, make sure to include monthly costs for groceries, your projected house payment, car payments (or transportation costs), medical bills, childcare, education and clothing, among other categories.
How much of a down payment do I need?
Putting down at least 20% of the cost of the house is the standard. If you can do that, you don't have to pay PMI, which is typically 0.5% to 1.5% of the loan. If you do have to pay PMI because you're putting down less than 20%, you can cancel it as soon as you have 20% equity in your home.
Not all aspiring homeowners can put down a 20% down payment, however. If that's the case for you, consider the first-time homebuyer programs mentioned above and down payment assistance programs.
How much are closing costs?
Closing costs are usually 2% to 5% of the home's purchase price. They are due at closing and typically include, among other things, fees for the:
Appraisal
Application
Home inspection
Mortgage origination
Title insurance
If you're ready to find a mortgage lender, visit Credible to compare lender options.