Emergency loans: What they are and where to get one
An emergency loan can help you meet unexpected expenses, and you may be able to receive your loan funds quickly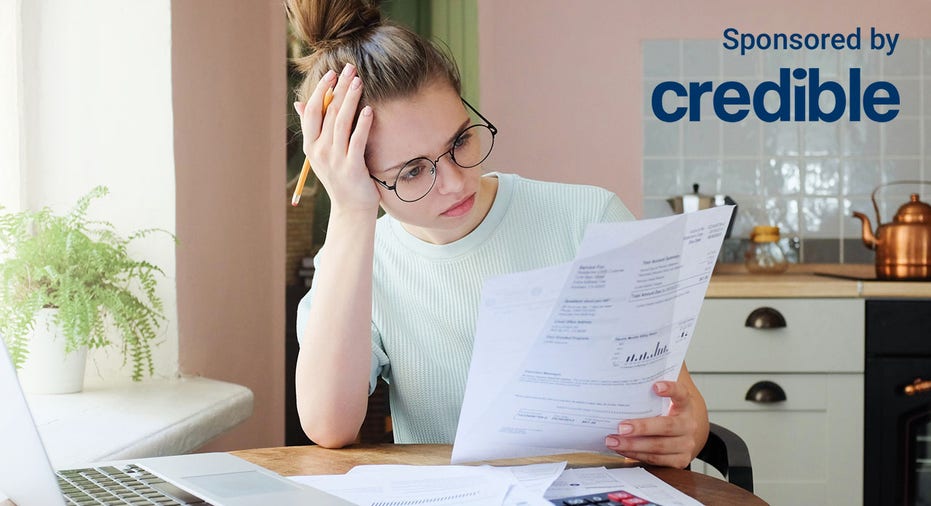 When you're facing a financial emergency, a personal loan can help you get the cash you need quickly. Whether you need to fix water damage from a flooded dishwasher or pay an urgent bill, an emergency loan with fast funding may be a great option. 
Here's what to know about emergency loans, how quickly you can get them, and how they affect your credit.
With Credible, you can easily compare personal loan rates from various lenders to find the best emergency loan for you.
What are emergency loans?
An emergency loan is an unsecured personal loan that you can get quickly to cover unexpected expenses. Unsecured loans don't require collateral, meaning your property won't be at risk if you fail to make your payments. Personal loans typically come with fixed interest rates, so your monthly payment will stay the same for the life of the loan. 
While emergency loan interest rates may be higher than those for secured loans, like a home equity loan, they're generally lower than what you'd pay on a credit card. And you typically don't have to pay a prepayment penalty if you repay the loan ahead of schedule.
If you're approved for an emergency loan, the lender will disburse your loan funds, typically through direct deposit to your bank account. If your loan has an origination fee, the lender will deduct that amount from the total loan amount you receive.
Where can you get an emergency loan?
You can get an emergency loan from online lenders, banks, and credit unions. 
Online lenders
A number of companies offer personal loans through a process that's completely digital. You can apply for the loan with a simple online form, providing personal information, details on your finances, and your Social Security number. Online lenders will check your credit, and they may offer you an emergency loan that can be deposited in your bank account within one or two business days. 
Credible makes it easy to see your prequalified personal loan rates from multiple lenders, all in one place — and it won't affect your credit.
Banks
Your bank may also offer personal loans for an emergency expense, either online or by calling or visiting a local branch. Some banks may require you to have a checking or savings account with the bank to be eligible for a loan. And they may offer an interest rate discount for existing customers.
Credit unions
While banks are for-profit institutions, a credit union is a not-for-profit financial institution owned by its members. Interest rates from a credit union may be lower than you'd find at a bank, but you'll need to become a member of the credit union to be eligible for a loan. Each credit union has its own criteria for who can become a member.
Can you get an emergency loan with bad credit?
If you have bad credit or no credit at all, it may be harder for you to qualify for an emergency loan. Many lenders have minimum credit score requirements you must meet to be eligible for a personal loan. But some lenders specialize in bad credit loans. 
You may also have the option of applying with a cosigner, someone (like a family member or close friend) with good credit who agrees to be responsible for making the loan payments if you aren't able to. 
What can emergency loans be used for?
You can use a personal loan for nearly any type of financial emergency you may face, such as unexpected medical and dental bills, critical utility payments, urgent car or home repairs, or funeral expenses. There are few restrictions on what the money can be used for. 
But you generally can't use emergency loans for college tuition, a down payment on a house, business expenses, or investments. 
How to compare emergency loan lenders
Before settling on a particular personal loan, it's a good idea to get quotes from several different lenders. As you review these offers, pay close attention to the following factors to make your decision:
Eligibility requirements — Lenders commonly require a minimum credit score to qualify for a loan. You may also need to meet other eligibility criteria, such as your age and income level.
Loan amounts — Personal loan lenders often have a minimum and maximum loan amount. Make sure the loan you need fits in the lender's range.
Interest rates — You'll generally be quoted a rate as an APR, or annual percentage rate. This includes the interest you'll pay on the loan, as well as any fees. The higher the rate, the more you'll pay each month and the more total interest you'll pay over the life of the loan. The better your credit score, the lower the interest rate you're likely to qualify for.
Repayment terms — Personal loans often have repayment terms that range from two years to seven years, though some lenders offer shorter or longer terms. The longer the loan term, the lower your monthly payment will be — but the more you'll ultimately pay in interest before the loan is paid off. Most personal loan lenders don't charge a prepayment penalty, meaning you can pay your loan off early without incurring a fee.
Time to fund — The time it takes a lender to fund your loan is a crucial factor, especially if you need a personal loan for an emergency expense. You may find a personal loan lender who can fund a loan the same day you apply, though it's more common for funding to take one to two business days. 
Online services — Be sure you're comfortable with the online services your lender offers, including customer service and payment portals.
15 OF THE BEST PERSONAL LOANS FOR BAD CREDIT
How to apply for an emergency loan
To apply for an emergency loan, follow these steps:
Determine how much you need to borrow. Figure out how much money you need to cover your emergency expenses. Be careful not to borrow more than you need — this will only make it more difficult to pay back your loan.
Check your credit. Knowing your credit score will help you find a loan you're likely to qualify for. You can get a free copy of your credit report from the three major credit bureaus — Equifax, Experian, and TransUnion — each year by visiting AnnualCreditReport.com. When you get your report, be sure to carefully review it for errors, like incorrect balances or accounts listed as past due that are actually current. If you find a mistake, you can dispute the information with the credit bureau and have it corrected. This could boost your score.
Research lenders. You can use Credible to quickly compare loan offers from multiple lenders that fit with your credit score range. 
Prequalify. Once you've found a few lenders that may work for you, fill out the short forms on their websites to prequalify for a loan. They'll ask for some personal information and generally your Social Security number as well. Once the lender has checked your credit, it'll let you know if you'll qualify for a loan and show you the interest rate and terms you could receive. It may be worthwhile to prequalify with a few different lenders to find the best deal. Since prequalifying for a personal loan generally involves a soft credit pull, it won't affect your credit score.
Apply for the loan. After you've found the loan that best fits your needs, the lender will give you instructions on how to complete a formal loan application. You may need to provide more information about your employment or finances.
Receive your emergency loan. If your lender approves your application, it'll generally deposit your loan funds into your bank account within one to two business days.
If you're ready to apply for a personal loan, Credible lets you easily compare personal loan rates from various lenders — many of them offer fast loan funding times.
 Be careful with other types of emergency loans
As you search for an emergency loan, you may come across certain types of loans that may seem tempting but can be a bad deal. Watch out for these types of loans, and stay away if at all possible:
Payday loans — A payday loan generally refers to a short-term, low-dollar loan that you'll pay back the next time you get paid. These loans can have extremely high rates and fees, and lenders sometimes offer to let you roll over your loan by only paying the fees. That makes it easy to get trapped into a cycle of debt that you can't repay.
Title loans — These loans are also short-term, small loans, but they require you to pledge your vehicle as collateral. Title loans can also come with high rates and fees, and you risk losing your car if you fail to make your payments on time.
WHAT TO KNOW ABOUT HIGH-RISK LOANS
Alternatives to emergency loans
If you can't qualify for a personal loan or you decide it's not the right option, consider one of these alternatives to help you meet your emergency expenses:
0% APR credit card — Some credit card companies offer a 0% introductory APR for purchases on new cards. You won't pay interest for a certain period of time, making them a low-cost way to fund an unexpected expense. But once the introductory period ends, your interest rate will jump significantly. If you carry a balance beyond the introductory period, you may also be charged back interest for the entire time you've had the card.
Home equity loan — If you've owned your home for a lengthy period of time, you've likely built up equity — the difference between what you owe on your mortgage and what the home is worth. You can borrow against this equity through a home equity loan or home equity line of credit (HELOC). These loans typically have lower interest rates than other options, since they're secured by your property. But you risk losing your home to foreclosure if you fail to make your payments. These loans also often take several weeks to close, so you won't get money as quickly as other options.
401(k) loan — If your employer offers a retirement plan, you may be able to borrow from the money you've saved in your 401(k). These loans generally have very low interest rates and no credit score requirements. But you may face tax penalties on the amount you withdraw, and you'll miss out on investment gains during the loan repayment term. And if you leave your job while you're still making payments on the loan, you may need to repay the entire loan balance right away.
How to start an emergency fund
In an ideal world, you won't need to borrow money for financial emergencies. Paying cash is always the best and cheapest way to meet an unexpected expense. Most financial experts recommend keeping between three and six months' worth of your typical expenses in reserve as an emergency fund — but any amount will help out. To start building an emergency fund, you can:
Understand your expenses. To figure out how much money you'll need to save, pay close attention to how much you spend in a typical month. This includes your regular bills, but also other things you spend money on like food and entertainment. 
Make a budget. Match up your expenses with your monthly income, and determine how much you can afford to set aside each month. 
Open a high-yield savings account. High-yield savings accounts offer the highest interest rates on your deposits, helping your emergency fund grow on its own. Having your emergency fund in a savings account also helps reduce the temptation to spend the money until you really need it.
Make regular contributions. It's important to set money aside whenever you can, even if it's a small amount. You may choose to "pay yourself first," putting money into your emergency fund as soon as you get paid, rather than waiting until the end of the month and seeing how much is left over.