Where to get a $35,000 personal loan
While it's possible to get a $35,000 loan, you'll most likely need good credit or be willing to pay higher interest costs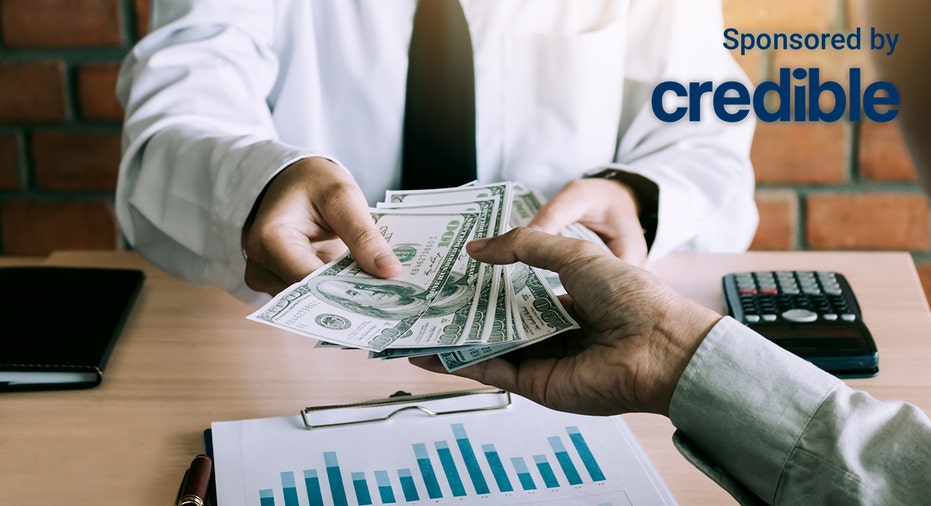 Whether you need a personal loan to make home improvements, purchase a big-ticket item or consolidate debt, getting a $35,000 loan is possible. To borrow such a large sum of money, or to receive a competitive interest rate, you'll most likely need good credit.
Before signing on the dotted line, let's take a look at the costs associated with a $35,000 personal loan and the potential effect a loan that size can have on your finances and credit.
Visit Credible to see your prequalified personal loan rates from various lenders, without affecting your credit.
Where to get a $35,000 personal loan
Online lenders
Online lenders typically offer loans to people with a wider range of credit scores, and they tend to be the fastest funding option. Many online lenders provide funding on the next business day or within one or two business days following approval.
Competition among online lenders means that some may use non-traditional methods to qualify borrowers, and they may offer flexible payment terms to entice people to apply. But rates from online lenders can vary widely, and they can be high if you don't have good credit.
Comparing your prequalified rates won't affect your credit score when you use Credible.
Banks
You'll likely find multiple banks that offer personal loans of $35,000 or more. But you'll generally need good credit or an existing relationship with a bank to be approved for a personal loan. If you already have an account with a bank, you may be eligible for lower rates or loyalty discounts. 
Credit unions
Credit unions may be more willing to work with you if your credit score is in the fair or low range. That's because these not-for-profit financial institutions exist to serve the community, whether it's based on location or a certain demographic.
In most cases, you'll need to become a member to be eligible for a personal loan — some smaller credit unions may have stricter requirements, such as residing in a certain county. 
What credit score do you need for a $35,000 loan?
You'll likely need good to excellent credit to qualify for a $35,000 personal loan. Depending on the lender, minimum credit scores could range from 620 to 670.
Keep in mind that some lenders work with borrowers with lower credit scores, but you'll most likely pay a higher interest rate to borrow money. If your credit score is less than ideal, consider applying with a cosigner with good credit to increase your chances of getting approved for a loan.
Other factors lenders consider when you apply for a loan include:
Income: Lenders want to know if you have enough steady income to pay back your personal loan payments. Some lenders may post minimum income amounts needed for applicants to qualify for a loan.
Debt-to-income (DTI) ratio: This ratio looks at how much of your monthly income goes towards paying off existing debt. Most personal loan lenders like to see a DTI ratio no higher than 40%. 
What is the monthly payment on a $35K loan?
Your monthly payment amount will depend on factors such as your interest rate, loan term, closing costs and any applicable fees. 
Here are two examples of what you might pay for a $35,000 personal loan with differing rates and terms:
Three-year repayment term with 6% interest rate:
Monthly payment: $1,065
Total interest: $3,332
Total payment: $38,331
Five-year repayment term with 16% interest rate:
Monthly payment: $851
Total interest: $16,068
Total payment: $51,067
While your monthly payment with a longer repayment term will be lower, you'll end up paying more interest over time, adding to the total cost of your $35,000 personal loan.
You can use a tool like Credible's personal loan calculator to estimate your monthly payment.
Comparing $35K personal loan lenders
It's important to compare multiple lenders when you're looking for a personal loan. That's because lenders offer different rates and terms, as well as other features that may be a better fit for your financial situation.
Here are several factors you should consider as you're weighing your loan options:
Loan amount: You may be qualified for a higher or lower loan amount than $35,000. Take some time to consider how much you really need to borrow.
Repayment term: Your repayment term will determine your monthly payments and how long you'll spend paying off your loan. Most lenders offer repayment terms from one to seven years. Longer terms come with smaller monthly payments, but add up in interest costs over time.  
Interest rate: The lower the interest rate, the lower the total cost of your loan will be. Having a good to excellent credit score can help you secure a lower interest rate.
Fees: Some lenders charge application or origination fees for taking out a personal loan. Look at the APR for a more accurate comparison between lenders.
Funding time: Most online lenders are able to release funds within five days after approval, while banks and credit unions can take up to a week. If you need funds quickly, you may want to consider a lender with a fast funding time. 
How to apply for a $35,000 personal loan
To apply for a $35,000 personal loan, follow these five steps:
Check your credit. Look at both your credit report and score to see where you stand. In most cases, you'll need good to excellent credit to get a loan this size.
Calculate how much you can afford to borrow. A personal loan calculator can help you get an idea of monthly payments on a $35,000 loan. Look at your budget to see what you can reasonably afford. Lenders look at your income and existing debt to determine how much they may be willing to lend you.
Compare lenders. Shop around with multiple lenders to determine what rates and terms you qualify for. Having options allows you to pick the best personal loan that suits your unique financial needs.
Get prequalified. The prequalification process helps you understand your chances of being approved for a personal loan. Lenders use information you submit to assess your financial situation, so it's a good idea to check beforehand if you meet their eligibility requirements.
Apply for a loan. Once you've decided which personal loan works best for your needs, you'll have to complete an application. Lenders may ask for additional documentation, such as proof of income, to determine whether you qualify for a loan. Once approved, you'll need to sign a loan agreement to receive your funds.
Personal loan FAQs
Can you get a personal loan with bad or fair credit?
Yes, it's possible to get a personal loan if you have bad or fair credit. However, you may not have as many options, such as lower interest rates, at your disposal compared to someone who has good to excellent credit. 
If you have a low credit score, consider applying with a cosigner with good credit to increase your chances of getting approved for a loan. Just keep in mind that if you fall behind on payments, your cosigner will be on the hook for paying back the loan.
How does the repayment term affect your monthly payment?
The longer your repayment term, the lower your monthly payment tends to be because the total loan amount is divided into more payments. But keep in mind that you'll likely pay more in interest overall since you're paying back your loan for a longer period of time. 
APR vs. interest rate: What's the difference?
The interest rate on a personal loan is the percentage the lender charges you for a loan. The lender applies the interest rate to the principal to determine how much interest you'll pay over the life of the loan. Annual percentage rate, or APR, includes the interest rate and any fees associated with the loan. Because APR considers all the expenses associated with the loan, it's a better indicator of a loan's total cost.
What's the difference between a fixed rate and a variable rate?
A fixed rate for a personal loan means the rate will be the same throughout the life of the loan. It also means your monthly payments will remain the same. A variable rate, on the other hand, means that the rate can change during the life of the loan. Your monthly payments may go up or down depending on the rate change.
To see what rates you qualify for, use Credible to compare personal loan rates from various lenders.