How to refinance your mortgage and save big
Make sure you understand the process to get the most benefit from a refinance.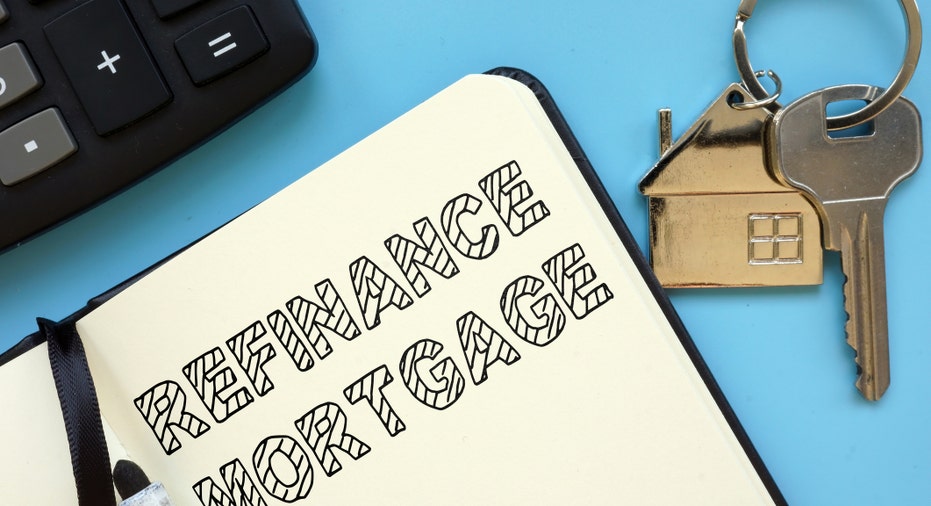 If you're a homeowner and you're wondering how to refinance your mortgage, now is the right time to research loan options. Interest rates remain relatively low, although many experts predict they'll continue to rise. Acting sooner rather than later could save you a significant amount of money before interest rates go higher.  
Refinancing your mortgage takes some time and money, so make sure you do your due diligence on the types of mortgage refinance deals available, including the cost of refinancing, before submitting any applications.
Credible makes it easy to research your mortgage refinance options and compare rates from multiple lenders.
Reasons to refinance a mortgage 
Refinancing a mortgage has many potential benefits. Refinancing can allow you to lower your interest costs or pay off your loan faster. Common reasons you may choose to refinance include:
Lowering the monthly mortgage payment
Reducing the interest rate on the mortgage
Changing repayment terms to pay the mortgage off faster
Using the refinance to access cash from the equity in your home
Removing private mortgage insurance by putting in more cash to boost equity to 20% or higher
How to refinance a mortgage in 6 steps
The benefits of refinancing your mortgage are enticing, and the rewards can be great, but you'll need to follow some specific steps to make sure your application has the best chance for approval. 
Step 1: Estimate the value of your property
The value of your property, and the value compared to how much you owe on your mortgage, will affect your refinance, so it's important to have an idea of what your home is worth. Here's how to get an idea of your home's value.
Ensure you have equity in your home. Equity is the difference between how much you owe on your home and how much you could reasonably expect to sell it for if you were to sell the property right away. Some mortgage lenders won't consider a refinance unless you have at least 20% equity in your home.
Check your loan-to-value ratio. When considering an application for a mortgage refinance, mortgage lenders look at a property's loan-to-value ratio (LTV), or how much you owe compared to the property's value. Most lenders want an LTV below 80% because it's considered a lower risk for them. To determine your LTV, divide the amount you owe on your home by the property's value. For example: If you owe $300,000 on your home and your property is valued at $400,000, the LTV is 0.75 (or 75%).
Step 2: Compare rates from multiple lenders
A home refinance isn't free. Since you're replacing your old mortgage loan with a new loan, you'll be responsible for many of the same fees you paid during your initial closing, including an application fee, loan origination fees, an appraisal fee and closing costs.
Loan rates and costs vary depending on the lender. If you're going to spend several thousand dollars refinancing your mortgage, take the time to shop around on a platform like Credible to compare loan rates without affecting your credit score. Credible allows users to compare prequalified refinance rates from top mortgage lenders. Unlike other sites, Credible provides accurate lender information and transparency regarding lender fees and additional loan costs.
Step 3: Decide if a refinance is right for you
Once you've looked at the value of your property and considered rates from multiple refinance lenders, it's time to examine the reasons to refinance and if it makes sense for you.
Refinancing may be a good option if:
You plan on staying in the home for at least five more years. Living in your home longer lets you maximize the benefits of a lower interest rate.
You can score at least a full percentage rate lower than your current interest rate.
You can lower your monthly payment or save on total interest paid over the life of the loan.
You have a clean credit report and can qualify for lower rates.
Refinancing might not make sense if:
You plan to leave your home in fewer than five years.
You have bad credit and spotty credit history.
You can't afford the closing costs and other fees.
You won't be able to lower your interest rate by at least 1%.
You need to make sure you're not spending more money than you'd save. You could spend more money than you save if you leave a property before recouping the loan costs in savings.
If you're considering a mortgage refinance or evaluating loan options, an online mortgage refinance calculator can help you understand the costs of refinancing, how much you might save and how long it will take before your savings from the refinance recoup the costs. 
Step 4: Collect required documents
When you decide to move forward with your refinance, you'll need to collect all your required forms. Make sure to keep them handy in case your lender needs additional copies. Paperwork you should keep on hand includes:
Proof of income and employment
Tax returns for the past two years
List of any assets
Copy of your current loan
Debt statements
Appraisal information
Your lender may require additional documentation. Send all documentation together to speed up the approval process.
Step 5: Submit your application
After you've reviewed several lenders and chosen the one that best fits your needs, it's time to fill out the application. Many lenders allow you to apply online, but some may prefer an in-person meeting. 
Limit the number of applications you submit. Lenders will conduct a hard inquiry into your credit when you apply for a mortgage refinance, and too many credit applications could hurt your credit score. If you plan to shop rates by making multiple applications, be sure to submit the applications within a few days of each other. The credit reporting bureaus recognize this behavior as shopping and will combine them to limit the effect on your score. 
You can use Credible's free online tool to compare refinance rates and view your loan options. 
Step 6: Review your loan estimate
When your lender approves your application, it will send a loan estimate and closing disclosure. These documents are short and straightforward and will outline your loan terms, repayment terms and any fees. Look out for your projected monthly payment, closing costs, fees and whether your new loan includes a prepayment penalty.
Review your closing disclosure carefully. This document details all the final numbers in your loan. If you see an error or you have questions about a fee, charge or another aspect of the loan, now is the time to address the issue. Once you sign the document, the lender issues your refinance, and you're on your way to saving money.
Types of mortgage refinance 
You have multiple options for how to refinance a mortgage. Common mortgage refinance types include: 
Rate-and-term-refinance — This type of refinance focuses on changes to the loan term, the interest rate or both. For example, you might refinance to reduce the interest rate by 2%. Lowering your interest rate could reduce your monthly payment and total loan cost. Alternatively, you could refinance to a shorter term, which could raise your monthly payment but allow you to pay off your loan faster. Rate-and-term-refinances are simple and flexible.
Cash-out refinance — With a cash-out refinance, you draw on the equity in your home by taking out a new mortgage that's larger than the one you're paying off. The excess cash goes in your pocket, to use as you see fit. While a cash-out refinance can be a low-cost way to pay for home improvements or repairs, or pay off higher-interest debt, it leaves you with a larger mortgage balance.
Cash-in refinance — A cash-in-refinance allows buyers to bring a lump sum of money to pay toward the loan while refinancing. Buyers might choose this option if they want to take advantage of lower interest rates while reducing the balance on their loan, or if they're going to refinance to eliminate private mortgage insurance. A cash-in refinance can allow you to eliminate private mortgage insurance, reduce your interest rate and pay off your loan sooner. But if you have an FHA loan and want to get rid of PMI, you'll need to switch to a conventional mortgage.
How much does it cost to refinance a mortgage?
When you refinance your home loan, you replace your current loan with a new one. That new loan typically includes closing costs and other fees.
Common refinance fees include:
Application fee
Origination fee
Inspection fee
Home appraisal fee
The loan origination fee may be up to 1.5% of your total loan (e.g., $5,250 on a $350,000 loan). You'll want to factor in about $400 for an appraisal and $500 for a home inspection. Your lender may also charge a title search and insurance fee, which could cost up to $900.
Keep in mind exact costs will vary depending on a number of factors, including the lender, how much you want to borrow and your credit.
What are the pros and cons of refinancing a mortgage?
While refinancing a mortgage has significant financial benefits, it might not be the best choice for everyone. Here are a few pros and cons to consider before you start filling out applications: 
Pros of a mortgage refinance
You might be able to lower your interest rate and costs. If your credit has improved since you first took out a mortgage, or rates were much higher then, you might qualify for a lower interest rate now. A lower interest rate can mean a smaller monthly payment and a lower total loan cost. Even a 1% change could make a difference.
You may be able to access cash for other expenses. If you have enough equity in your home (ideally at least 20 to 25%), you could access those funds to help pay off other debts, cover an emergency expense or pay for home improvements.
Refinancing could help you pay off your mortgage sooner. If you choose a shorter refinance term or opt for a cash-in refinance, you might be able to pay off your mortgage faster. Being mortgage-free has many advantages, including allowing you to put the extra money every month toward financial goals like building your retirement savings.
You may be able to lower your monthly payments. Although refinancing into a longer term will extend the time it takes to pay off your mortgage, it could also give you a lower monthly payment. And if you're able to refinance at a significantly lower interest rate, you may also be able to lower your monthly payments — even if you don't refinance into a longer term.
Cons of a mortgage refinance
You'll have to pay closing costs. Lenders charge fees, such as an application fee or loan origination fee, for a mortgage refinance. Additionally, you'll likely need to pay an appraisal fee. Make sure to do the math and figure out if you'll be in the home long enough for your savings to cover the loan cost.
Refinancing could actually increase your loan's total cost. If you refinance into a longer repayment term in order to reduce your monthly payments, you'll ultimately pay more in interest over the life of the loan.
Your credit score could dip. A hard inquiry on your credit — which will happen when you apply for a mortgage refinance — can cause your credit score to drop, although it will likely only be temporary.
Approval and savings are not guaranteed. A number of factors could hinder your ability to qualify for a mortgage refinance, including a drop in your credit score, change in employment or high debt-to-income ratio. And a refinance could cost you more in the long run if you're not able to qualify for the best mortgage interest rates. In addition to covering fees, you'll need to plan for the time it will take for your application to be reviewed and approved. Many lenders have seen an increase in interest as the interest rates dropped. You may need to wait several weeks before the lender approves your refinance. If you need cash from a cash-out refinance immediately, the process may be slower than you'd like.
You can easily check your mortgage refinance options without affecting your credit when you compare mortgage refinance rates from multiple lenders with Credible.
How to get the best mortgage refinance rate
Several factors can affect your mortgage refinancing rate, and some — like the overall state of the economy — are beyond your control. But you can take some steps to ensure you get the lowest mortgage refinance rate available to you. 
Get your credit score to at least 700.
Reduce the balance on your credit cards or other loans.
Consider refinancing into a shorter-term loan.
Apply for a refinance if you have an LTV below 80%.
Compare rates from multiple lenders to find the best one.