Everything you need to know about moving loans
A personal loan can help you cover moving expenses and reduce the stress of relocating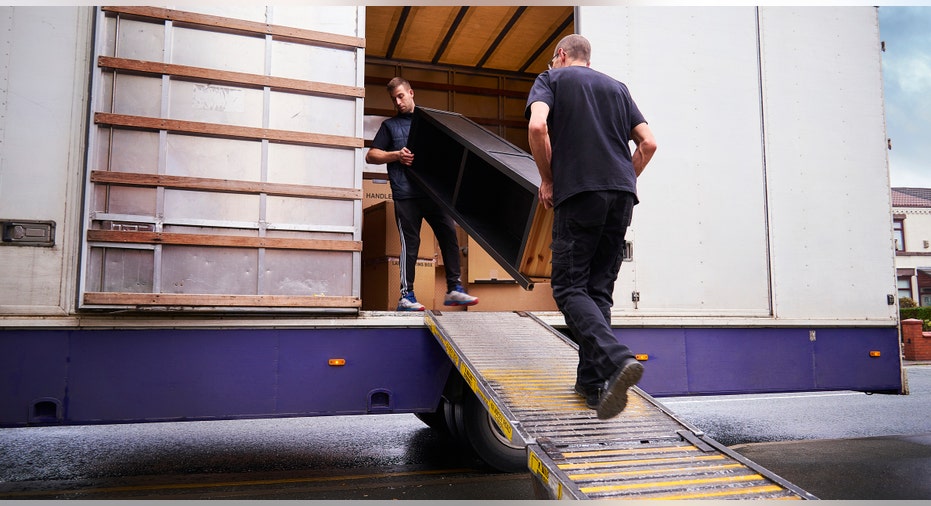 Moving can be an exciting experience, but unfortunately, it can also be a stressful and expensive process. Average relocation costs range from as little as $200 to as much as $10,000, depending on your home size, according to Forbes. You may be able to alleviate some of the financial stress with moving loans.
Using a personal loan to cover moving expenses can reduce strain on your savings and help you budget for the next chapter of your life. Here's everything you need to know about moving loans.
You can use Credible to compare personal loan rates to cover your moving costs.
What's a moving loan?
A moving loan is a personal loan that you use to cover moving expenses. Since these loans are typically unsecured, you won't need to worry about putting up collateral for the loan.
Many lenders offer personal loans to cover moving costs. Lenders will typically offer you a set loan amount to be paid back during a predetermined loan period at a pre-approved interest rate. For example, you may be approved for a three-year, $5,000 personal loan with an interest rate of 6%. As the loan matures, you'll be required to make monthly payments until the total loan amount, plus interest, is repaid.
How you can use a moving loan
Before applying for a moving loan, it's important to understand what you can and can't use it for. This loan covers expenses directly related to your relocation, which may involve anything from packing and transporting your possessions to personally moving large items, like your vehicle, across long distances. You can use your loan to cover costs including:
Hiring movers
Renting a moving truck
Purchasing packing materials like boxes, tape and packing peanuts
Covering travel costs for a long-distance move, such as hotel stays, meals and gas
Personal loans for moving costs
To find the right personal loan to cover your expenses, you'll first need to identify the personal loan lender that meets your unique needs. The following five lenders are Credible partners that offer moving loans.
Avant
Avant offers fast funding, which makes it a good option if you need to cover unexpected moving expenses as quickly as possible.
Loan amounts: $2,000 to $35,000
Loan terms: Two to five years
Minimum credit score: 550
Loan funding time: As soon as the next business day
Best for: Borrowers with bad credit
Best Egg
Best Egg offers great rates to qualified borrowers.
Loan amounts: $2,000 to $50,000
Loan terms: Two to five years
Minimum credit score: 600
Loan funding time: As soon as one to three business days after successful verification
Best for: Borrowers with fair credit
LendingClub
LendingClub offers personal loans as small as $1,000, which is ideal if you only need a small amount to cover relocation expenses.
Loan amounts: $1,000 to $40,000
Loan terms: Three or five years
Minimum credit score: 600
Loan funding time: As soon as 48 hours
Best for: Smaller loan amounts
Marcus
Marcus offers a discount if you enroll in autopay, which reduces the overall cost of your loan.
Loan amounts: $3,500 to $40,000
Loan terms: Three to six years
Minimum credit score: 660
Loan funding time: As little as three days
Best for: Borrowers with good credit
Upstart
Upstart may be a good option if you don't have an extensive credit history.
Loan amounts: $1,000 to $50,000
Loan terms: Three to five years
Minimum credit score: 580
Loan funding time: As soon as one business day
Best for: Borrowers with limited credit histories
How to apply for a moving loan
Before you apply for a personal loan for moving expenses, take some time to review your options so that you can select the loan that works best for your budget, needs and credit history. Follow these four steps when applying for a moving loan:
Determine how much you'll need to borrow. Before investigating personal loan options, calculate how much you'll need to borrow. You can determine this amount by estimating how much a moving truck, movers, boxes and moving supplies will cost.
Compare rates based on your eligibility. Many lending companies offer moving loans with various interest rates. Your credit score and credit history will affect the rate a lender offers you, regardless of the loan amount. Compare other important factors, like repayment terms, as well.
Don't forget to take fees into account. While a loan's rate can significantly impact your overall loan expenses, consider all relevant fees, too. For example, some lenders charge an origination fee for processing the loan. Looking at a loan's APR, or annual percentage rate, can give you a better idea of the loan's true costs since APR generally includes fees and other loan-related charges.
Apply for the loan. Once you've identified the loan and lender that best fits your needs, you're ready to apply for the loan. Make sure you have all required documentation when you apply to ensure that you can lock in the best rate available at the time.
With Credible, you can easily compare personal loan rates from multiple lenders in one place.
Pros and cons of moving loans
Securing a relocation loan has upsides and downsides. As with any major financial decision, it's important to weigh the pros and cons of a personal loan before using one to cover your moving costs.
Pros
Diverse options — Whether you need a small amount to fund a change of apartments or a larger sum to facilitate a cross-country move, there's likely a loan that caters to your specific situation.
Fast funding — Personal loans allow you to get money quickly, sometimes even the same day you apply. 
Lower rates than credit cards — Depending on your credit, lenders may offer you an APR that's lower than credit cards, meaning you'll pay less interest.
Cons
Additional expenses beyond the expected cost of moving — Using a personal loan to pay for your relocation will ultimately increase your overall expenses. Even minimal lender fees and low interest rates can add up over time, causing the total cost of the move to exceed your original estimate.
No control over fees and APRs — APRs and loan fees vary from lender to lender. Though your credit score may lower your overall expenses, the lender has final discretion on which fees and interest rate your loan is subject to.
Not all borrowers qualify — One significant downside to relying on personal loans to cover the cost of moving is that not all borrowers will be able to secure a loan. Factors like credit history and monthly income can prevent you from getting approved unless you have a cosigner with good or excellent credit.
Alternatives to moving loans
Personal loans are only one way to fund a move. Some people may prefer to use a loan to partially cover moving expenses, while others may be able to fund their relocation through other methods. Here are four alternatives to taking out a moving loan:
Open a credit card with a 0% APR incentive. Some credit cards come with 0% APR introductory offers. Depending on the length of the offer, you could potentially pay off your moving expenses without earning interest on the balance. But if you don't pay off the full balance before the promotional period ends, you'll start accruing interest at the card's regular rate, which may substantially increase your overall expenses in the long run. And you'll generally need good credit to qualify for one of these cards.
Sell your old belongings. If you plan to get rid of any pieces of furniture, clothing or tools prior to your move, try selling them, then use the extra money to purchase new moving boxes or rent a moving truck.
Dip into your savings. One of the most straightforward ways to fund your move is to pay in cash. If possible, you can allocate part of your savings to fund the move, making sure to keep enough in your account for any unexpected expenses that may arise. Opening a high-yield savings account now could help you earn more interest to fund a move in the future.
Ask family or friends for help. Close family members or friends may be willing to loan you cash or pay for certain expenses as a gift. This is an interest-free option that may work well if you have poor credit and don't qualify for a loan. But don't accept loans or gifts if you believe it will strain your relationship.
If you're ready to find a moving loan, visit Credible to compare personal loan rates from various lenders in minutes.