Hidden costs of food delivery apps are draining your wallet
Uber Eats was the most cost-effective delivery app based on information from four different cities
The fad of ordering food through apps has caught fire. However, some hidden fees on the most popular platforms may be eating away at your wallet.
EatingNYC founder Alexa Matthews broke down the costs associated with Postmates, DoorDash and Uber Eats during an appearance on FOX Business' "Mornings with Maria."
HOW RESTAURANTS, FOOD DELIVERY APPS LIKE GRUBHUB, UBER EATS FRUSTRATE CONSUMERS: SURVEY
Although Uber Eats does a good job of breaking down the costs involved, Matthews said, consumers could be paying up to 20 percent more when ordering food.
"At first you'll see the delivery cost and then there's services and fees, which usually is about 15 percent of the food cost… [but then] they try to add in all these other fees," she explained.
According to prices in four U.S. cities, Postmates proves to be the most expensive option since it has more food partners than other apps.
"If somewhere isn't a [Postmates] partner, you could be facing fees close to $8 or $9 per delivery," Matthews said.
If a consumer were to order one medium Big Mac meal from Postmates once a week, Matthews noted, fees could add up to $1,000 per year. That equates to a domestic first-class flight or a nine-day trip to Disney World.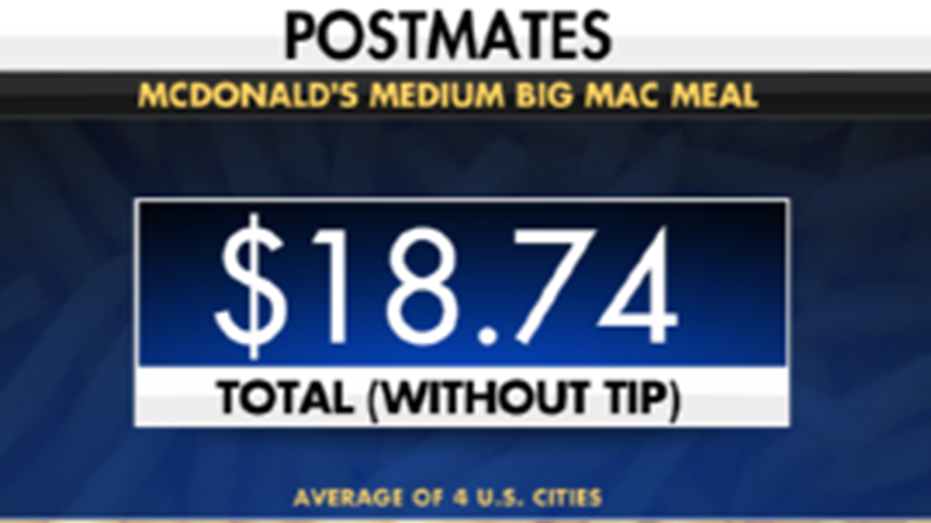 GET FOX BUSINESS ON THE GO BY CLICKING HERE
Matthews said DoorDash is less explicit in explaining what the extra fees pay for, so "you really don't know where your money is going."
Regardless of money being quite literally eaten away, Matthews said there's still a big demand for fast delivery and consumers are willing to pay the extra cost.
"These apps are so expensive because there are so many parties involved," she said. "Now, you also have the app who has to get paid and the courier too. There are just so many more transactions involved that really boost those fees."