Boeing CEO: 737 Max 'will be able to compete head-on'
Boeing's 737 Max will still be able to compete head-on with a similar model rival Airbus, the planemaker's new CEO promised, despite the momentum lost during its grounding after two deadly crashes linked to new software.
The Max, the latest iteration of a plane introduced in 1967, was brought to market in the 2010s to compete with the more fuel-efficient A320neo from Airbus, the European aviation giant that has long battled Boeing for dominance of the commercial jet market.
The single-aisle plane became Chicago-based Boeing's best-selling model ever before it was sidelined worldwide in March 2019, following air-travel disasters that killed 346 people in less than six months.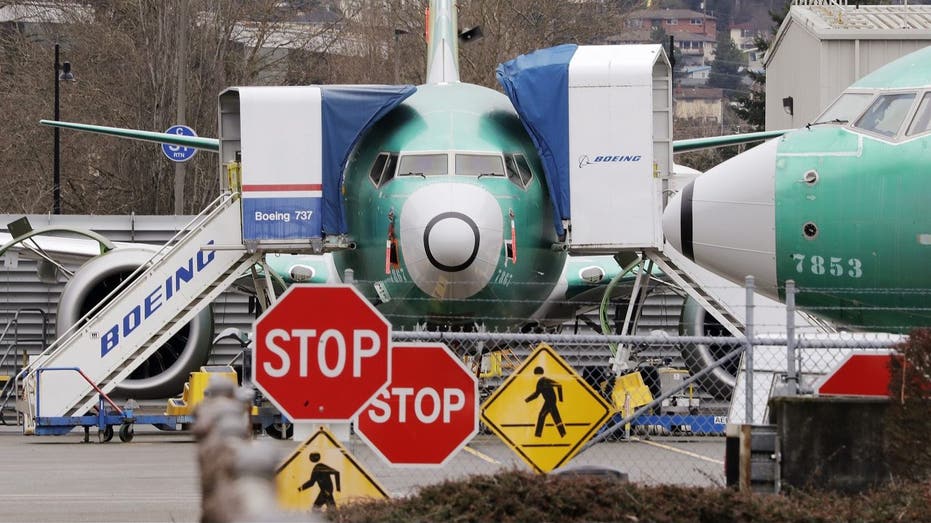 "We will get back on our horse," David Calhoun, who assumed the top job at Boeing after predecessor Dennis Muilenburg's ouster last year, told FOX Business' Maria Bartiromo on Wednesday. "I'm not worried about our ability to compete, either on this airplane, the entire fleet or in the future of airplane development."
GET FOX BUSINESS ON THE GO BY CLICKING HERE
Calhoun said he expects the aircraft to win certification for commercial flights from the Federal Aviation Administration by June, and said Boeing will resume production of the Max in April.
"The process, I believe, is set up to be very disciplined," he said. Manufacturing will rely on "people we kept on the payroll, who will be back in the very same jobs as before" so that Boeing won't have to deal with learning curves for new workers unfamiliar with the process, Calhoun added.
BOEING POSTS FIRST LOSS IN 20 YEARS AS 737 MAX GROUNDING GRINDS ON
Resuming commercial flights, along with production and sales, is vital for the planemaker, which lost $636 million last year as deliveries plummeted 53 percent to just 380 aircraft. Output halted in January for the Max, which Boeing had been unable to ship to customers since its grounding.
In the months since, American, United and Southwest airlines have repeatedly revised schedules to account for the Max's absence while suppliers Spirit AeroSystems and General Electric laid off workers to account for the resulting slowdown in demand.
Boeing took a $2.6 billion charge at the end of the year for potential concessions and other incentives for customers hurt by the 737 Max grounding, driving the total so far to $8.2 billion. That's still less than the $12 billion estimate from Bank of America.
BOEING PROCURES $12B IN LOANS OVER 737 MAX CRISIS
The security of the aircraft, whose crashes were linked to new anti-stall software that investigators believe attempted to lower the plane's angle of attack during takeoff after being fed faulty data, is the company's top priority, Calhoun said. In both crashes, instrument data captured on satellite showed abrupt ascents and descents, characteristic of pilots struggling to compensate for the computers.
"At this moment in time, in light of what's happened, our priority on safety could not be clearer," Calhoun said. "I want us to be seen as a very transparent, high-value company clearly focused on safety."