Where to get a $50,000 personal loan
If you need to consolidate debt, fund home improvements or cover another large expense, a $50,000 personal loan can be a good option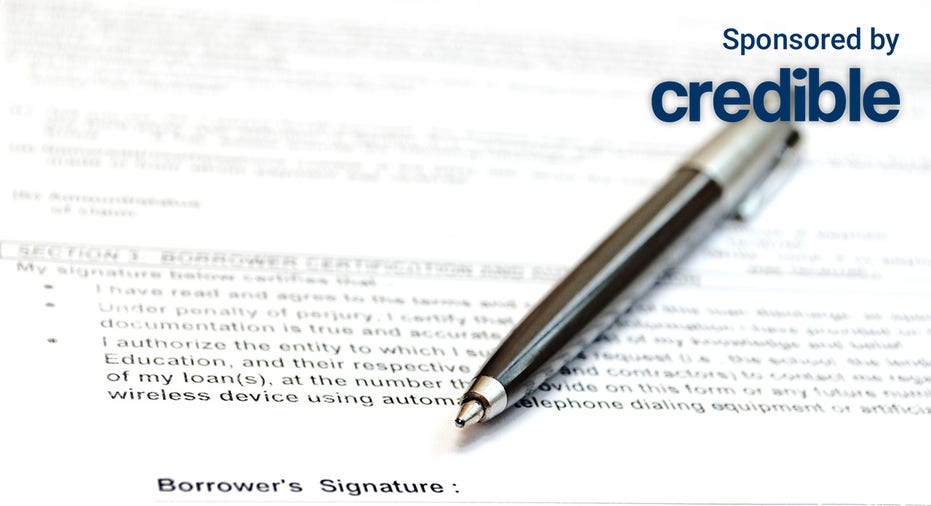 When you need a large sum of money, a personal loan may be your best option. Personal loans range from as little as a few hundred dollars up to as high as $100,000. You can use a $50,000 personal loan to cover a wide range of expenses including home repairs, medical expenses and emergency funding.
You'll need to meet specific income and credit requirements to qualify for a larger personal loan. Keep reading to learn where to find a larger personal loan and what you'll need to do to qualify. 
Visit Credible to see your prequalified personal loan rates from various lenders, without affecting your credit.
Where to get a $50,000 personal loan
Choosing a lender is one of the most important things you'll do when getting a $50,000 personal loan. Many lender options are available, but each lender has its own rates, terms and fees. Be sure to compare options from multiple lenders to find the right loan for your needs. 
Online lenders
Online lenders offer an easy application process and are able to fund loans quickly — usually in less than five business days. Because online lenders tend to operate without brick-and-mortar locations, the lower overhead allows these lenders to offer better rates and terms, so they can be a great option when you're shopping around.
Credible lets you compare personal loan rates from top lenders in as little as two minutes.
Banks
Many people first think of banks when considering large personal loans. If you already have an account with a bank, you may be able to qualify for lower rates or loyalty discounts on a personal loan. Some banks offer an online application process, but others may require you to visit a branch location.
Credit Unions
Credit unions also offer personal loans, but you'll have to be a member to qualify. Because credit unions are not-for-profit organizations, they tend to offer lower interest rates and better terms. Be sure to visit credit unions in your area that offer $50,000 personal loans and ask if you need to become a member to qualify. 
What credit score do you need for a $50,000 loan?
To qualify for a large personal loan, you'll likely need to have good-to-excellent credit. To secure a $50,000 loan, you should aim for a minimum credit score of at least 670. While some lenders will offer loans to borrowers with a lower credit score, you'll likely pay higher interest rates. If you have poor to fair credit, consider applying with a cosigner with good credit to improve your chances of approval. Just keep in mind that if you fail to make monthly payments, your cosigner will be on the hook for the loan.
You can use a site like AnnualCreditReport.com to check your credit report for free. Be sure to dispute any errors you find with the appropriate credit bureau to potentially boost your credit score.
In addition to your credit score, lenders will consider other factors to decide if they should lend to you. These factors include your payment history, income, employment status and your debt-to-income (DTI) ratio. 
What is the monthly payment on a $50k loan?
The actual cost of a $50,000 personal loan will depend on different factors, including your interest rate, repayment terms, closing costs and fees. Each lender has different fees, rates and terms, so you'll find that your potential loan cost will vary between lenders.
Here are two examples of what you might pay for a $50,000 personal loan with differing rates and terms: 
Three-year repayment term
Interest rate: 10%
Monthly payment: $1,613
Total payment: $58,080
Five-year repayment term
Interest rate: 17%
Monthly payment: $1,243
Total payment: $74,557
Once you've gotten quotes from lenders, you can use Credible's personal loan calculator to get an idea of the total cost of your loan. 
Comparing 50K personal loan lenders
When you take out a personal loan, you'll want to consider various factors when deciding if a lender is the right fit for your needs. A few things to consider when comparing loan offers include:
Loan amount: The first thing you want to consider is if the lender will loan you the full amount. If a lender won't lend you the full $50,000, you may want to consider other options.
Repayment term: Repayment terms determine your monthly payment and the length of the loan. Most personal loan lenders offer repayment terms between one and seven years. A longer repayment period means a lower monthly payment, but you'll pay more in interest over time.
Interest rate: The interest rate determines how much you'll pay in interest over time. Having a good to excellent credit score or applying with a cosigner with good credit can help you secure a better interest rate.
Fees: Some of the most common fees on personal loans are loan origination fees, prepayment penalties and late fees These fees can add to the total cost of your loan, so make sure you're comfortable with any fees the lender charges.
Funding time: Make sure you know how long it will take to receive your money. If you need funds immediately, it may not make sense to accept a loan from a lender that can't release the money for a week or more. Some online lenders can fund personal loans as soon as the next business day after approval, while banks and credit unions can take up to a week.
How to apply for a $50,000 personal loan
When you're ready to apply for a $50,000 loan, follow these steps:
Shop around. It's important to compare rates from at least three different lenders to find your best option.
Submit your application and required documentation. Make sure to keep these documents on hand in case the lender has questions.
Complete a quick interview. Some lenders require a phone interview while others will determine your eligibility and approve your loan without a phone call.
Receive your funds. Once the lender approves your loan and you sign the appropriate documents to accept the loan, you can expect to receive the funds within a few days.
Before signing on the dotted line, have a repayment plan in place. Consider setting up automatic payments, as some lenders offer a discount if you agree to have your payment taken out of your account automatically each month. 
Alternatives to a $50,000 personal loan
If a personal loan isn't right for you, you may want to consider the following options:
Home equity loan — A home equity loan allows you to tap into equity on your property for a lump-sum payment. Ideally, you should have at least 20% equity in your home to apply. A home equity loan is a convenient option because you may be able to wrap the loan payments back into your mortgage payment. But you risk losing your home if you can't keep up with the payments.
Cash-out refinance — A cash-out refinance lets you take advantage of potentially lower interest rates and get additional cash at the same time. With a cash-out refinance, you can take up to 85% of the equity in your home as a cash payout. These types of loans often have lower interest rates, and you may be able to use the interest rate as a tax deduction if the money is used to make significant improvements to your home. Again, you risk losing your house if you can't make your payments.
Personal loan FAQs
How much can you borrow with a personal loan?
Personal loans typically range from a few hundred dollars to $100,000. The amount you qualify for will depend on your credit score, income and other factors such as your employment and how much you spend each month paying off existing debt. Each lender has its own minimum and maximum loan amount it's willing to lend. 
What can you use a personal loan for?
Borrowers may use personal loans for many purposes. Some of the most common personal loan uses include medical expenses, debt consolidation, funding home improvements, setting up an emergency fund and paying for vacation expenses. Be sure to check with lenders on any restrictions they may have before taking out a personal loan.
APR vs. interest rate: what's the difference?
The critical difference between an APR and an interest rate is the amount of information included. While both the interest rate and the APR are shown as percentages, the APR provides a fuller picture of a loan's cost. The interest rate tells the borrower how much they'll pay on their loan balance each month, while the APR includes fees, interest rates, and points to outline the total cost of a loan each year. 
To see what rates you may qualify for, use Credible to compare personal loan rates from various lenders.