How to get a $50,000 personal loan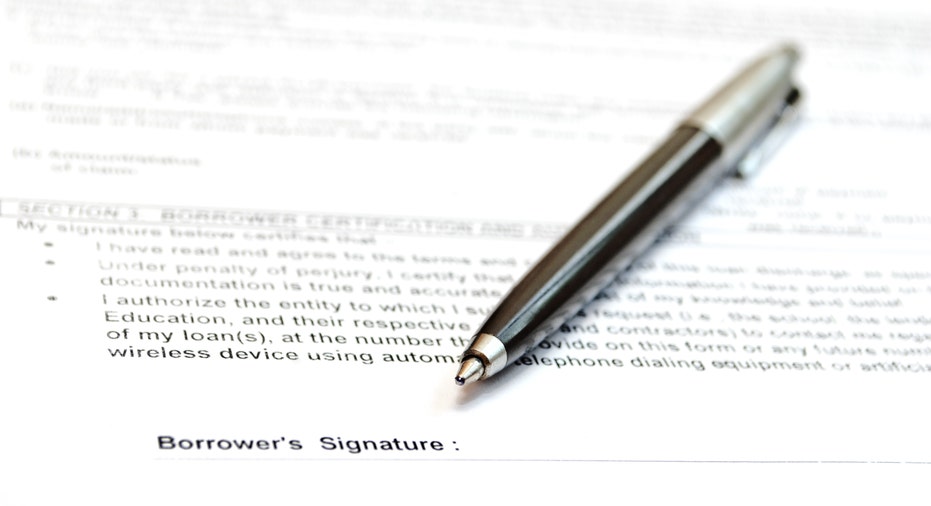 Taking out any loan requires thoughtful planning and consideration but obtaining a personal loan of $50,000 or more requires particular attention. Because you're looking for a loan at the high end, loan requirements will be more stringent, and you may have to provide more documentation than you would with a smaller loan.
To save money, you'll want to secure favorable loan rates. A simple way to test the waters on interest rates is to get pre-qualified for your desired $50,000 personal loan (which just requires a soft credit check and won't affect your credit score). Credible allows you to get personal loan prequalification in minutes so you can find your rate quickly.
How do I qualify for a $50,000 personal loan?
All personal loan lenders have slightly different requirements, but the following information should give you a general idea of whether you're likely to qualify.
Debt-to-income ratio
Credit score
Annual income
Debt-to-income ratio: Most lenders prefer a total debt-to-income ratio of 36 percent or less, according to the Consumer Financial Protection Bureau. Your debt-to-income ratio represents the amount of your income that's going to pay your debt.
Credit score: Most lenders require a minimum credit score of 600, though some lenders may look at scores slightly lower. If you want to qualify for a personal loan of $50,000, your credit score should be 650 or higher. (Check your credit score here).
If you have excellent credit, you have nothing to worry about. Get started by inserting your $50,000 loan amount and credit score into Credible's tools to see rates from 4.99% fixed APR.
Annual income: Your lender will want to know your annual income to ensure you make enough to make your monthly payments on time. They'll want to look at your income statements and credit report to ensure you have a steady stream of income. If you work as a freelancer or independent contractor, you may need to provide additional paperwork to show that your average income meets the lender's requirements.
How can I get a $50,000 personal loan?
A personal loan application should be simple and quick. In fact, with some online lenders, you can get a response on your application within one business day.
If you need help finding a lender, Credible allows you to compare rates and offers instantly.
READ THIS BEFORE YOU APPLY FOR A PERSONAL LOAN
You'll want to make sure you have any relevant paperwork ready once you apply. Your lender will want to see samples of your pay stubs, references, and credit report. When applying for a personal loan, remember to think about your financial goals and your personal interest, and that may mean waiting or taking a step back before moving forward.
While lender requirements vary, some documents or items you should have handy include:
Your Social Security number
Identification (driver's license, passport, or other state ID)
Proof of address (with bills addressed to you)
Paystubs, tax returns, W-2s, 1099s, or other documentation to prove your earnings
Your employer's contact information
Several months of bank statements 
Before applying for a loan, make sure you can comfortably afford the payments. One way to get an estimated loan payment is to use a loan repayment calculator.
For example, using the calculator, we determined that a $50,000 personal loan with an interest rate of 10.45 percent and a 60-month repayment schedule would equate to about $1,073 per month. Your total monthly payment could differ based on the interest rate, location and loan fees.
(Note: There are several types of personal loans to choose from — such as secured loans, unsecured loans and more. Do your research to determine which best meets your financial goals).
Where to get a $50,000 loan
There are a few places to apply for a large personal loan.
Banks or credit unions: If you're already a customer of a bank or credit union, your relationship may help you qualify for better terms than what you can find elsewhere. Also, note that credit unions legally can't charge interest rates higher than 18 percent on most personal loans.
Online lenders: Online lenders are often the best place to get a personal loan of this size. See which personal loan lender offers $50,000 personal loans via Credible. You can request rates from Credible's partner lenders by filling out just one form.
While banks and credit unions may be the most obvious choice for a personal lender, there are some benefits to choosing an online lender for your loan including a quicker application process and slightly less stringent qualifications.
How to choose a personal loan lender
When choosing a lender for your personal loan, make sure to do the following:
Compare interest rates and the annual percentage rate (APR) from several lenders.
Ask potential lenders what type of loan fees they charge.
Read reviews of personal loan lenders to get an idea of other people's experiences.
Consider how the lender has treated you during the research process. If they take a long time to respond or are hesitant to talk about fees, you should move on.
Credible makes it easy to compare lenders to find interest rates and repayment terms that work for you.
9 OF THE BEST PERSONAL LOANS IN 2020
What are the characteristics of a personal loan?
There are at least three characteristics of a personal loan you should understand:
You can get a personal loan for almost anything
Personal loans are often cheaper than credit cards
A personal loan and line of credit are not the same
You can get a personal loan for almost anything: Unless you're specifically requesting a personal loan to consolidate debt, you can usually use the loan for anything from vacations to medical expenses to redecorating your guest room.
Personal loans are often cheaper than credit cards: Most personal loan rates are lower than what you'll get on a credit card. Many people opt to use personal loans to consolidate debt because it can lower monthly payments and make it easier to pay down debt fast.
A personal loan and line of credit are not the same: While a personal loan and a line of credit have similar functions, there are differences. A personal loan is a one-time payout. You can access that loan amount in a lump sum, and then you repay the total loan. A line of credit lets you access a fund repeatedly. Once you repay what you borrow you can use it again. You borrow as much or as little as you need. You simply need to pay back the line of credit as agreed.
Frequently asked questions
How do I qualify for low-interest rates on personal loans?
The most popular reason to get a personal loan is debt consolidation, but it can be used for everything from unexpected expenses and home improvements to college tuition. Credible can help compare personal loan companies (and hopefully land you the low rate you're looking for). Credible has compiled a list of some of the top personal loan companies that are likely to ensure customer satisfaction, according to their financial experts.
Comparing competitive loan offers and term lengths can be like comparing apples to oranges. You want to look at a few criteria to select the loan that works best for your situation.
1. Interest 
The interest rate will likely be the first consideration when you investigate your loan options. It's the amount the lender charges you to take out the loan. Rates can vary greatly, and are often based on your credit score, term lengths, and the amount you are borrowing.
You'll also want to consider the APR. This includes the interest plus any fees you may pay to take out the loan, such as an origination fee.
HOW TO QUALIFY FOR LOW-INTEREST RATES ON PERSONAL LOANS
2. Term lengths
You'll also want to take a look at the term lengths the lender offers. For personal loans, the term lengths usually range between two and seven years. The longer you take to pay back the loan, the more interest you'll end up paying. Most lenders offer lower interest rates for shorter loan terms.
3. Monthly payments 
To protect your credit score, you'll want to research payment options, and the number of your monthly payments can have a direct impact. Your payment will depend on the length of your loan. A longer-term will result in lower monthly payments. It will also result in ultimately paying a higher amount during loan repayment.
4. Total cost 
According to the federal Truth in Lending Act, a bank, credit union and online lender must provide you with the total cost of the personal loan during the application process. This number can help you compare personal loan lenders and offers. It will include the total charge for financing, such as interest and fees. It will also break down the principal and interest for all of your payments over the term.
Loan calculators can be useful tools when determining your financial goals. Use Credible's loan calculators to estimate your monthly payments to ensure you're choosing the best loan term for you.
How can I get a loan after being denied?
In the case that your application is denied, the lender will likely offer a reason, and this information can be helpful for the future.
If your credit score wasn't high enough, for example, take steps to improve it by avoiding late payments. Also, check that your credit report doesn't include incorrect information. According to the Federal Trade Commission, one in five people has an error on their credit report. If you find a mistake, disputing it and getting any misinformation removed can improve your credit score.
Lenders also like borrowers to have a debt utilization ratio of less than 30 percent. This number is the percent of credit you are currently using compared to the total amount available. If you were denied a $20,000 personal loan, you may want to pay down debt to lower your debt utilization ratio.
Finally, you may decide to apply for a smaller loan. Your options for finding lenders will increase, and the requirements may not be as strict.
What personal loan mistakes should I avoid?
Before you sign on the dotted line, carefully read the conditions of the loan. Competitive rates and term lengths vary, so be sure to shop around and know what you're getting into. And watch out for scams. Check the lender's reputation as well as customer reviews by visiting the Consumer Financial Protection Bureau and Better Business Bureau websites.
Also, know what you're getting into by asking about any costs or fees that will be assessed with the personal loan beyond its interest rate. Some lenders charge origination fees, which can range from one to eight percent. Others may charge early loan repayment or late payment fees.
THE BIGGEST MISTAKE TO AVOID WHEN TAKING OUT A PERSONAL LOAN
Large personal loans are possible if you are a qualified borrower. By knowing where to look and what to expect, you increase your chances of being approved and getting the funds you need to meet your personal finance goals. If you're having difficulty choosing a personal loan, consider reaching out to a financial advisor.
Are there any alternatives to personal loans?
You can use a personal loan for just about anything, but another loan type may be a better fit for your needs. For example, some credit cards offer 0% APR promotions on purchases and balance transfers, which can save you money.
Credible can help you find the right credit card for you. Choose zero percent credit cards and get a breakdown of the annual fee, welcome offers, credit needed and more.
If you own a home, a home equity loan or line of credit could save you money on interest —though they also present the danger of losing your home if you can't repay the debt. And if you're looking to fund a business, a business loan may provide better terms for your situation.
Also, consider whether you need to borrow money at all. It may be better for your financial health to save up for your expenses.
Stephanie Vozza and Ben Luthi contributed to this report.