Where to get a $20K personal loan
You can apply for a $20K loan with an online lender, bank, or credit union. Here's what you need to know before applying for a personal loan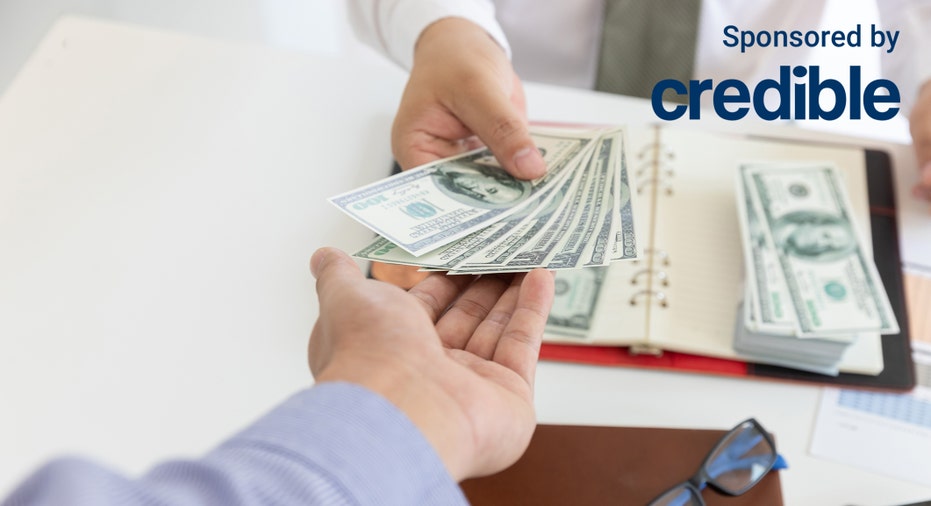 You can use a $20,000 personal loan to consolidate debt, complete a home improvement project, pay medical bills, or cover another large expense. You can apply for a $20,000 personal loan through a bank, credit union, or online lender, but it's essential to know where to look so you can find the best rates and terms. 
Credible makes it easy to compare personal loan rates from top lenders.
Where to get a $20K personal loan
Most lenders offer personal loans, but interest rates and fees vary widely. That's why it's important to compare options from several lenders to ensure you find the best fit for your situation.
Online lenders
Most people use online lenders for convenience — the application process is easy, and they tend to fund loans quickly. Online lenders are more flexible since they don't have physical branches like banks and credit unions. 
The credit score you'll need to apply for a personal loan online varies by lender. Some online lenders have minimum credit score requirements as low as 550, but you'll need a higher credit score to qualify for lower interest rates.
Credible lets you compare personal loan rates from top lenders in as little as two minutes.
Banks
Some banks let you apply for a personal loan online, but others may require you to visit a branch location. Banks tend to have stricter lending requirements, so this is a better option if you already have an account with the bank you want to borrow from. 
Credit unions
Since they're not-for-profit organizations, you may be able to qualify for better rates and more favorable terms with a credit union. But you'll need to be a member of the credit union to qualify for a loan, and you'll have to meet its criteria to join.
What credit score do you need for a $20,000 loan?
Lenders will consider your credit score when you apply for a personal loan. A higher credit score means you're less likely to default on your loan, so lenders are more willing to work with you. Your lender will also consider your income and debt-to-income (DTI) ratio.
The exact credit score you need to qualify for a $20,000 loan will depend on the lender you choose. But having fair or poor credit doesn't automatically disqualify you from taking out a personal loan.  
Some lenders specialize in working with fair and bad credit borrowers. These loans typically come with higher interest rates than loans for borrowers with good or excellent credit, and you may be stuck with an origination fee.
But if you need the funds and you're unable to find less expensive options, it may be worth the additional costs. You can improve your odds of getting better loan terms if you apply with a cosigner with good or excellent credit.
What is the monthly payment on a $20K loan?
Your monthly payment will depend on various factors, including your loan terms and credit score. Here are some examples to help you get an idea of what you can expect to pay:
Let's say you have good credit and borrow $20,000 with a 7% interest rate, no origination fee, and a six-year repayment term. Your monthly payment would be $341, and you'd pay $4,551 in total interest over six years.
If you have poor credit, your $20,000 loan may come with a 20% interest rate and a 5% origination fee, which is deducted from the loan disbursement. If you have a four-year repayment term, your monthly payment would be $609, and you'd pay $9,213 in total interest — in addition to the $1,000 origination fee.
You can use Credible's online personal loan calculator to help you get an idea of what a $20,000 loan would cost in your unique financial situation.
Comparing $20K personal loan lenders
It's important to compare multiple lenders when looking for a personal loan to get the best rates and terms available. Here are the main factors to consider when evaluating lenders: 
Loan amount: The first thing to determine is whether the lender will loan you the full amount. You may want to look elsewhere if they aren't willing to lend you the full $20,000.
Repayment terms: The repayment terms will affect your monthly payment and how much you'll pay in interest. If you prefer a lower monthly payment, you'll want longer repayment terms. However, this means you'll pay more in interest over the life of the loan.
Interest rate: The interest rate determines how much you pay in interest over the life of the loan. Having a higher credit score or applying with a cosigner with good credit can help you secure a lower interest rate on the loan.
Fees: Some lenders charge additional fees, like origination fees or prepayment penalties. Lenders must disclose any fees upfront, so look for a lender that charges as little in fees as possible.
Funding time: You'll want to consider how long the lender will take to fund the loan. Some online lenders may be able to fund your loan in as little as one-to-three business days, while banks and credit unions may take up to a week.
How to apply for a $20,000 personal loan
Eligibility requirements can vary, but many personal loan lenders allow you to get pre-qualified with a soft credit check, which won't hurt your credit. You'll want to go through this process with multiple lenders to ensure you get the best loan for your situation.
If you're ready to apply for a $20,000 personal loan, follow these five steps: 
Check your credit. Lenders will review your credit report and score to determine if you qualify for a loan. Your credit score will also impact what interest rate a lender will offer. Be sure to check your credit with a site like AnnualCreditReport.com. If you find any errors, be sure to dispute them with the appropriate credit bureau to potentially improve your credit score.
Compare lenders. When looking for a $20,000 personal loan, be sure to compare as many lenders as possible. During your search, consider not only interest rates and loan amounts, but also repayment terms and additional fees the lender charges. After comparing lenders, pick the loan option that works best for your needs.
Get pre-approved. Many lenders offer the option to get pre-approved for a loan. Getting pre-approved won't affect your credit score, and will give you an idea of what interest rates and loan terms you qualify for.
Complete the loan application. Once you've selected a lender, you'll need to fill out an application and provide any required documents, such as pay stubs or tax returns. The lender will review your application and provide you with one or more offers, which may differ from the initial prequalification quote.
Review the loan agreement and get your funds. If you're approved for the loan, the lender will send you a loan agreement. If you accept the terms of the loan, you'll sign the agreement, and the lender will disburse the funds. The time to fund for a personal loan is usually one week, but many lenders may deposit your loan within one-to-three business days.
A good to excellent credit score, low debt-to-income ratio, and co-signer will improve your odds of qualifying for a personal loan.
You can see your pre-qualified personal loan rates in minutes with Credible.
Personal loan FAQs
Here are answers to some commonly asked questions about personal loans.
What can you use a personal loan for?
You can use your loan funds for almost any purpose, but there may be exceptions depending on your lender. Most lenders will allow you to use a personal loan to consolidate debt, but some may prohibit you from using the funds for certain expenses. It's a good idea to check with the lender on any restrictions they may have before taking out a personal loan.
How much can you borrow with a personal loan?
Personal loan amounts can vary from a few thousand dollars to over $100,000. Not all lenders offer very large loans, just as some don't provide very small loans. The amount you can borrow will depend on multiple factors, including:
The lender
Your credit history
The minimum and maximum loan amounts offered
Your debt-to-income ratio (how much of your monthly income goes toward paying off existing debt)
What's a personal loan origination fee?
Your lender may charge an origination fee when you take out a personal loan. This fee is an additional charge for processing and underwriting the loan. Be sure to check with your lender on what fees they charge. 
APR vs. interest rate: What's the difference?
The interest is the amount you pay to borrow money for a specific period and the rate can be fixed or adjustable. In comparison, your annual percentage rate (APR) includes your interest rate and any additional fees included on the loan. This makes it a better indicator of the loan's total cost.