Zillow Group Stock Falls Despite Another Quarterly Beat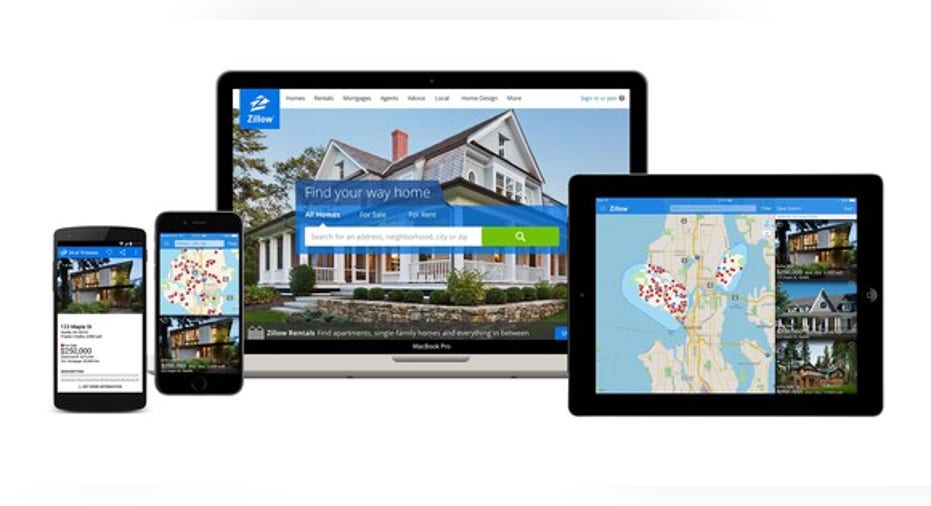 Zillow Group Inc.(NASDAQ: Z)(NASDAQ: ZG)released stronger-than-expected fourth-quarter 2016 results Tuesday after the market closed. But shares of the online real estate platform specialist are falling in Wednesday trading.
Let's take a closer look, then, to see if we can figure out what has the market so riled up today, and what Zillow Group investors can expect going forward.
Image source: Zillow Group.
Zillow Group results: The raw numbers
| Metric | Q4 2016 | Q4 2015 | Year-Over-Year Growth |
| --- | --- | --- | --- |
| Revenue | $227.6 million | $169.4 million | 34.4% |
| GAAP net income | ($23.5 million) | ($25.7 million) | N/A |
| GAAP earnings per share | ($0.13) | ($0.14) | N/A |
Data source: Zillow Group.
What happened this quarter?
On an adjusted (non-GAAP) basis, which excludes items like stock-based compensation and acquisition expenses, Zillow Group generated net income of $0.14 per diluted share, compared to an adjusted net loss of $0.01 per share in the same year-ago period.
Note this quarter's GAAP net loss also included a $22.8 million loss on debt extinguishment related to the December 2016 repurchase nearly all of the convertible debt Zillow assumed in its February 2015 acquisition of Trulia. This repurchase resulted in avoiding the future possible issuance of over 9 million class A shares for settlement.
Adjusted earnings before interest, taxes, depreciation and amortization (EBITDA) was $54.7 million, or 24% of revenue, up from $20.4 million, or 12% of revenue in last year's fourth quarter.
By comparison, Zillow's most recent guidance called for lower revenue in the range of $218 million to $223 million, and lower adjusted EBITDA of $46 million to $51 million.
Though we don't typically pay close attention to Wall Street's quarterly demands, analysts' consensus estimates called for roughly the same revenue to translate to lower adjusted earnings of $0.12 per share.
Marketplace revenue grew 42% year over year, to $210.6 million, including:
32% growth in Premier Agent Revenue, to $164.3 million -- above guidance for $161 million to $163 million,
145% growth in "Other" real estate revenue -- which includes agent services, dotloop, StreetEasy, Naked Apartments, rentals, and offerings to endemic advertisers outside of traditional display advertising -- to $29.8 million, and
41% growth in mortgages revenue, to $16.5 million.
Display revenue fell 20% year over year, to $17 million, but still arrived above guidance for $14 million to $15 million. Keep in mind this decline is the result of Zillow's strategy of purposefully under-investing and de-emphasizing display ads to improve its user experience.
Monthly unique users visiting Zillow Group's five consumer-facing brands -- including Zillow, Trulia, HotPads, StreetEasy, and Naked Apartments -- grew 13% year over year, to over 140 million.
Leads to Premier Agent Advertisers increased 33% year over year, to 3.9 million.
Premier Agent Advertisers spending more than $5,000 per month in Q4 rose 100% year over year in number, and rose 95% year over year on a total dollar basis.
Sales to Premier Agent Advertisers who have been customers for at least one year grew 58% year over year.
Sales to existing Premier Agent Advertisers represented 63% of total bookings in Q4.
What management had to say
Zillow Group CEO Spencer Rascoff stated:
Looking forward
For the first quarter of 2017, Zillow expects revenue of $232 million to $237 million -- representing growth of 26.1% year over year at the midpoint -- including Premier Agent revenue of $170 million to $172 million, other real estate revenue of $31 million to $32 million, mortgages revenue of $17 million to $18 million, and display revenue of $14 million to $15 million. Zillow also anticipates adjusted EBITDA for Q1 to be in the range of $36 million to $41 million. Analysts, on average, were looking for revenue within that range, at $235.4 million.
Finally, for the full-year 2017, Zillow expects revenue of $1.03 billion to $1.05 billion -- squarely in line with Wall Street's expectations -- and adjusted EBITDA of $190 million to $210 million.
In the end, given its relative outperformance in the fourth quarter and solid guidance for 2017, it's somewhat surprising to see shares trading down right now. To be fair, though, Zillow Group stock has more than doubled in the year leading up to today's report on the heels of its stellar 2016, so perhaps short-term investors are taking some of those profits off the table. But all in all, I think this was another strong report that should leave Zillow shareholders more than pleased with where their company stands.
10 stocks we like better than Zillow GroupWhen investing geniuses David and Tom Gardner have a stock tip, it can pay to listen. After all, the newsletter they have run for over a decade, Motley Fool Stock Advisor, has tripled the market.*
David and Tom just revealed what they believe are the 10 best stocks for investors to buy right now... and Zillow Group wasn't one of them! That's right -- they think these 10 stocks are even better buys.
Click here to learn about these picks!
*Stock Advisor returns as of February 6, 2017
Steve Symington has no position in any stocks mentioned. The Motley Fool owns shares of and recommends Zillow Group (A shares) and Zillow Group (C shares). The Motley Fool has a disclosure policy.