Zayo Group Sees Sales Inch Higher as Electric Lightwave Merger Looms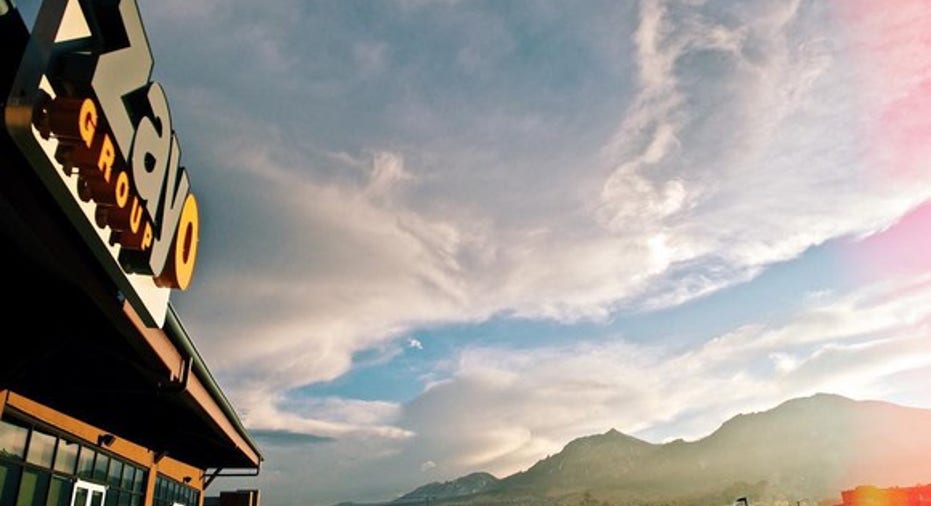 Cloud computing has made having the right network infrastructure in place a necessity, and Zayo Group Holdings (NYSE: ZAYO) has worked hard to build its expertise in providing the infrastructure that its customers need. Coming into Thursday's fiscal second-quarter financial report, Zayo investors were hoping to see sizable increases in sales that could turn around a year-ago loss with a net profit.Zayo largely delivered on those hopes, but concerns about the pace of future sales growth has some investors nervous about the company's future expansion plans.
Let's look more closely at Zayo Group to see what lies ahead and how it's faring right now.
Image source: Zayo Group.
Zayo keeps moving forward
Zayo Group's fiscal second-quarter results were mixed in investors' eyes. Revenue jumped 37% from year-ago levels, to $506.7 million, but that was less than half a percent higher sequentially from its third-quarter results. Net income came in at $19.8 million, reversing last year's $10.8 million loss, and the resulting $0.08 per share in earnings exactly matched the consensus forecast among those following the stock.
Taking a closer look at the report, Zayo highlighted the profit margin figures that its key segments produced. The dark-fiber division had the best figures, with adjusted pre-tax operating margin of 73%. That compared to 51% for the network-connectivity segment and the colocation and cloud infrastructure segment, with Zayo Canada and Zayo's professional services business posting margin figures in the mid-20s.
Elsewhere, Zayo's operational metrics showed mixed performance. Gross installations climbed by $300,000, to $6.7 million, with rising figures from new service installations making up for a slight decrease in additional revenue from upgrades, price increases, and replacements. Net installations, however, were down $200,000, to $2 million, and churn stayed stable at 1.2%, as hard disconnects rose by $600,000.
Zayo called out the net install figure as being disappointing, and net bookings of $5.2 million were down by almost a quarter from the year-ago period. In particular, bookings of what Zayo calls very large customers fell by nearly half from the average over the past four quarters.
What's ahead for Zayo?
The key focus area from the earnings release, however, was on merger plans for Zayo to combine with Electric Lightwave. Zayo announced in November that it would pay $1.42 billion in cash for Electric Lightwave, which provides infrastructure and telecommunications services in the western U.S. and has extensive infrastructure assets.
With 8,100 route miles of long-haul fiber, 4,000 miles of dense-metropolitan fiber, and connectivity to more than 3,100 enterprise buildings and 100 data centers, Electric Lightwave will dramatically increase Zayo's reach. Zayo expects to close on the deal before the end of this quarter.
In particular, CEO Dan Caruso and his team went through some of the positives of the Electric Lightwave acquisition. Expansion in Zayo's network will be especially important in major California markets like San Francisco and Sacramento, as well as in Pacific Northwest hubs Seattle and Portland. Mountain West markets such as Phoenix and Salt Lake City will also see complementary impacts from the merger, as both Zayo and Electric Lightwave have assets in those areas.
More importantly, the deal will give Zayo better exposure in an increasingly competitive market. Zayo prides itself as being the only independent national infrastructure-focused provider of connectivity services, and growth in key areas will further establish the company as a major industry player.
Zayo shareholders didn't respond positively to the news, and the stock fell almost 4% in after-hours trading following the announcement. The company will continue to try to make progress going forward, but in order to get investors to be more enthusiastic about its prospects, Zayo will have to start showing clearer progress in achieving its long-term strategic vision in the near future.
10 stocks we like better than Zayo GroupWhen investing geniuses David and Tom Gardner have a stock tip, it can pay to listen. After all, the newsletter they have run for over a decade, Motley Fool Stock Advisor, has tripled the market.*
David and Tom just revealed what they believe are the 10 best stocks for investors to buy right now... and Zayo Group wasn't one of them! That's right -- they think these 10 stocks are even better buys.
Click here to learn about these picks!
*Stock Advisor returns as of February 6, 2017
Dan Caplinger has no position in any stocks mentioned. The Motley Fool recommends Zayo Group. The Motley Fool has a disclosure policy.