Zayo Group Posts Mixed Results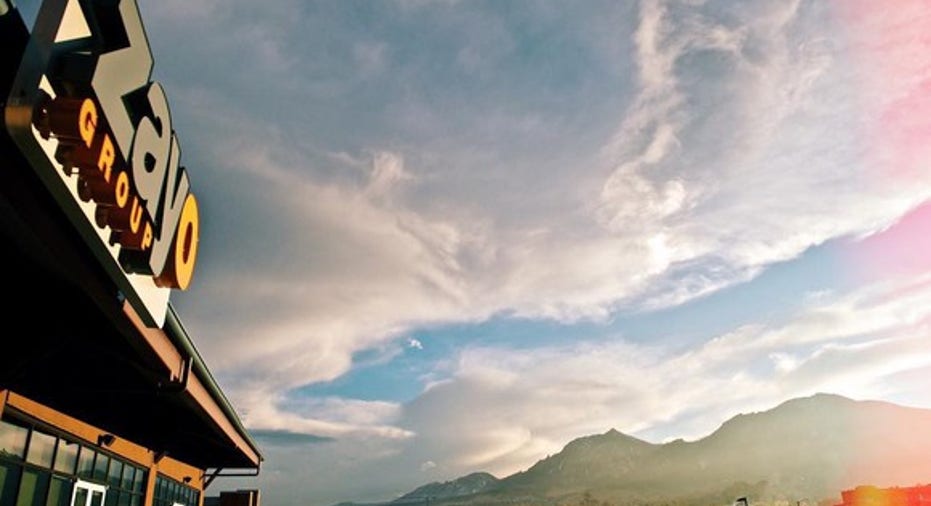 The demand for network infrastructure assets and services has never been greater in this era of cloud computing, and specialist Zayo Group Holdings (NYSE: ZAYO) has captured its fair share of that demand in seeing its business grow strongly. Coming into Tuesday's fiscal first-quarter financial report, Zayo investors were hoping to see continued strong revenue growth, along with solid profits.
For its part, Zayo got itself into the black for the quarter, but some troubling signs of a potential top-line growth slowdown could weigh on the stock going forward. Let's take a closer look at Zayo Group and whether it can avoid future disappointment for its investors.
Image source: Zayo Group.
Zayo aims to connect with profits
Zayo Group's fiscal first-quarter results once again gave investors only part of what they were looking to see. Revenue was up 38%, to $504.9 million, but believe it or not, that was actually slower than the 40% growth rate that most of those following the stock had expected. The company earned a net income of $15.7 million, reversing a year-ago loss, and that produced earnings of $0.06 per share. That result was $0.01 per share better than the consensus forecast among investors.
Looking more closely at Zayo's results, the company was most proud of several achievements on the financial front. Zayo saw recurring revenue growth of 4% on a pro forma basis, which was a considerable slowdown from last quarter's 7% growth rate. Even in constant-currency terms, 7% growth on the recurring revenue front left something to be desired. Net installations amounted to $2.3 million, with churn rates of just 1.1% and solid gross installation performance. Bookings of $7.2 million were also impressive, rising more than 10% from the fiscal fourth quarter.
On a segment basis, Zayo made incremental progress in most, but not all, of its businesses. The dark-fiber segment brought in revenue of $148.4 million and adjusted pre-tax operating earnings of $108.2 million, producing the largest margin of any division within Zayo. The network-connectivity segment is the largest by revenue, and both sales and pre-tax operating earnings inched higher compared to the fiscal fourth quarter of 2016. Colocation and cloud infrastructure saw small revenue gains, but suffered a sequential decline in pre-tax operating earnings, while the Canada and other segment saw the reverse occur, with revenue declining, but earnings on the rise.
Operationally, Zayo continued to expand. The company celebrated its acquisition of a data center in Santa Clara, as well as the expansion of its data center footprint within the Chicago area. More importantly, Zayo announced the largest mobile infrastructure deal in company history during the quarter -- namely, a cellular network provider for which Zayo will provide its dark-fiber connectivity to more than 1,800 cell sites in 26 markets across the nation. The deal singlehandedly pushed Zayo's overall fiber-to-the-tower network to more than 10,000 cell sites nationwide, and it is demonstrating the economic value of having multiple tenants at a given site to share costs.
Can Zayo keep climbing?
The scope of the national dark-fiber deal has the potential for dramatic impacts across Zayo's business. New sites will be scattered across the country, with the greatest number of new sites in the Southwest and Rocky Mountain region.
The deal also has three brand new markets for Zayo in the Southeast, and more modest presence in the Northeast, Midwest, and Pacific Northwest should help Zayo take maximum advantage of its existing footprint of coverage. In particular, more than half of sites are expected to be within 500 feet of an existing Zayo network asset, making it easier for the company to justify the economics of the situation.
Still, Zayo shareholders weren't entirely convinced, sending the stock down almost 2% in after-hours trading following the announcement. In order to convince skeptics that the enterprise-customer market isn't weakening, Zayo will have to continue generating positive momentum and keep building on the successes it has had in the past.
10 stocks we like better than Zayo Group When investing geniuses David and Tom Gardner have a stock tip, it can pay to listen. After all, the newsletter they have run for over a decade, Motley Fool Stock Advisor, has tripled the market.*
David and Tom just revealed what they believe are the ten best stocks for investors to buy right now... and Zayo Group wasn't one of them! That's right -- they think these 10 stocks are even better buys.
Click here to learn about these picks!
*Stock Advisor returns as of November 7, 2016
Dan Caplinger has no position in any stocks mentioned. The Motley Fool recommends Zayo Group. Try any of our Foolish newsletter services free for 30 days. We Fools may not all hold the same opinions, but we all believe that considering a diverse range of insights makes us better investors. The Motley Fool has a disclosure policy.