You'll Never Guess What Tesla Motors Is Trying to Trademark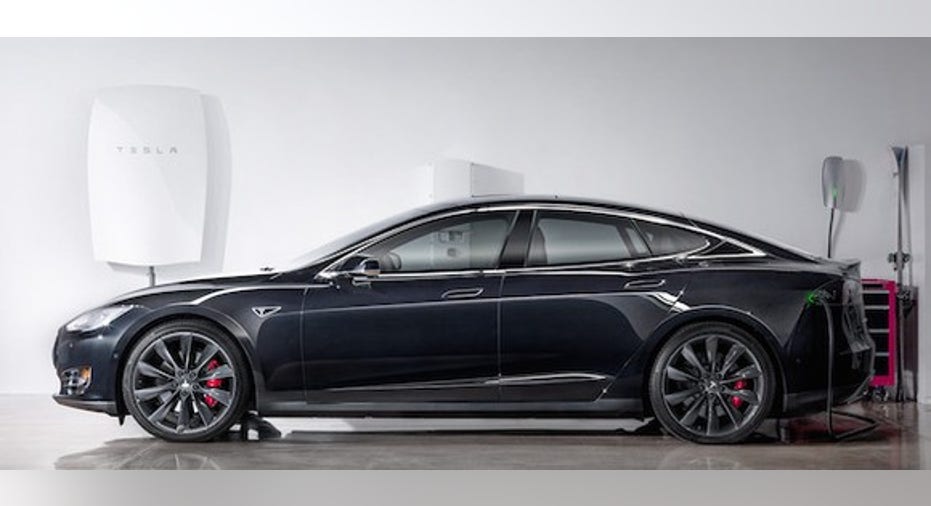 Soon you may be able to buy solar panels, energy storage, and an EV all in one place. Image source: Tesla Motors.
If you thought Tesla Motors was going to tiptoe into its acquisition of SolarCity , you were wrong. The company has already filed for trademarks that would allow it to bring solar energy sales and products into the Tesla family. And it may tell us something about what Elon Musk has in mind for the future of energy.
Tesla Energy is going to be big
We already know that Musk is referring to Tesla Motors' energy storage business as Tesla Energy. But according to trademark filings obtained by Electrek, Tesla is expanding its trademarks to include solar equipment from modules to inverters, installation and repair, and monitoring and financing of solar systems. All would be covered under the "Tesla" trademark.
In essence, Tesla Motors is already laying the groundwork to bringing everything SolarCity does, or could do, under the Tesla banner.
How this fits into the Tesla Energy vision
Musk has said that SolarCity products would still be offered if Tesla Motors acquires the company, but he also wants to build a solar showroom in Telsa Motors stores with a vertically integrated offering. At least while in the store, it would make sense to brand solar products under the Tesla name.
Imaging buying a Tesla electric vehicle that will be charged by solar energy from Tesla solar panels with excess power stored by a Tesla battery, all financed, monitored, and controlled by Tesla. In a sentence, that's Musk's vision.
There's still a long way to go
The initial backlash from the market has faded, but there's still a long way to go before Tesla Motors and SolarCity merge to form one energy giant. Shareholders are going to get to vote on the deal and with Musk and SolarCity's Rive brothers recusing themselves from the vote it's possible investors will overturn the deal.
It's also unclear how long it would be before the vision I laid out above would really make sense. Energy storage today isn't economical in the U.S. (except for Hawaii in some cases) and it's not clear that potential EV buyers are interested in going solar at the same time they buy an EV. Maybe there's synergy there, but it's not a natural cross sell today.
What we do know is that Musk wants to make his vision of the future happen today. Maybe the world is ready for that and maybe it isn't, but he's forging full speed ahead.
The article You'll Never Guess What Tesla Motors Is Trying to Trademark originally appeared on Fool.com.
Travis Hoium has no position in any stocks mentioned. The Motley Fool owns shares of and recommends SolarCity and Tesla Motors. Try any of our Foolish newsletter services free for 30 days. We Fools may not all hold the same opinions, but we all believe that considering a diverse range of insights makes us better investors. The Motley Fool has a disclosure policy.
Copyright 1995 - 2016 The Motley Fool, LLC. All rights reserved. The Motley Fool has a disclosure policy.