You'll Never Guess Amazon's Newest Challenger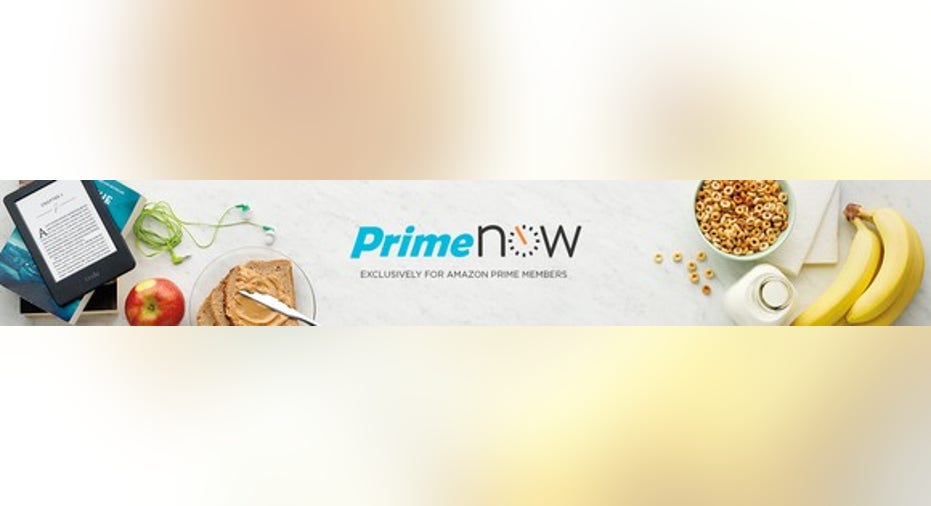 AsAmazon.com has opened warehouses across the country and expanded its Prime and Prime Now loyalty programs, brick-and-mortar stores are trembling. Sales are falling at department stores and apparel retailers, stores are shuttering, and retail stocks have plummeted.
Now, however, it seems that brick-and-mortar chains are finding a way to fight back.Wal-Mart, the world's biggest retailer, became the latest merchant to team up with ride-hailing companies Uber and Lyft, announcing a pilot program earlier this month. As Wal-Mart extends its efforts to make grocery shopping more convenient, it's testing grocery delivery with the two leading ride-hailing companies starting this month, partnering with Uber in Phoenix and Lyft in Denver.
Wal-Mart customers will make their order online, a store employee will fill it and then hand it off to an Uber or Lyft driver. The cost is expected to be $7-$10 per delivery.
More than a taxi service
While Uber is best known as a taxi service you order from your smartphone, the company is also building out other revenue streams, including UberRush, a delivery service for businesses small and large.
Uber counts among its customers 1-800-Flowers,Nordstrom, T-Mobile, and Rent the Runway, as well as hundreds of small businesses. While the service may not seem different from other delivery apps like Postmates or Instacart, Uber's war chest and army of drivers make it the delivery company best equipped to take on Amazon.
The ride-hailing service is now valued at $66 billion -- after raising $3.5 billion from the Saudi Sovereign Fund earlier this year -- and had 327,000 drivers as of September 2015.What Amazon has in warehouse space, Uber has in drivers, making the company an especially desirable partner for retailers looking for a quick delivery option.
On a collision course with Amazon
As Amazon's Prime Now program has expanded to 24 cities across the country, the e-commerce giant has developed its own fleet of drivers. Instead of counting on the U.S. Postal Service and private-sector logistic companies like FedExandUPS,Amazon has built out its own Uber-like service it calls Flex. Like Uber, Flex drivers are independent contractors, and they are paid $18-$25/hour. It's also been expanding the Flex program to ship its regular deliveries. As Amazon increasingly taps its own Uber-like system of drivers, it seems that the two companies are headed on a collision course with each other in the area of product delivery. Rumors have circulated that Amazon may even open up its Flex program to passengers, bringing it in direct competition with Uber.
Image Source: Amazon.
While Amazon initially gained popularity because of its low prices, convenience now seems to be the e-commerce customer's biggest advantage, thanks to the success of Amazon Prime. Customers who have already joined Prime order from Amazon because of the free two-day delivery and because they've already committed $99 for the service per year. Once a subscriber has joined Prime, Amazon's prices only have to be competitive, not necessarily the lowest.
Uber operates under a similar philosophy as the company's prices are better than traditional taxi services, but the convenience of ordering a ride to your doorstep is what's made the app so popular. Like Amazon, Uber has taken that first-mover advantage and run with it, expanding furiously.
Wal-Mart is jumping on the convenience bandwagon as well. Its online grocery pickup option is expanding rapidly and the pilot program with Uber and Lyft is its latest attempt to make shopping as easy as possible.
Uber last week took its on-delivery app out of beta, which should speed up the service to other retail partners.As the delivery wars continue to heat up, Uber looks set to emerge as the key to challenging Amazon's dominance in convenience.
The article You'll Never Guess Amazon's Newest Challenger originally appeared on Fool.com.
Jeremy Bowman has no position in any stocks mentioned. The Motley Fool owns shares of and recommends Amazon.com and FedEx. The Motley Fool recommends Nordstrom and United Parcel Service. Try any of our Foolish newsletter services free for 30 days. We Fools may not all hold the same opinions, but we all believe that considering a diverse range of insights makes us better investors. The Motley Fool has a disclosure policy.
Copyright 1995 - 2016 The Motley Fool, LLC. All rights reserved. The Motley Fool has a disclosure policy.