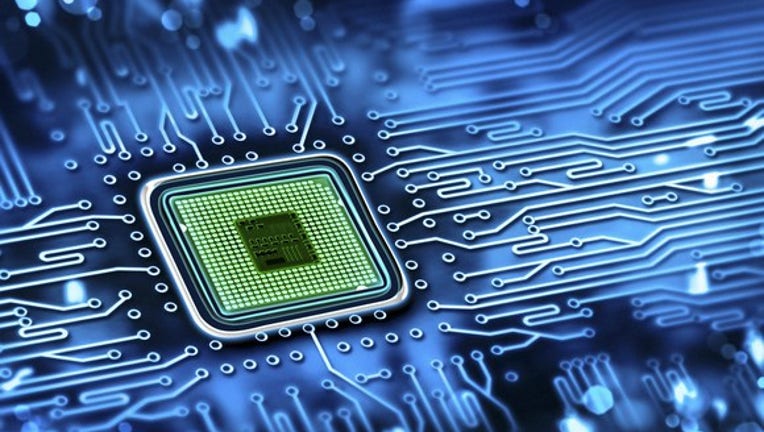 Believe it or not, technology juggernaut Apple (NASDAQ: AAPL) has been one of the best performing stocks of the past year. Had you purchased shares in AAPL last May, when shares bottomed out at about $90 per share, you would be sitting on a 60% gain as of the time of this writing. That's a fantastic gain for any stock, let alone one of the largest companies in the world. After all, the bigger the business, the harder it is to move the needle.
Today, Apple's shares sit at what is essentially an all-time high, valuing the enterprise that was started in a garage 41 years ago at $780 billion dollars. Where's the enterprising investor to turn? Surely shares can't possibly be as good of a buy today as they were last May, even if there are whispers of Apple becoming the first trillion-dollar company.
While there are certainly many intriguing stock buys out there, for reasons that we shall soon learn, one stock has a lot to offer tech investors in the marketplace today: Acacia Communications (NASDAQ: ACIA).
Introducing Acacia
Acacia is a relatively new entrant into the networking and connectivity industry. Its corporate motto, "Connecting at the Speed of Light," more or less tells the tale of just what exactly Acacia does. The company was founded in 2009 to design and manufacture silicon-based interconnects for fiber optic networks, which vastly improves the performance of cloud and other communications networks.
Acacia is quickly earning a reputation as a forward-thinking organization that's pushing the envelope of how our world is connected. There perhaps is no better proof of this than in its financial results:
Quarterly results
| Metric | Q4 2015 12/31/2015 | Q4 2016 12/31/2016 | Percentage Increase |
| --- | --- | --- | --- |
| Revenue | $68.5 million | $142.4 million | 107% |
| Net income | $4.6 million | $53.9 million | 1,071% |
Source: S&P Global Market Intelligence.
Annual results
| Metric | FY 2014 | FY 2015 | FY 2016 |
| --- | --- | --- | --- |
| Revenue | $146.2 million | $239.1 million | $478.4 million |
| Net income | $13.5 million | $40.5 million | $131.6 million |
Source:S&P Global Market Intelligence.
As any technology investor will tell you, creating a worthwhile product is hard enough, but to do so while generating fantastic growth and solid returns on invested capital is something special. Can Acacia continue to execute in the long term as well as tech giant Apple?
Competitive position
Acacia Communications was founded for one purpose -- to take advantage of an opportunity to take the world's cloud-focused networks to the next level. As described in its 2014 IPO Prospectus, global internet traffic was projected to grow from 2.0 exabytes per day to 5.5 exabytes per day in 2019 -- a 23% annual increase. This massive amount of data, 5.5 exabytes being equal to 5.5 billion gigabytes of data, will require increasingly advanced networks in order to run smoothly.
This is where Acacia's founders and scientists come in. Over 45% of the company's 290 employees hold a Ph.D. or other advanced degree, as of 12/31/2016.
As described in the company's recent 10-K filing:
The industry's solutions to the problems associated with high transmission speeds is a more complex method of decoding the light signals in a fiber optic cable: coherent communications. As you might imagine, the sheer complexity of these methods is enough to make the most advanced engineer's head spin. And that's where Acacia comes in.
Image Source: Getty Images.
Through its suite of products, Acacia offers network providers high-speed coherent interconnection products that reduce the complexity and cost of transmitting data at higher than 10 Gbps. Its products are so good that its customer base has grown from eight of the world's leading network equipment manufacturers -- think Cisco and Infinera -- to more than 25, as of last year.
A few words of caution
While it's clear that Acacia has a lot to offer its customers at present, its success may attract competition. The risks associated with investing in any technology company apply doubly to Acacia.Not only does it need to worry that its technology offerings will one day become obsolete, possibly in the blink of an eye, but also that it will one day be felled by a more advanced competitor.
By the company's own admission, Acacia currently attracts competition from some of the very same companies it currently counts as its top customers: As noted in its latest annual report, Acacia actually competes with the coherent interconnection solutions from the likes of Nokia, Ciena, Huawei, Cisco, and Infinera -- all of which are currently included in a list the company's 25 major customers. Should any of these players decide to go a different direction and cease their relationship with Acacia, or simply invent a superior solution, it could spell trouble for the young start-up.
Foolish final thoughts
Tech is a tough industry to succeed in. Competition is fierce, and relentless improvement is the name of the game. Failure to do so spells doom.
Acacia Communications represents a unique way for investors to bet on the continued growth of internet usage globally -- the prospect of which is practically guaranteed. Is it possible that it gets outcompeted and stamped into irrelevance? Yes.But that's true of any technology-based business.
With shares currently trading hands at $58 as of the time of this writing, which values the company at just 20 times forward earnings-per-share estimates -- low for a business with Acacia's growth history -- Acacia Communications is a fantastic technology stock to consider adding to a portfolio.
10 stocks we like better than Acacia CommunicationsWhen investing geniuses David and Tom Gardner have a stock tip, it can pay to listen. After all, the newsletter they have run for over a decade, Motley Fool Stock Advisor, has tripled the market.*
David and Tom just revealed what they believe are the 10 best stocks for investors to buy right now... and Acacia Communications wasn't one of them! That's right -- they think these 10 stocks are even better buys.
Click here to learn about these picks!
*Stock Advisor returns as of February 6, 2017
Sean O'Reilly has no position in any stocks mentioned. The Motley Fool owns shares of and recommends Apple. The Motley Fool has the following options: long January 2018 $90 calls on Apple and short January 2018 $95 calls on Apple. The Motley Fool has a disclosure policy.