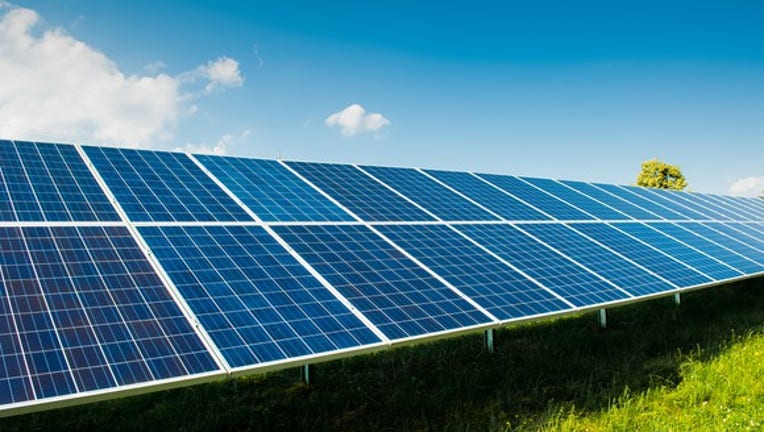 For years now, Tesla Inc. (NASDAQ: TSLA) CEO Elon Musk has told anyone who will listen that the reason he became involved with the electric car maker was so he could accelerate mankind's shift toward renewable energy usage. The simple fact of the matter is that we'll only be able to burn fossil fuels in our cars for so long.Alas, for investors just warming up to the idea of investing in this trend, Tesla's shares are at their highest level ever -- up 30% in the past 12 months alone to over $300 per share.
Fortunately, there's more than one way to invest in the future of sustainable energy.Perhaps one of the best options currently available to Foolish investors is First Solar (NASDAQ: FSLR). The company, arguably one of the best-positioned solar panel manufacturers in the world, has a big edge over its competitors: a rock-solid balance sheet.
Despite its financial soundness, First Solar has seen its shares plummet amid an industrywide pullback. It's generally difficult to make money in technology hardware manufacturing, as continued technological advances inevitably lead to price deflation for end products. This is a negative for businesses because the machinery used to produce said end products generally costs just as much, if not more, as time goes on. Wall Street is more than aware of this fundamental fact of life, and is giving First Solar and itspeers no room for error. Analysts may have a point: What were once bountiful profits at First Solar have since turned into losses amid rapid change and fierce competition from Chinese manufacturers. And we all know that Wall Street is littered with the stock certificates of now-defunct technology companies.
However, in the case of First Solar, there's a high likelihood that you can invest in the future of solar power generation for a song. In fact, last year, management made a fantastic move that may very well produce bountiful profits in the years ahead.
Image source: Getty Images.
Recent results
The first thing to know about First Solar's operations is that last year's losses were less terrible than they appeared, as a $358 million loss for the year included $728.9 million in restructuring costs. Excluding these expenses, First Solar would have reported a pre-tax profit of over $300 million.The picture becomes even rosier when one glances at First Solar's cash flow statement. Cash from operations in 2016 came to $206.8 million, while capex came in at $229.5 million -- netting negative free cash flow of just $22.7 million. Not bad.
The good news doesn't stop there. First-quarter earnings, reported after the market close on May 2, 2017, were not only strong but featured that most beloved of management pronouncements: increased guidance for the year. Revenue came in at $892 million, up from $876 million in the same period a year ago. Despite the company's current restructuring efforts, net income came in at $9 million, or $0.09 per share.
A strong operator in a struggling industry
First Solar has a decades-long history of not only technological innovation but also exceptional operations management. Founded in 1990, First Solar was created for one reason only -- to make economical solar cells.Solar usage is a relatively recent occurrence in energy markets, and as the technology became more and more attractive with each passing year, First Solar's fortunes increased. Efficiency gains from the likes of First Solar and peerSunPower led to acceptance by consumers and utilities alike. Brave consumers began installing solar panels on their roofs and utilities began investing hundreds of millions in large-scale solar projects. Thanksto the constant investments by First Solar and its peers in solar efficiency over the past few decades, solar power usage is now becoming common.
Current CEO Mark Widmar and his team have long waited for this day, and they have the dry powder to reap the rewards. First Solar is a financial fortress in an industry of sand castles. As more and more competitors have been felled, First Solar's status within the industry only increases. Wall Street doesn't know it yet, but as the industry matures, so too will First Solar's stock price.
Here lies First Solar's true advantage in the marketplace. Last year, the company made the decision to focus on utility-scale projects. By offering comprehensive, economic electricity generation to some of the largest power producers in the world, First Solar is building an enviable niche in a fast-growing industry. As Widmar said on fiscal 2017's first-quarter conference call: "A lot of utilities are trying to find a profile and an opportunity to rate-base the solar assets. I think that's really ultimately [what] we'd prefer to do."
With last year's losses, First Solar may have disappointed an investing world that craves either steady profits or fantastic growth, but it's playing the long game by targeting utility-scale projects in the most economically attractive regions of the world -- including states like California and nations like Japan. Wall Street analysts currently project profitability to return next year:
| Metric | FY 2017 | FY 2018 | FY 2019 |
| --- | --- | --- | --- |
| Estimated GAAP EPS | ($0.24) | $0.80 | $1.13 |
Data source: S&P Global Market Intelligence.
Once this strategy takes hold and the oversupplied solar-cell market is finally rid of Chinese-manufacturing zeal, First Solar's once-consistent profits are likely to return.
Here's a look at the balance sheet as of Dec. 31.
| | |
| --- | --- |
| Cash and short-Term investments | $1.96 billion |
| Total assets | $6.87 billion |
| Current liabilities | $899.7 million |
| Total liabilities | $1.65 billion |
| Shareholders' equity | $5.21 billion |
Data source: S&P Global Market Intelligence.
There are, as always, potential difficulties down the road -- but if any company can handle them, it's First Solar.
Bearish considerations
Any young industry is bound to experience volatility, and solar is no different. Naysayers certainly have a point when they say that efficiency gains rarely lead to profit gains, and that's been the case with numerous other technology hardware manufacturers -- just look at what happened to Dell, IBM, and HP. All had to shift to consulting and enterprise solutions to survive. However, First Solar isn't simply selling efficiency solar panels to installers and utilities: It also offers these entities an entire integrated power-plant solution that makes the transition to solar power even easier.
Foolish takeaway
First Solar is one of the only solar-panel manufacturers to be consistently profitable -- that is, until last year. But those losses were deliberate. In the long-term, First Solar appears to have the makings of a winning technology stock. It has an impressivepipeline of utility-scale projects, some of which even come from Warren Buffett's Berkshire Hathawaysubsidiary MidAmerican Energy Holdings.
With a rock-solid balance sheet, First Solar will be thriving years from now. For Foolish investors looking to invest in a sustainable future without paying up for Tesla's sky-high valuation,First Solar is a great place to start.
10 stocks we like better than First SolarWhen investing geniuses David and Tom Gardner have a stock tip, it can pay to listen. After all, the newsletter they have run for over a decade, Motley Fool Stock Advisor, has tripled the market.*
David and Tom just revealed what they believe are the 10 best stocks for investors to buy right now... and First Solar wasn't one of them! That's right -- they think these 10 stocks are even better buys.
Click here to learn about these picks!
*Stock Advisor returns as of April 3, 2017
Sean O'Reilly has no position in any stocks mentioned. The Motley Fool owns shares of and recommends Berkshire Hathaway (B shares) and Tesla. The Motley Fool has a disclosure policy.