You Probably Underestimate Pinterest's Potential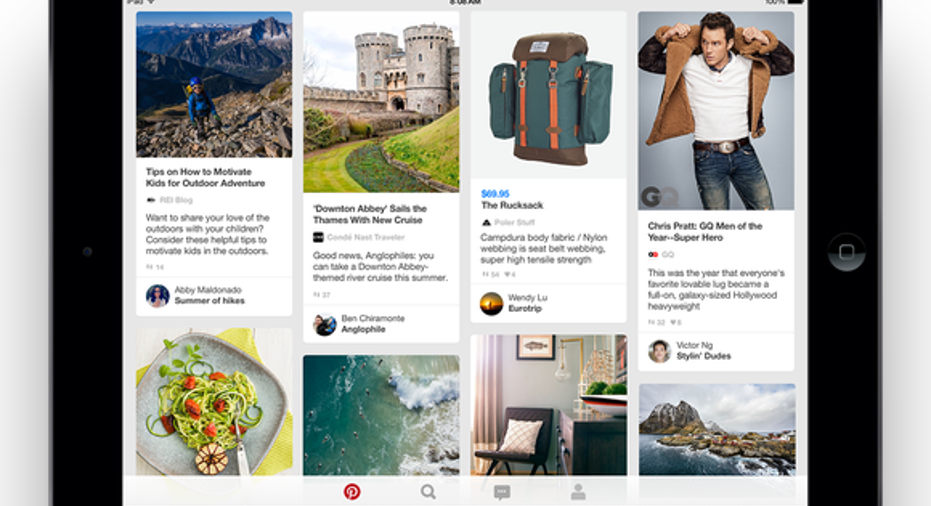 Image source: Getty Images
Its eye-popping $11 billion valuation is beyond dispute, but whether Pinterest will actually deliver is another matter entirely.
Riding a wave of venture capital funding unheard of since the mania of the dotcom bubble, plenty of pundits have predicted that at least some of today's most well known multi-billion dollar start-ups will fall well short of their heady valuations.
As you'll see below though, Pinterest will not be one of them.
The next great advertising platform?
At its core, Pinterest is an image collection platform first and foremost. Its users engage with Pinterest to save photos, discover new products and ideas, connect with brands, and more. As it turns out, that makes it the perfect platform to build a powerful advertising business as well.
The company counts over 100 million monthly active users (MAUs) and growing. While a nine-figure user base certainly speaks to the degree to which Pinterest resonates with consumers, this still sits well below many of its new media brethren like Instagram, who counts over 500 million MAUs, or Snapchat, whose absurdly engaged fans total over 150 million users daily.
However, Pinterest has one thing Snapchat, Facebook, Instagram, Twitter, and, possibly even, Alphabet users don't have -- intent, in spades.
Image source: KPCB Internet Trends 2016 Presentation
Facebook, Instagram, Twitter, LinkedIn, and Snapchat all fund their businesses primarily via showing advertisements or sponsored material of some kind against their content. However, Pinterest is the only service where intent-to-buy is an inherent trait of its users, and the natural alignment between the services, users, and advertisers is an incredible advantage that doesn't seem to be part of the everyday discussion regarding Pinterest. It's also a big reason why names like Amazon.com and Alphabet, in particular, should be worried about Pinterest's rise.
So who does Pinterest disrupt?
With Pinterest's incredible purchase intent, the e-commerce upstart threatens a series of tech and e-commerce platforms, each to varying degrees.
With Pinterest's growing repository of content, there's an argument to be made that the service is gradually becoming a viable alternative to Alphabet's Google for search. By one estimate, over one-third of Pinterest users opt to search on Pinterest for an item before doing so on Alphabet's Google search engine. Especially given the outsized purchase intent Pinterest users have when active on the platform -- meaning they log onto the service with the desire to buy a specific good -- Pinterest could even be a better channel for brands to connect, educate, and eventually sell to customers than the world's most dominant discovery platform.
Image source: Pinterest
Though perhaps to a lesser extent than Alphabet, e-commerce pure plays like Amazon and Etsy also figure to be affected to some extent by Pinterest's rise as an e-commerce platform, though the relationship may be more symbiotic here. For example, an estimated 65% of all Pinterest pins link to shopping pages on Etsy, Amazon, and eBay .
The crucial distinction though is that Pinterest doesn't compete with e-commerce names like Amazon, Etsy, and eBay for the actual sale of goods. Pinterest, like Alphabet's Google, occupies what's referred to as the top of the online discovery "funnel." People use their services to seek out information on a certain item or thing, but neither Alphabet or Pinterest actually deal with selling real goods and services. Instead, they sell advertisements that redirect to names like Amazon, Etsy, and eBay from whom consumers purchase actual items.
At the same time, with Pinterest figuring to become an increasingly prominent source of traffic to each of these names, as time goes on, Amazon, Etsy, and eBay will likely find themselves developing a reliance on Pinterest as a source of customers. In this sense, each e-commerce name should view the rise of Pinterest as at least a partial threat.
The analogy to how Amazon, Etsy, and eBay rely on Alphabet's Google for traffic certainly applies, while also helping further illustrate the budding rivalry between Pinterest and Alphabet as well. It's in this way that Pinterest's increasingly prominent role in e-commerce probably isn't appreciated by the investing public even today.
The article You Probably Underestimate Pinterest's Potential originally appeared on Fool.com.
Suzanne Frey, an executive at Alphabet, is a member of The Motley Fool's board of directors. Andrew Tonner owns shares of eBay. The Motley Fool owns shares of and recommends Alphabet (A shares), Alphabet (C shares), Amazon.com, eBay, Facebook, and Twitter. The Motley Fool owns shares of Etsy. Try any of our Foolish newsletter services free for 30 days. We Fools may not all hold the same opinions, but we all believe that considering a diverse range of insights makes us better investors. The Motley Fool has a disclosure policy.
Copyright 1995 - 2016 The Motley Fool, LLC. All rights reserved. The Motley Fool has a disclosure policy.