Yankees beat Indians 5-2 to advance in MLB playoffs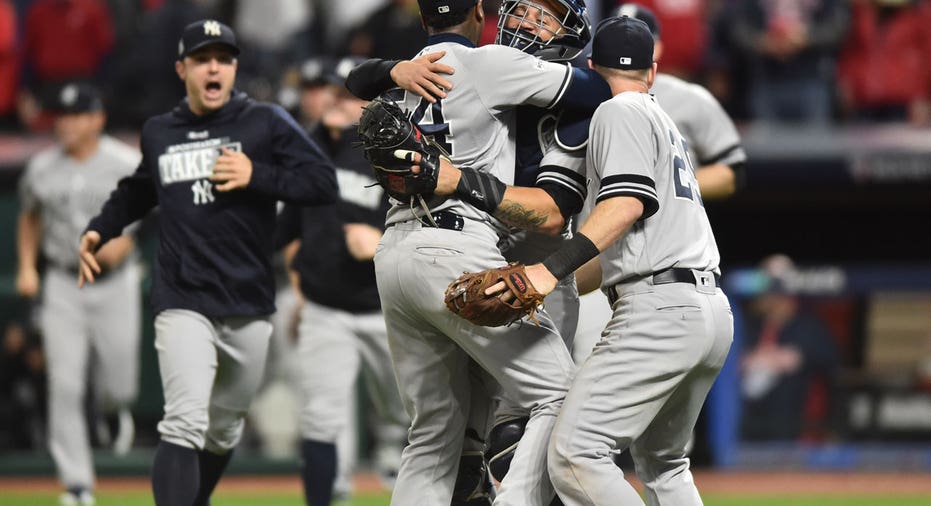 The New York Yankees are back in the American League Championship Series for the first time in five years after taking the final three games of their LDS against the Indians.
 Didi Gregorius (DEE'-dee greh-GOHR'-ee-uhs) was 3-for-4 with a pair of homers to lead the Yankees to a 5-2 triumph in Game 5 at Cleveland. Gregorius put New York ahead to stay with a solo shot in the first inning and added a two-run blast that put the Bombers ahead 3-0 in the third.
 The Indians pulled within 3-2 before the Yanks tacked on two runs in the ninth with the help of two outfield errors. Brett Gardner's third hit of the night drove in Aaron Hicks and created the fifth run as Todd Frazier came home on Jay Bruce's throwing error.
 Yankees starter CC Sabathia (sah-BATH'-ee-uh) was working on a one-hit shutout until the Indians chased him during their two-run fifth. Roberto Perez singled home Cleveland's first run and Giovanny Urshela (ur-SHEH'-luh) followed with an RBI single that ended Sabathia's evening.
 David Robertson worked 2 2/3 innings of hitless relief to pick up the win. Aroldis Chapman notched the save as he struck out four during his two innings of scoreless relief.
 Losing pitcher Corey Kluber lasted just 3 2/3 innings, surrendering both homers by Gregorius. The AL Cy Young candidate posted a 12.79 ERA in his two starts during the series.
 The Yankees are the 10th team to win a best-of-five playoff series after dropping the first two games.
 Game 1 of the ALCS will be in Houston on Friday.