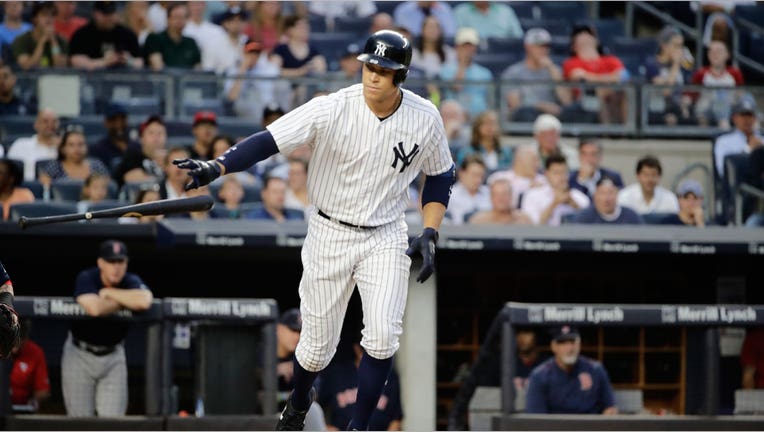 Fanatics has signed New York Yankees star rookie Aaron Judge to an exclusive autograph deal, the sports e-commerce giant announced Monday.
Under the agreement, Fanatics' collectibles division, Fanatics Authentic, will become the exclusive distributor of baseball gear and collectibles signed by Judge. Victor Shaffer, executive vice president of Fanatics Authentic, said the company will partner with Judge to offer a "wide-scale assortment of authentic memorabilia and collectibles."
"I've been very selective in the brands I've chosen to align myself with this year, and [Fanatics'] track record of offering fans the widest assortment of high quality, officially licensed products was something that definitely felt like the right match for me," Judge said in a statement.
Judge joins a growing list of athletes who have signed with Fanatics. Baseball stars Kris Bryant, Anthony Rizzo, Corey Seager and Cody Bellinger also have exclusive autograph deals with the company. Fanatics' NFL partners include Aaron Rodgers and Matt Ryan.
The 25-year-old Judge, the apparent front-runner for AL Rookie of the Year, has quickly become one of the most popular players in merchandise sales. Judge's No. 99 jersey is among the top sellers on MLB.com's shop, and one of his game-worn jerseys recently sold for a whopping $160,000 at auction. Judge's early list of sponsors includes Under Armour (NYSE:UA), which is said to be negotiating a contract extension with the up-and-coming star.
Judge's first full season in the big leagues is one for the record books. He set a Yankees record for the most home runs by a rookie, surpassing Hall of Famer Joe DiMaggio. The young slugger also won the 2017 Home Run Derby and leads the American League with 35 homers.
Fanatics, which operates online stores for major sports leagues, has made an aggressive push into new business deals. The company teamed up with Under Armour to become the next provider of MLB on-field uniforms. It later acquired VF Corp.'s (NYSE:VFC) sports apparel business, including current MLB jersey supplier Majestic. After the Majestic acquisition, Under Armour and Fanatics moved up their MLB debut to 2019, a year earlier than previously announced.