Yankee Alex Rodriguez May Go to Bat for Bank of America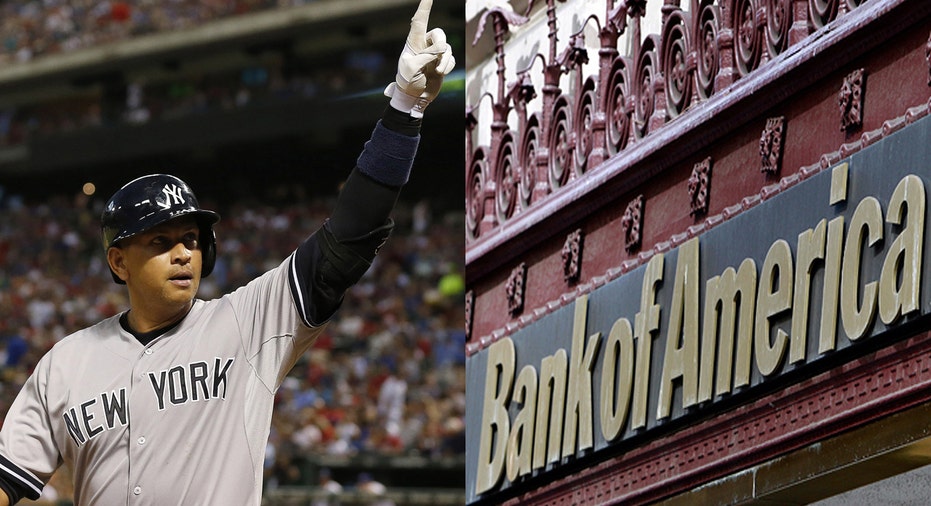 Alex Rodriguez's career in baseball might be coming to an end, but his career on Wall Street might just be beginning, the FOX Business Network has learned.
According to people with direct knowledge of the matter, the New York Yankees once star third-baseman, and now its much benched designated hitter, was spotted inside Bank of America (NYSE:BAC) last week having a meeting with the company's second most powerful man: Chief operating officer, Thomas Montag.
These people say the conversation between the two covered a number of areas, including some discussion on what Rodriguez might do when his baseball career is over. These people say Rodriguez explained to Montag that he has contacts in the baseball world that could help in any post-sports career.
People with knowledge of the conversation say no specific job was offered and that Rodriguez didn't specially ask for one. Rodriguez's contract is up through 2017 season and he has indicated he will play through that time.
A spokesman for Bank of America confirmed the pair met, and didn't deny the conversation involved some post-baseball discussion.
"We have a partnership with the Yankees, and players every so often come visit with our (executives), maybe walk the trading floor, or join us for community service events.  That's what ARod's visit was all about, and we appreciated it," the spokesman said in a statement.
Both a spokesman and an agent for Rodriguez didn't return telephone calls or emails for comment, but they also didn't deny the meeting and that future job prospects were discussed. A representative for the Yankees also didn't comment.
Bank of America is one of the world's biggest banks, with both a large commercial banking business, as well as sales, trading investment banking and maybe most importantly for someone with connections to high-earning people, one of the biggest brokerage departments on Wall Street.
Many Wall Street firms have sought access to athletes with their seven-figure salaries and need to invest for their future through their brokerage divisions. Hiring ex-athletes, though, is still somewhat rare among the big banks.

Those who have made the transition from sports to Wall Street include Phil McConkey, the former New York Giant, who is president of a small brokerage firm Academy Securities; and former New York Jet's wide receiver Wayne Chrebet, a broker for Stifel Financial Corp.

Derek Jeter, a former teammate of Rodriguez's, launched a sports-related website after retiring from the Yankees in 2014, but people who know him say he, too, is weighing a career on Wall Street, possibly as a broker where he would manage money of other sports stars. Jeter is a client of Morgan Stanley (NYSE:MS), and is said to be close to the firm's former brokerage chief Gregory Fleming.

A spokesman for Jeter didn't return a request for comment.

Rodriguez, 40, is currently batting .220 for the year and has been relegated to part time status with the Yankees largely as a designated hitter. Some baseball analysts say he's coming to the end of his long, and sometime controversial 22-year career. The ball player has hit nearly 700 home runs, one of the highest tallies in baseball history, but he was also suspended for the entire 2014 season for allegedly obtaining performance enhancing drugs.