WSJ: Apple in Talks To Buy Jay Z's Streaming Service Tidal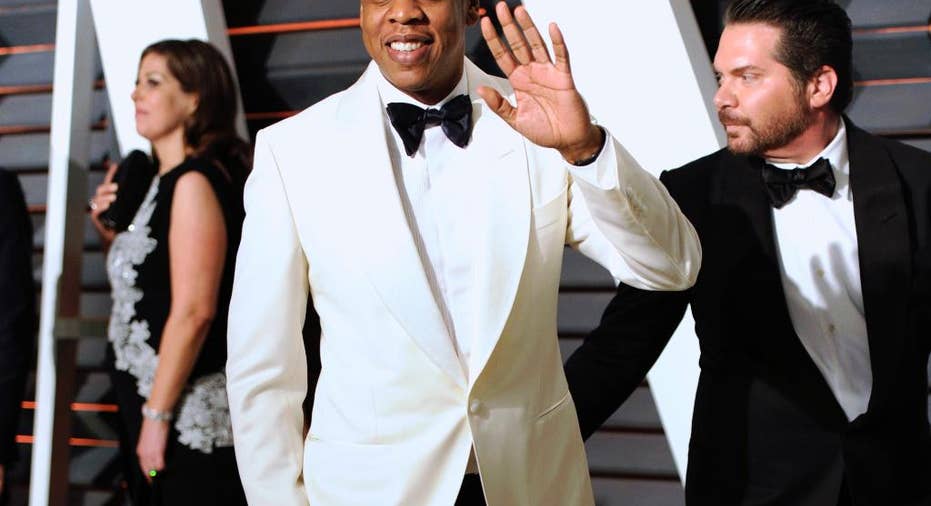 Apple Inc. is in talks to acquire Tidal, a streaming-music service run by rap mogul Jay Z, according to people familiar with the matter.
Apple is exploring the idea of bringing on Tidal to bolster its Apple Music service because of Tidal's strong ties to popular artists such as Kanye West and Madonna.
The talks are ongoing and may not result in a deal, these people said. Terms of the potential deal aren't known.
Jay Z bought the service in March 2015 for $56 million from Swedish company Aspiro, which had created the brand Tidal. He has given 19 famous artists and bands small stakes in Tidal and promised each millions of dollars worth of marketing, according to people familiar with the matter.
A Tidal spokesman said Tidal executives hadn't held talks with Apple.
Tidal charges $20 a month for a high-fidelity version of its 40 million-song catalog or $10 a month for standard-quality sound. Tidal said it has 4.2 million paying subscribers, most of whom it amassed this year with a string of exclusive releases from stars including Mr. West, Rihanna and Beyoncé, who is Jay Z's wife.
Tidal is also the only service offering the catalog of the late pop star Prince, who was wary of other streaming services but had a close relationship with Jay Z. Prince died in April at the age of 57 of an overdose.
But the company has experienced management turmoil, churning through three chief executives, one of them interim and one appointed by prior management, in less than a year. Jeff Toig, former chief business officer of SoundCloud, a Berlin-based audio-sharing service, has been CEO since January.
Though it hasn't generated significant revenue for the industry given its relatively low subscriber numbers, Tidal has an artist-friendly reputation, thanks to its artist ownership, high-quality sound and the fact that it only offers paid subscriptions, which generate far more for the industry than ad-supported services.
Spotify AB, by contrast, the subscription-streaming leader with about 30 million subscribers and about 70 million free users, has irked some stars by refusing to let them limit their music to its paid tier. As a result, artists such as Taylor Swift and Adele have withheld new releases from the entire service, with Adele only making her 2015 album "25" available on Spotify this month.
Tidal has held exploratory talks beginning last year with other potential partners, such as the streaming service Rhapsody, according to a person familiar with the matter. Rhapsody recently changed its name to Napster.
The news of the talks comes about a year after Apple launched its own streaming music service, Apple Music.Apple said on June 13 that it had 15 million paying subscribers to the service, which costs $9.99 a month for individuals, or $14.99 a month for families. The same day, Apple said it would redesign Apple Music in the fall as part of an update to its iPhone software, to address complaints that the software was confusing and hard to navigate.
Apple Music was based on the streaming service Beats, which Apple acquired with headphone maker Beats Electronics for $3 billion in May 2014. As part of the deal, Apple acquired the services of rap star Dr. Dre and music mogul Jimmy Iovine, who have played critical roles in warming the music industry to Apple's music service.
A deal with Tidal would bring two of the most legendary names in hip-hop to Apple's camp, uniting East Coast and West Coast rap under a single business interest.
There might be areas of friction as well. Tidal executives pride themselves on giving artists unusual freedom, such as tinkering with their music after releasing it, a person familiar with the matter said.
Apple has been working to secure close relationships with recording artists. It has provided marketing assistance to artists, while also helping to pay for music videos for high-profile artists in exchange for a certain period of exclusivity on Apple Music.
Write to Daisuke Wakabayashi at Daisuke.Wakabayashi@wsj.com, Hannah Karp at hannah.karp@wsj.com and Patience Haggin at patience.haggin@wsj.com