Would You Buy a $1,000 iPhone?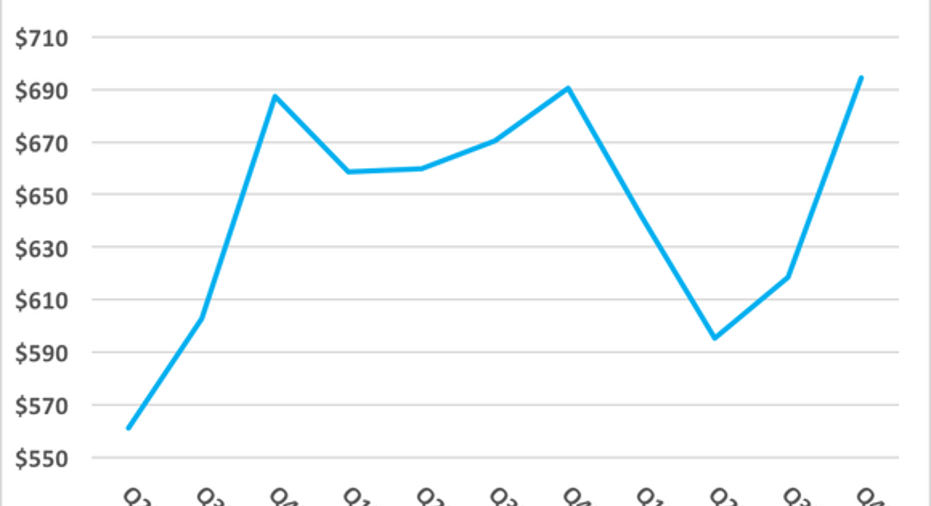 This year is a momentous one for Apple (NASDAQ: AAPL) because it marks the iPhone's 10th year. That's ratcheting up expectations for what the company may have up its sleeve, especially since 2016's iPhone 7 and 7 Plus only received incremental updates within the same overall design (not like that hurt sales at all).
The most recent speculation comes from Fast Company, which is reporting that the 10th-generation iPhone might incredibly be priced at $1,000 or more. That would be even higher than $969 that it costs to buy a fully loaded iPhone 7 Plus with 256 GB of storage. As previously rumored (and widely expected at this point), at least one variant may include an OLED display. OLED displays don't come cheap, and the one that Apple is thinking about using will probably cost about twice as much as traditional LCD displays. Historically, the entire display assembly often comprises about 40% of component costs, so a potential price increase makes perfect sense to offset a cost increase related to the most expensive component.
Jet Black iPhone 7 Plus. Image source: Apple.
Apple is reportedly still considering removing the physical home button and potentially even the volume and lock buttons on the sides, all of which would join the headphone jack in iHeaven. The iPhone maker is collaborating with Lumentum (NASDAQ: LITE), whose shares were already popping after earnings, to develop a 3D sensing technology that could be used for facial recognition and other applications. Rival Samsung started introducing facial recognition features in its flagship phones years ago.
Think different
The company is hoping to pack as many new features into the high-end model as possible, which would help justify a four-digit price tag. Apple has long enjoyed the strongest pricing power within the smartphone industry, and this would potentially represent the strongest exhibit of Apple flexing its pricing muscles.
Data source: SEC filings. Chart by author. Calendar quarters shown.
If Apple can pull it off, a $1,000 price tag would clearly boost average selling prices, the degree of which would depend on product mix. Samsung has attempted to launch $1,000-plus phones in the past, like 2013's horribly named Galaxy Round which featured a curved AMOLED display that was responsible for the higher price. But Samsung's error was believing that the curved display itself would justify the premium to consumers, even though the device was largely similar to other Galaxy phones at the time in other respects. Apple's task, then, will be to include enough differentiating factors in the $1,000 model to set it apart.
In recent years, carriers have shifted away from the subsidy model and toward installment and leasing plans. At first, consumers were hit with sticker shock that premium smartphones cost over $600, as opposed to the subsidized $200 they had previously been paying, but it's safe to say that at this point consumers fully appreciate how much smartphones actually cost. The increased pricing transparency associated with abandoning subsidies indirectly helps lay the foundation for innovation, because manufacturers can then appeal directly to consumers on why a higher price tag is warranted by new features instead of having to negotiate subsidy levels with carriers. The extra $20 bump associated with the iPhone 7 Plus dual-camera system is a good example.
Would you buy a $1,000 iPhone?
10 stocks we like better than AppleWhen investing geniuses David and Tom Gardner have a stock tip, it can pay to listen. After all, the newsletter they have run for over a decade, Motley Fool Stock Advisor, has tripled the market.*
David and Tom just revealed what they believe are the 10 best stocks for investors to buy right now... and Apple wasn't one of them! That's right -- they think these 10 stocks are even better buys.
Click here to learn about these picks!
*Stock Advisor returns as of February 6, 2017
Evan Niu, CFA owns shares of Apple. The Motley Fool owns shares of and recommends Apple. The Motley Fool has the following options: long January 2018 $90 calls on Apple and short January 2018 $95 calls on Apple. The Motley Fool has a disclosure policy.