World Leaders Gather for Peres Funeral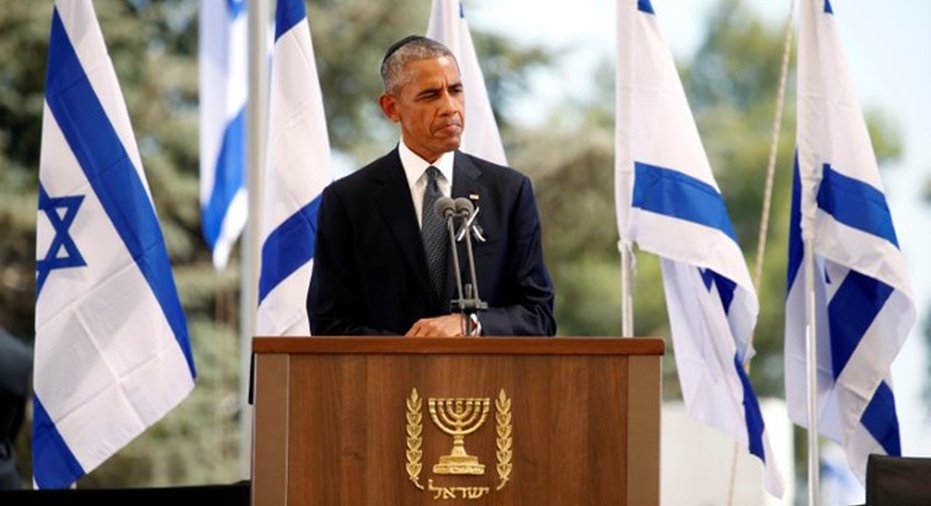 Israelis and Palestinians came together Friday morning at a state funeral for Shimon Peres, who tirelessly worked for peace between the two sides.
Israeli Prime Minister Benjamin Netanyahu and Palestinian Authority President Mahmoud Abbas attended the morning services at Mount Herzl, the country's national cemetery, in Jerusalem. They were joined by U.S. President Barack Obama--who arrived leading a delegation including Secretary of State John Kerry--former President Bill Clinton and dozens of heads of state. Mr. Obama, who was seated next to Mr. Netanyahu, greeted Mr. Abbas after entering the ceremony.
Israeli soldiers carried Mr. Peres' coffin, draped in the blue and white Israeli flag.
"You taught us to love the state of Israel. You taught us to love ourselves," said Israeli President Reuven Rivlin in his address. "It is the end of an era. The era of giants. A chapter in our history has come to an end."
Mr. Peres, the last of Israel's founders, died Wednesday at 93 after suffering a major stroke earlier this month.
He served stints as prime minister, president and foreign minister over a seven-decade career.
"Shimon lived a life of purpose," Mr. Netanyahu said in his eulogy. "Israel grieves for him. The world grieves for him."
Thousands of additional Israeli police and hundreds of medics were called to work Friday to ensure a smooth process, ahead of a day of rage and bloodshed called by Islamist movement Hamas.
The Israeli statesman was divisive among Israelis, and Palestinians and other Arabs. He built up Israel's nuclear arsenal, which Israeli critics said helped fuel instability in the region.
He was also one of the first proponents of constructing Jewish settlements in the West Bank, land Israel captured in the 1967 Arab-Israeli war. But he later advocated the establishment of a Palestinian state there.
In the second half of his career, he sought to advance a two-state solution to the Israeli-Palestinian conflict, winning a Nobel Prize for his part in negotiating the agreements known as the Oslo Accords, championed by Mr. Clinton's administration.
The Palestinian leader and Mr. Netanyahu have for months traded barbs over why they won't sit down with each other for peace talks.
The last round of negotiations fell apart in 2011. The Oslo Accords partly negotiated by Mr. Peres appear to be falling apart as the two current leaders haven't met in person for more than five years.
Mr. Abbas's was unusual among Arab leaders, who have largely remained silent in the wake of Mr. Peres' death. Jordan's King Abdullah II sent condolences to Israel's foreign ministry on Thursday. Israel signed a peace treaty with Egypt in 1979 and Jordan in 1994.
Britain's Prince Charles, former U.K. prime ministers Tony Blair and David Cameron and French President François Hollande also attended Friday's funeral.
Mr. Peres will be buried between the late prime ministers Yitzhak Shamir and Yitzhak Rabin, his longtime rival and with whom he shared the Nobel Prize.
The body lay in state on Thursday outside the Knesset, the Israeli parliament, and thousands of Israelis and notables from around the world paid their respects, including Mr. Clinton.
Carol Lee contributed to this article.
Write to Rory Jones at rory.jones@wsj.com and Carol Lee at carol.lee@wsj.com