Without Trump, Kennedy Center honors the best in the performing arts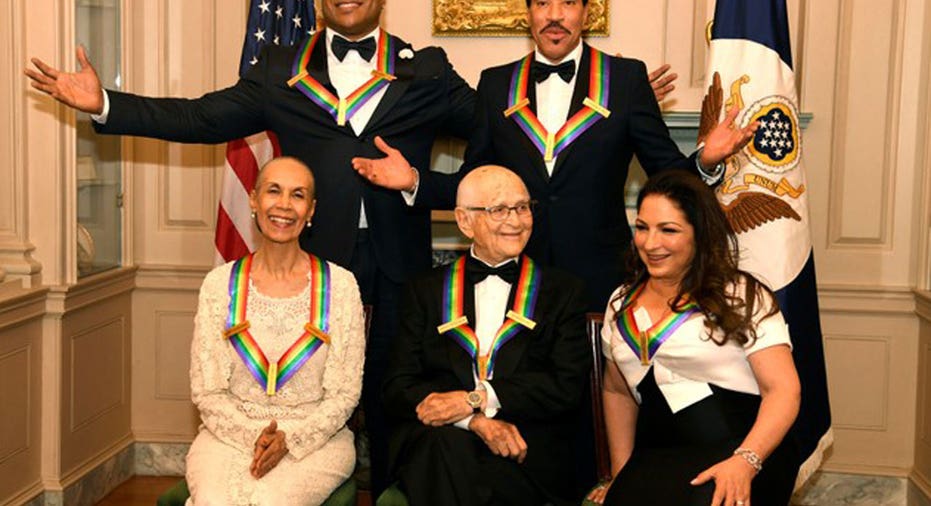 With the notable absence of President Donald Trump, the Kennedy Center on Sunday celebrated singers Lionel Richie and Gloria Estefan, rapper LL Cool J, television producer Norman Lear and dancer Carmen de Lavallade with honors for the arts.
The Kennedy Center Honors are considered the highest recognition in the country for artists across many fields, and the importance of the annual event is usually underscored by a White House reception with the president and the first lady.
Not this year.
The White House said in August that Trump and his wife, Melania, would not attend, so that those honored could enjoy the event "without any political distraction." The White House reception was also canceled after some honorees said they would boycott it.
De Lavallade, 86, said she decided she could not attend such an event after Trump said both right- and left-wing extremists were at fault in a white supremacist rally in Virginia where one woman died.
"Something in my soul ... said no," she told reporters.
The show at the Kennedy Center itself went on with minimal politics and a lot of star power.
Musicians, including Stevie Wonder, Quincy Jones and Kenny Rogers, paid tribute to Richie, known for hits such as "Three Times a Lady" and "Say You, Say Me." Singer Leona Lewis finished with a rocking rendition of Richie's hit song, "All Night Long," bringing the audience to its feet.
Singer and songwriter Estefan, 60, who was born in Havana, Cuba, was feted by her daughter, Emily, who delivered a moving rendition of her mother's song "Reach."
The elder Estefan said she was thankful Trump chose not to attend. "Whenever something becomes more about the controversy than the actual achievements of the people that are receiving the award, it kinda dampens it for everybody," she told Reuters on Saturday.
LL Cool J, 49, who stars in the television show "NCIS Los Angeles," made history by becoming the first hip hop artist to join the club of honorees.
"I've never been more inspired," he told Reuters. "It's a reminder that art matters." He said Trump's presence would have been a distraction.
Oscar-winning actress Meryl Streep kicked off a tribute to her one-time teacher De Lavallade, an actress and a dancer, who wiped tears from her eyes at the end of a powerful dance and musical performance of an American spiritual with a twist: "She's Got the Whole World in Her Hands."
Television producer and writer Lear, famed for producing the hit comedy "All in the Family" as well as "Maude," "Good Times," and "The Jeffersons," was celebrated for confronting tough social issues.
Lear was like a second father, said film maker Rob Reiner, who starred in "All in the Family." From the stage, he said, "Norman, I love you," to which Lear shouted back from the balcony in response, "I love you too."
Lear, 95, told Reuters it felt great to be an honoree.
"It probably feels the same as it might have felt at 80. Everything else does," he quipped, adding he was not upset that Trump chose not to attend. "It wasn't a hand I needed to shake."
Displeasure at the Republican president and his policies formed a subtle undercurrent at a State Department reception for the honorees on Saturday night.
"Art transcends borders, cultures, politics," said actress Julie Andrews, who emceed the reception. "This event gives us an opportunity to step away from divisive discourse and appreciate excellence in art that has been created for everyone."
CBS will broadcast the 40th Kennedy Center Honors show on Dec. 26.
(Reporting by Jeff Mason Editing by Sandra Maler and Clarence Fernandez)