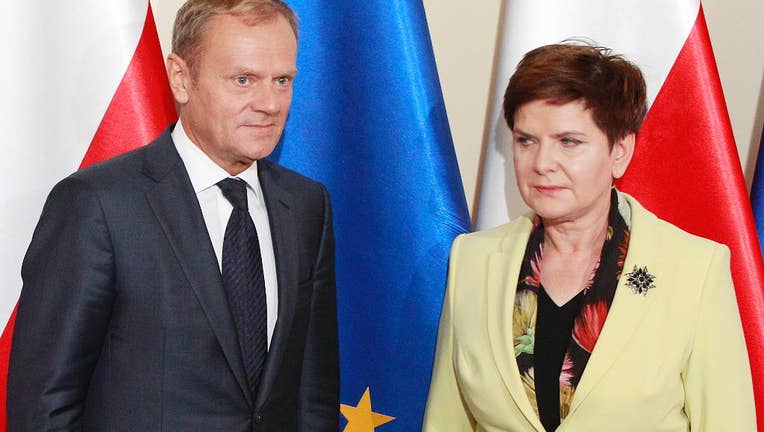 If Britain long felt like a sore festering at the heart of European unity, its planned departure has made one thing clear — it's far from the only malaise for the vision of a common European Union future.
After the June referendum vote in Britain to quit the EU, it should have felt for many of the other member states like a brake was released and they were free to move forward with their joint venture. Instead, 28-minus-1 leaders will be meeting at the centuries-old Bratislava Castle on Friday with one question on their minds — how to keep everybody else moving, and if not in lockstep then more or less in the same direction?
"It would be a fatal error to assume that the negative result in the U.K. referendum represents a specifically British issue," EU Council President Donald Tusk wrote to the 27 leaders ahead of the summit.
Losing a member for the first time — a financial powerhouse at that — would be difficult to swallow at the best of times. But Brexit comes on top of a refugee emergency that EU nations simply cannot agree how to manage. Countries in the east — Hungary, Slovakia, the Czech Republic and others — have openly opposed proposed solutions coming out of Brussels and even defied the wishes of their neighbors.
Economic woes weigh heavily too. Greece's place in the euro single currency has been called into question, and created a major rift between pro-austerity countries led by Germany and countries with more social-minded governments. Spain and Portugal face the threat of fines for failing to bring their budgets into line while France has avoided penalties, creating more strains.
Meanwhile extremist attacks in Paris, Brussels and Germany combined with the lack of intelligence-sharing between member countries have fueled the fears of citizens for their safety and undermined confidence that the EU can provide a solution.
It's all been fodder for the far-right. Only on Wednesday French far-right leader Marine Le Pen promised a referendum on France's place in the EU should she seize the presidency next year.
Against this backdrop, Tusk is hoping for an "honest assessment" of how the EU got itself into this fundamental political quagmire where distrust has replaced half a century of optimism as the EU expanded from a core of a half-dozen west European neighbors to a wealthy group of 28 nations making up the world's largest trading bloc.
As he chairs the summit, Tusk will be counting on frank, even blunt exchanges. Increasingly, politeness has gone out the window as one crisis has been heaped onto the next.
"We must rectify a number of things in order to preserve what is best," Tusk wrote.
The one-day Bratislava summit should be the first in a number of confidence-building meetings where a roadmap should be set up to culminate in a March summit in the Italian capital when the 60th anniversary of the EU's founding Treaty of Rome will be marked — or, in the best of circumstances, celebrated.
These days, though, hand-wringing is more in order than hand-shaking.
Just this week, the foreign minister of founding member Luxembourg suggested Hungary should be suspended or expelled from the EU over its dealings with refugees and other human rights issues. Immediately, Hungary's foreign minister retorted that Jean Asselborn was "a frivolous figure" who "has long excluded himself from among the politicians who can be taken seriously."
The weeks preceding the Bratislava summit have seen an endless array of regional meetings of government leaders, hoping to gather some critical mass to push through their views on how the EU should be run in the future, along either geographical or ideological lines, or a mix of both.
Tusk said there is really is little choice but for things to change, given the increasing discontent with the EU's centralized institutions and the sense that unelected officials in Brussels are dictating policy to the member states.
One thing rarely changes, though. At one vital point, France and Germany, the founding political and industrial engine of the EU, get together to set out the lines for others to follow.
It was the same on Thursday, when German Chancellor Angela Merkel met with French President Francois Hollande.
In these troubled times, though, with Merkel under pressure for her welcoming migration policy and Hollande for his sputtering economy, the aura of both has dimmed. Uncertainty and even fear abound, and a strong vision for the future of the European project is needed to stop others weighing the benefits of heading for the exit door.
"People in Europe want to know if the political elites are capable of restoring control over events and processes which overwhelm, disorientate, and sometimes terrify them," Tusk wrote to the leaders. "Today many people, not only in the U.K., think that being part of the European Union stands in the way of stability and security."
___
Lorne Cook in Brussels contributed to this report.