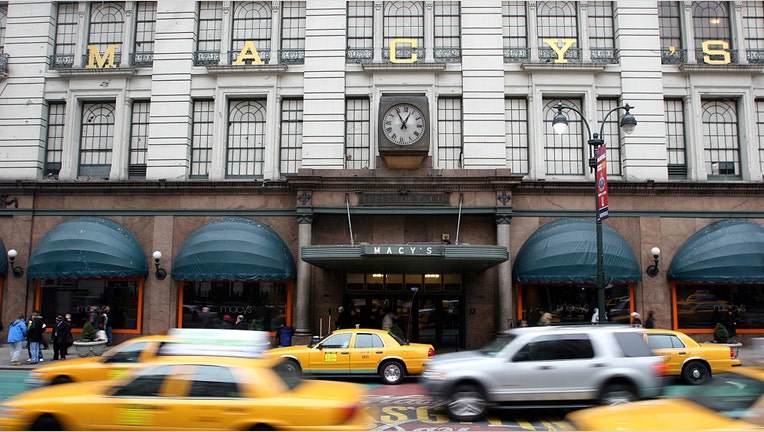 After 158 years, the magic at Macy's (M) is on short supply.
The storied retailer has seen seven-straight quarters of falling sales at its stores open at least a year, while overall sales growth has declined for the better part of two years.
Earlier this month, Macy's was approached by Canadian department-store operator Hudson's Bay – which already owns Saks Fifth Avenue and Lord & Taylor – about a possible takeover, according to the Wall Street Journal. The paper reported talks between the two companies were preliminary, and could involve other alternatives like an acquisition of Macy's valuable real estate, including its 34thStreet flagship in New York City -- which reportedly is worth at least $3 billion.
Macy's is already in the process of closing 100 stores and selling the real estate from locations in San Francisco, Portland and Minneapolis. Now may be the best time for the Cincinnati-based retail giant to consider selling off more of its real estate, said Jan Rogers Kniffen, retail-industry veteran and CEO of consulting firm J. Rogers Kniffen Worldwide Enterprises.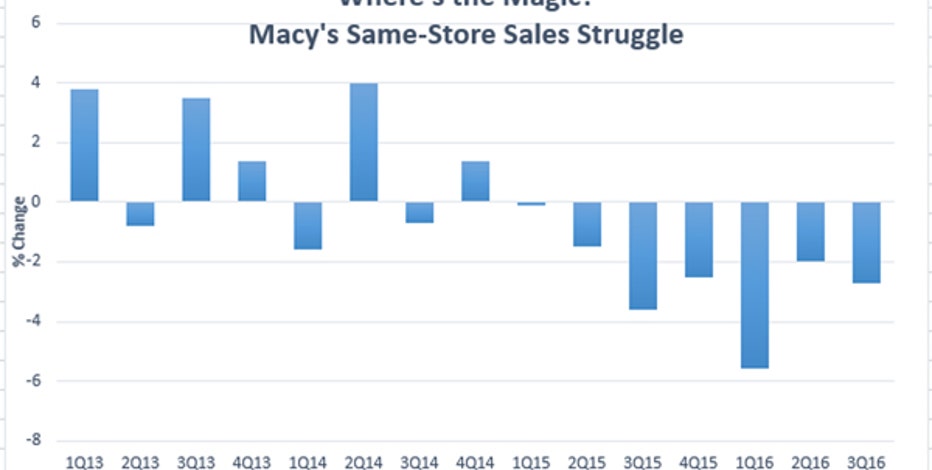 "Rates are low, real-estate values are really high. It's hard to imagine the real-estate value to Macy's is ever going to be higher," he said, explaining that as the broader sales trend moves online a company like Macy's doesn't need to operate in large-footprint stores.
In a 2016 presentation, activist investor Starboard Value encouraged Macy's to separate its real estate assets, which it estimated would be valued at upwards of $21 billion. For comparison, the company's current market value is $9.86 billion.
"Macy's needs to close unproductive stores, continue to be aggressive online, and make sure the customer has a full range of services like buy-online-pick-up-in-store," Kniffen said. "But what we don't know is if that's enough. It's clear the return on investment on those strategies aren't as good as when you were a traditional brick-and-mortar store."
Speculation of a deal with Hudson's Bay has sent Macy's shares up nearly 6.5%, and Wall Street is anxiously awaiting any updates alongside the company's fourth-quarter earnings results due out Tuesday before the opening bell. Wall Street is anticipating full-year profits of $3.08 with fourth-quarter earnings of $1.95 a share on sales of $8.63 billion. U.S. markets will be closed Monday in observance of the Presidents' Day holiday.
After same-store sales dropped 2.1% in the all-important November-December holiday period, Macy's, in January, warned investors it expects full-year 2016 sales to come in at the low end of its guidance for a 2.5% to 3% decline. The company also expects profits per share in a range of $2.95 to $3.10, below its previous guidance.
CEO Terry Lundgren, who will transition out of his role by the end of March and stay on as executive chairman, said the company had expected a stronger performance over the holiday season, and that the results reflected "broader challenges facing much of the retail industry."
"Macy's needs to close unproductive stores, continue to be aggressive online, and make sure the customer has a full range of services."
Indeed, Macys has found itself in an increasingly uphill battle as it continues to lose market share to e-commerce giants like Amazon (AMZN) that can be more nimble when responding to quick changes in consumer trends. While the 2016 holiday season was merry for America's retailers, data from Slice Intelligence showed Amazon dominated as it took nearly 40% of e-commerce sales. Macy's, by comparison, held 2.7% of online sales, according to the data.
Though the bulk of Macy's business is done within its physical stores, in an effort to appeal to younger shoppers who prefer to shop online, the company has invested in its customer data and analytics team to better target relevant shoppers, while also refocusing its strategy on e-commerce capabilities and better customer experiences like mobile shopping platforms, and the option to buy products online and pick them up in store.
When it comes to appealing to the younger generations who live and shop online, traditional retail just simply needs to adapt, said Kate Newlin, brand strategist at Newlin Consulting. Pointing to the shopping habits of her own teenage daughter, she explained that while the shop online, pick up in store models may sound like a good transition to a younger audience, it's not good enough.
If old brands are going to survive in a bricks-and-mortar playing field, in-store retailing needs to be reimagined from the ground up. Newlin described Macy's current situation as "supervised neglect of a once fabulous brand."
"The operating thesis of retail over the last couple of decades is the market migrates to price. If you can get the Ralph Lauren shirt for $9.99, people will get to the store…now I think we're moving into the era that the market migrates to convenience, and that's very tough to do with real estate….[brands] need to be tinier and positioned everywhere or offer on-the-go options to really compete," Newlin said.