With a Pending Acquisition on the Horizon, Tesoro's Q1 Earnings Seem Less Important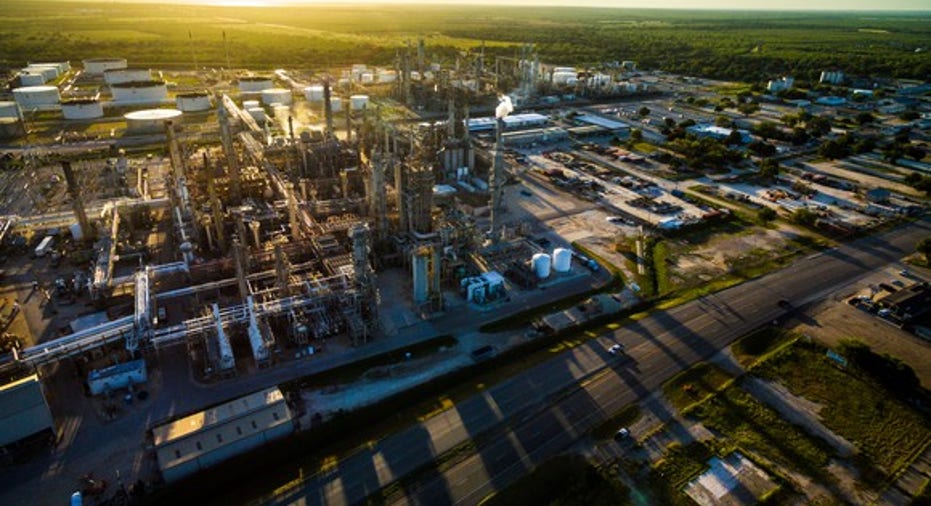 Tesoro's (NYSE: TSO) most recent quarter was like the calm before the storm. While the company did produce improving numbers for its refining business and its logistics investments continue to grow at a decent clip, those results don't include Tesoro's acquisition of Western Refining (NYSE: WNR). With one more hurdle to clear before Western becomes part of Tesoro, this quarter's results don't carry the same gravity as other earnings reports.
Here's a brief look at Tesoro's most recent quarter as well as management's thought process on how to handle some of the quirkier aspects of the Western Refining.
Image source: Getty Images.
By the numbers
| Metric | Q1 2017 | Q4 2016 | Q1 2016 |
| --- | --- | --- | --- |
| Revenue | $6,638 million | $6,652 million | $5,101 million |
| Operating income | $195 million | $224 million | $179 million |
| Net income | $50 million | $78 million | $69 million |
| Earnings per share | $0.43 | $0.67 | $0.58 |
Data source: Tesoro earnings release.
Tesoro's first-quarter results indicated that the market for refining is improving slightly. From an operations standpoint, things didn't change much. Its refinery utilization rates remained at a reasonable rate of 92% compared to 94% in the fourth quarter, and manufacturing costs increased slightly from $5.43 per barrel last quarter to $5.67 per barrel in this most recent report. The slight uptick was mostly related to energy costs.
What made the difference in Tesoro's refining business this quarter were higher realizations. Tesoro's gross refining margin was $9.44 per barrel. That result is slightly down from the fourth quarter, but it was a significant improvement from the $7.59-per-barrel margin this time last year.
Other than refining, Tesoro's logistics business, which is its equity investment in subsidiary partnership Tesoro Logistics Partners (NYSE: TLLP), performed well thanks to a recent acquisition. Its marketing segment, on the other hand, struggled a bit as retail fuel margins declined from adverse weather in California that hampered driving.
Data source: Tesoro earnings release. Chart by author.
Compared to refining segment results from Tesoro's competitorsthis past quarter, these results look pretty good by comparison. One reason for this is that much of Tesoro's refiningcapacity is in the Rocky Mountains and West Coast. Most of its peers are more focused on the U.S. Gulf Coast and Midcontinent Region of the U.S. There isn't a lot of connectivity between these two markets, so inventory levels and refining margins can be quite different from its peers in any given quarter.
The highlights
The most significant announcement during the quarter was that Tesoro's offer to acquire Western Refining was approved by shareholders of both companies. Tesoro's management expects that the deal will close in the second quarter. It also estimates that the combined companies can generate an additional $350 million and $425 million in annual EBITDA (earnings before interest, taxes, depreciation, and amortization) through operational improvements and synergies. Thistarget sounds pretty ambitious considering that Western Refining's total EBITDA over the past 12 months was $561 million.
The other important event worthing keeping track in the coming quarters is Tesoro Logistics' acquisition of gathering and processing assets in North Dakota. The $705 million purchase will add to its footprint in the Bakken shale formation and support Tesoro's two refineries in North Dakota. Tesoro has invested heavily in the Bakken region lately with this most recent purchase as well as one of those North Dakota refineries.
What management had to say
CEO Gregg Goff made a rather interesting comment during the company's conference call regarding Tesoro Logistics Partners. Not only is it looking to bring together Tesoro Logistics and Western Refining Logistics (NYSE: WNRL) under one corporate entity, but it is also exploring the idea of completely restructuring Tesoro Logistics altogether:
That last bit about changes to its incentive distribution rights (IDRs) is interesting because one of Tesoro's peers, Marathon Petroleum, is in the middle of restructuring its logistics partnership, MPLX, to completely get rid of IDRs in exchange for a larger common unit stake in the partnership.
IDRs are management fees that partnerships pay to their respective parent companies. As distributions to common shareholders increase, IDRs get a larger percentage of the available cash pie. Over time, IDRs increase a partnerships cost of capital and make it harder to growth the business.
It looks like Tesoro's management is coming to this realization. Don't be surprised if it decides to exchange its IDRs for common shares, which is a typical way parent companies have eliminated IDRs in the past.
What a Fool believes
Tesoro's performance over the past few quarters has been commendable. It has generated modest profits during a challenging time for refiners in general. Part of Tesoro's success has been its unique position as a West Coast-centered refiner, but it also has to do with well-run operations.
Hopefully, the company's management will be able to apply those operations practices to the Western Refining integration. Considering Western's results over the past couple years, management's estimates of cost savings and operational efficiencies seems a bit ambitious. Once we see a quarter or two of results of the combined company, we should get a more vivid picture of how these two entities will perform as one refining giant.
10 stocks we like better than TesoroWhen investing geniuses David and Tom Gardner have a stock tip, it can pay to listen. After all, the newsletter they have run for over a decade, Motley Fool Stock Advisor, has tripled the market.*
David and Tom just revealed what they believe are the 10 best stocks for investors to buy right now... and Tesoro wasn't one of them! That's right -- they think these 10 stocks are even better buys.
Click here to learn about these picks!
*Stock Advisor returns as of May 1, 2017
Tyler Crowe has no position in any stocks mentioned. The Motley Fool has no position in any of the stocks mentioned. The Motley Fool has a disclosure policy.