With 20 Million Subscribers, Is Apple Music a Threat to Spotify?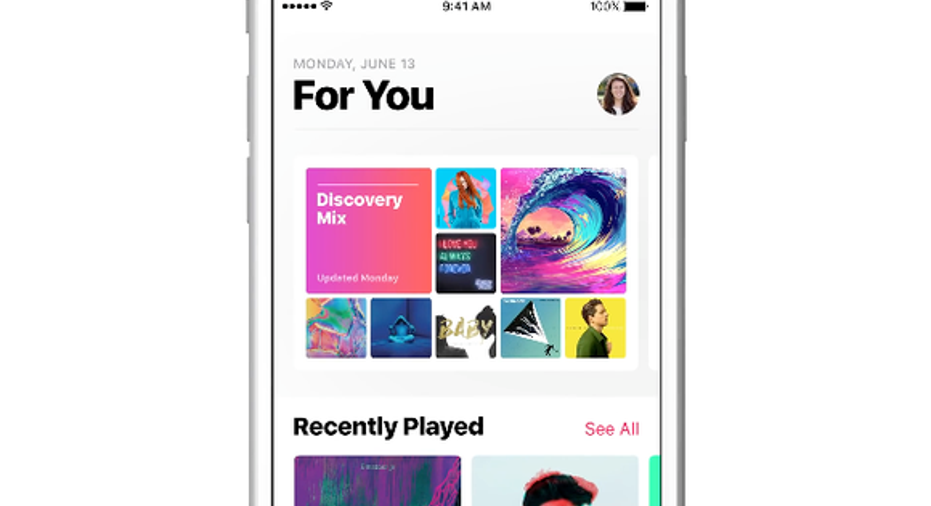 Apple's (NASDAQ: AAPL) streaming music service has crossed 20 million subscribers, the tech giant announced on Tuesday (via Billboard). The milestone highlights rapid growth for the service and shows how the company's fast-growing service is catching up to industry leader Spotify.
Should Spotify be worried?
Apple Music. Image source Apple.
20 million users strong
When Apple launched its latest iPhone in September, the company said Apple Music subscribers had just passed 17 million. Since the iPhone launch, therefore, Apple has added about 3 million subscribers, highlighting impressive growth.
A jump in Apple Music subscribers is likely spurred by a few key catalysts.
To start, new iPhone sales, thanks to the company's refreshed iPhone 7 and 7 Plus and the holiday season, are undoubtedly driving some subscriptions. With Apple Music coming pre-installed on new iPhones, a portion of new iPhone owners may subscribe to the service by default.
In addition, Apple overhauled its Music app this fall, focusing on simplifying the service and improving the user experience. The redesign may have helped with retention of new customers and even sparked customers who unsubscribed in the past to subscribe again.
Finally, recent ads with music stars Taylor Swift and Drake, along with an ongoing emphasis on exclusives with popular artists, are likely helping the service attract new customers.
Taylor Swift in an Apple Music TV ad. Image source: Apple.
However, Apple isn't satisfied with the size of its service. Apple's Internet Software and Products Vice President Eddy Cue told Billboard, "Of course we want more and we want it to go faster -- we're hungry!
Cue put its 20 million subscribers in context by noting that, "There are billions of people listening to music and we haven't even hit 100 million subscribers. There's a lot of growth opportunity."
Apple Music is catching up to Spotify
At 20 million subscribers, Apple Music is beginning to look like a major player next to Spotify. Sure, Spotify's 40 million paying subscribers doubles Apple's 20 million. But Spotify had a huge head start over Apple Music; Spotify hit 10 million paying subscribers in 2014 -- about two years before Apple Music even launched. Apple Music, on the other hand, is just 18 months old. Further, Apple Music's ability to attract 3 million subscribers between September and early December shows the service is clearly still early in its growth curve.
Spotify. Image source: Spotify.
Notably, Spotify has still been growing strongly even after Apple Music's debut. Spotify's paying members have soared from 30 million in March to 40 million in September. So, it's not clear yet whether or not Apple Music can stifle Spotify's growth prospects.
Still, despite Spotify's continued growth, there's good reason to believe Apple Music could evolve into a threat to Spotify. Apple's $50-plus billion in annual free cash flow essentially gives the tech giant free reign to outspend Spotify on advertising, exclusives, and even product improvements. Over time, Apple's big spending on Apple Music could make it challenging for Spotify to compete with the tech giant.
10 stocks we like better than Apple When investing geniuses David and Tom Gardner have a stock tip, it can pay to listen. After all, the newsletter they have run for over a decade, Motley Fool Stock Advisor, has tripled the market.*
David and Tom just revealed what they believe are the 10 best stocks for investors to buy right now...and Apple wasn't one of them! That's right -- they think these 10 stocks are even better buys.
Click here to learn about these picks!
*Stock Advisor returns as of Nov. 7, 2016.
Daniel Sparks owns shares of Apple. The Motley Fool owns shares of and recommends Apple. The Motley Fool has the following options: long January 2018 $90 calls on Apple and short January 2018 $95 calls on Apple. Try any of our Foolish newsletter services free for 30 days. We Fools may not all hold the same opinions, but we all believe that considering a diverse range of insights makes us better investors. The Motley Fool has a disclosure policy.