Winter Storm Slows StoneMor Partners L.P.'s Sales This Quarter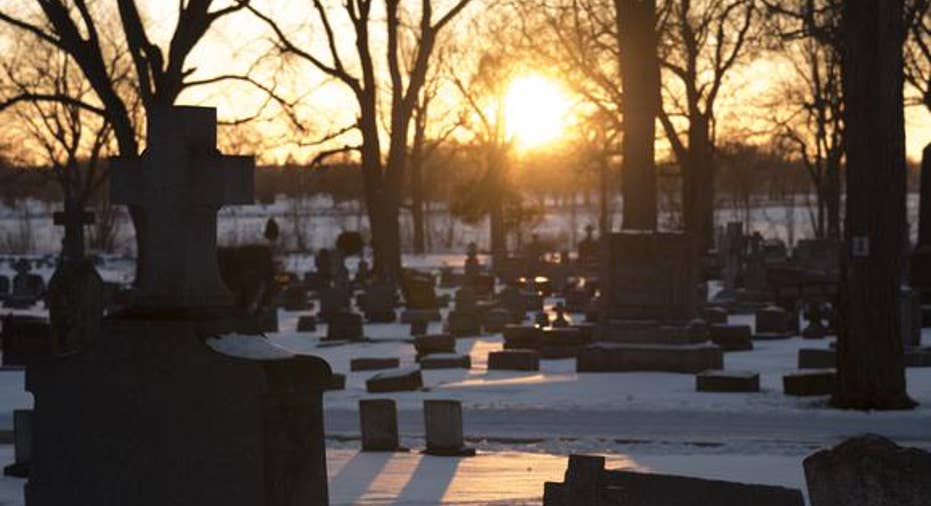 It's fairly common practice for a company to blame the weather when it experiences softer sales, which is just what StoneMor Partners did this quarter. However, few companies can get away with blaming a decline in the death rate as an additional headwind to sales, but that's actually what happened during the first quarter. However, despite a slow start to the year, the company does expect to still meet its full-year targets, because while we can extend life, we've yet to find a cure for mortality.
StoneMor Partners results: The raw numbers
| Metric | Q1 2016 Actuals | Q1 2015 Actuals | Growth (YOY) |
| --- | --- | --- | --- |
| Number of cemetery contracts written | 26,031 | 27,399 | (5%) |
| Adjusted EBITDA | $21.9 million | $21.7 million | 1% |
| Distributable available cash | $29.0 million | $25.9 million | 12.1% |
Data source: StoneMor Partners L.P.
What happened with StoneMor Partners this quarter?StoneMor Partners' cemetery operations were affected by the weather.
The slump in cemetery contracts is mainly due to a blizzard that hit the East Coast during the quarter, which shut down many of the company's properties for nearly a week. In addition to that the company noted that there was an approximate 4% to 6% decline in the death rate quarter over quarter, which also contributed to the decline in sales volume.
Adjusted EBITDA and distributable available cash, however, increased due to stronger cemetery margins after costs decreased 2% while revenue remained constant. Earnings were also buoyed by acquisitions, with the company acquiring four cemetery properties and seven funeral homes over the past six months.
Trust investment and interest income declined by $1.4 million to $12.8 million during the quarter due to the timing of realized gains. Meanwhile, trust fund investment returns were 1.5% during the quarter, or 5.9% annualized.
Corporate overhead expenses for the quarter were $8.2 million, which is 4% less than the year-ago quarter.
Subsequent to the quarter's end, StoneMor completed an equity offering, with the proceeds being used to reduce debt. As a result, total debt declined from $319.6 million to $269.3 million, with the company paying down its credit facility by reducing those borrowings from $151 million to $95.3 million. That gives it ample liquidity to take advantage of its robust acquisition pipeline.
What management had to sayCEO Larry Miller,commenting on the company's results, said:
As Miller notes, StonMor experienced two big headwinds during the quarter. First, rough winter conditions had a noticeable impact on walk-ins, impacting pre-need sales. In addition to that the company also noted that there was a big decline in the death rate. However, that was actually to be expected because last year's first quarter was a particularly brutal one due to a very strong flu season. That was something Tom Ryan, CEO of Service Corporation , noted in its first quarter release. Ryan said that Service Corporation anticipated a challenge in funeral services performed during the quarter because it was going up a tough comparable quarter, which was affected by "the increase we experienced in the prior year quarter from a strong flu season." With the flu milder this year, it led to a decrease in the number of deaths, and therefore funerals performed.
Looking forwardIn looking at what lies ahead, Miller said that:
Miller notes that the company is particularly optimistic about acquisitions going forward, with its pipeline filled with opportunities. That's one reason why it recently restocked its liquidity by raising capital so that it can be in the position to capture these opportunities.
The article Winter Storm Slows StoneMor Partners L.P.'s Sales This Quarter originally appeared on Fool.com.
Matt DiLallo owns shares of StoneMor Partners. The Motley Fool recommends StoneMor Partners. Try any of our Foolish newsletter services free for 30 days. We Fools may not all hold the same opinions, but we all believe that considering a diverse range of insights makes us better investors. The Motley Fool has a disclosure policy.
Copyright 1995 - 2016 The Motley Fool, LLC. All rights reserved. The Motley Fool has a disclosure policy.