Winnebago Hits the Road Rolling on Growth in Towables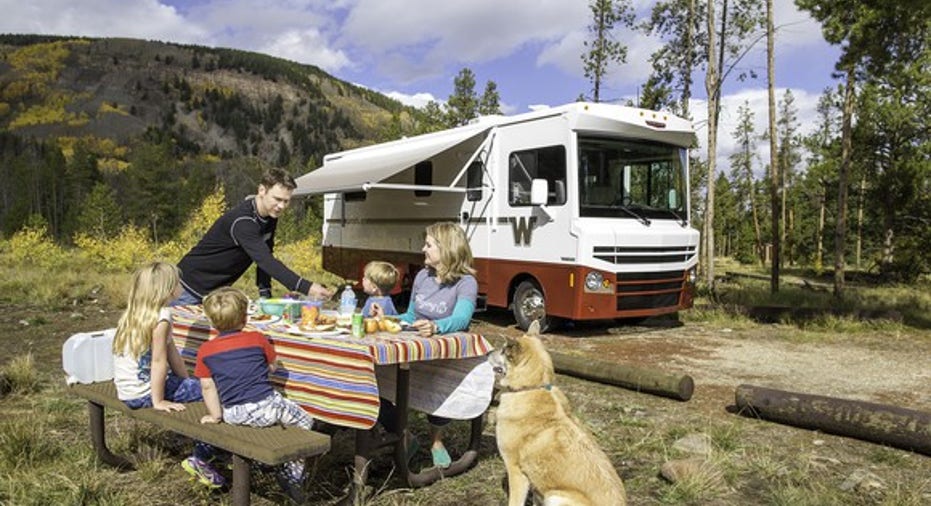 Image source: Winnebago.
The recreational vehicle industry has done extremely well lately, and industry leader Winnebago Industries has sought to take full advantage of the favorable demographic and macroeconomic trends that are supporting the business right now. Given the strength that industry arch-rival Thor Industries has been able to show, Winnebago investors came into Wednesday's fiscal third-quarter financial report with hopes that their company would be able to see the same success. Unlike in past quarters, Winnebago delivered the goods, with strong earnings growth stemming largely from the towables segment of its business. Let's look more closely at what Winnebago said and whether the future looks even brighter down the road for the company.
Winnebago gets into gear
Winnebago's fiscal third-quarter results returned the company to a solid footing among investors. Revenue climbed 2.1% to $272.1 million, which was a nice change from sales declines in recent quarters and was slightly better than what most of those following the stock had expected to see. Net income did even better, climbing by more than 25% to $14.4 million. That worked out to earnings of $0.53 per share, well above the $0.45 per share consensus forecast among investors.
Taking a closer look at Winnebago's results, the company's two major product lines both performed better than they have in previous quarters. The towables segment showed extremely strong growth of 62% in units delivered, with travel trailer unit deliveries climbing by three-quarters and fifth-wheel figures rising 13%. The key motorhome segment enjoyed slower growth of just 12% in deliveries, and some of the same trends that investors saw last year reasserted themselves. Specifically, deliveries of smaller Class B and C motorhomes climbed substantially, with Class C jumping by a third and Class B gaining by nearly a quarter. The large Class A motorhome subsegment performed the worst, however, with deliveries falling by more than a quarter from year-ago levels.
Backlog figures have also continued to show signs of the shift in demand among consumers. Motorhome backlogs were down by a third to 1,513 units, but towables backlogs more than doubled to 412 units. However, in terms of anticipated revenue generation from backlog orders, the motorhome segment is critically important because of its higher dollar-value products. Overall, backlog revenue fell by nearly 30% to $142.6 million.
Still, Winnebago kept working on boosting its operational efficiency. Gross margin climbed by half a percentage point to 11.1%, and extensive reductions of overhead costs led to a gain of 1.6 percentage points on the overhead margin front, which weighed in at 7.6%.
CEO Michael Happe was pleased with the results that Winnebago produced. "The motorized team made solid progress this past quarter in driving a higher level of manufacturing output and addressing the heavy order backlog we carried into the spring," Happe said, "while also working to deliver more consistent levels of product quality." The CEO was also pleased with its wider product lineup in the towables segment, and "elevating our service levels is also gaining further traction."
What's down the road for Winnebago?
One thing that Winnebago is pleased to have put behind it is a dispute in Australia over the company's trademarks. The RV specialist settled the case favorably during the quarter. The quarterly release didn't include terms of the deal, but as Happe points out, the resolution "will allow us to refocus our efforts on exclusively expanding the Winnebago brand and market share in that region."
More broadly, Winnebago expects to come out with a new strategic vision for promoting its brand and marketing new product introductions. By doing so, the RV leader believes that it can build momentum that will help it stay ahead of Thor Industries and other industry peers and continue the pace of growth that it enjoyed during the quarter. At the same time, efforts that Winnebago has made to boost its margin figures have been extremely successful, and the company hopes to keep building on those initiatives as well.
Winnebago investors were extremely happy with the report, sending the stock up 8% in pre-market trading following the announcement. With concerns about past challenges now behind it, Winnebago can focus on using its iconic brand to generate greater sales growth for the remainder of the fiscal year and beyond.
The article Winnebago Hits the Road Rolling on Growth in Towables originally appeared on Fool.com.
Dan Caplinger has no position in any stocks mentioned. The Motley Fool recommends Thor Industries and Winnebago Industries. Try any of our Foolish newsletter services free for 30 days. We Fools may not all hold the same opinions, but we all believe that considering a diverse range of insights makes us better investors. The Motley Fool has a disclosure policy.
Copyright 1995 - 2016 The Motley Fool, LLC. All rights reserved. The Motley Fool has a disclosure policy.