Will Wingstop Provide Tasty Returns?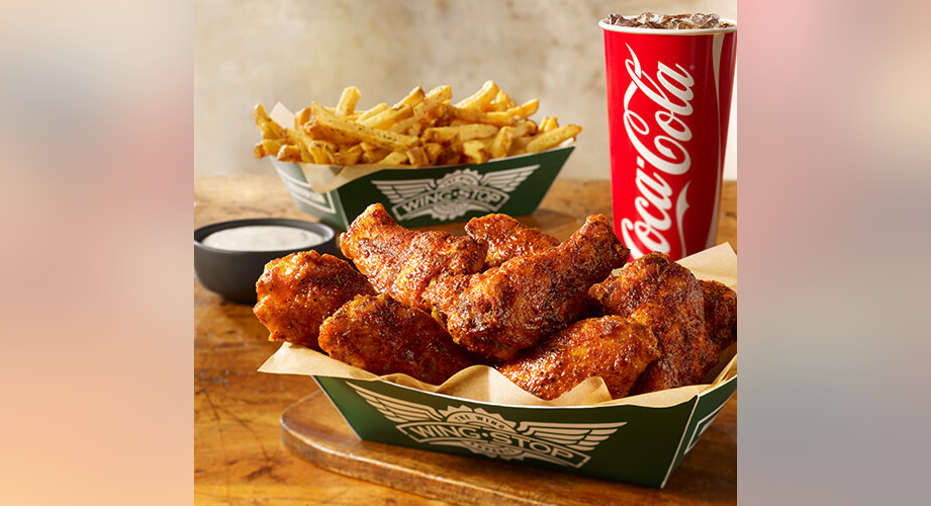 Image Source: Wingstop
Whether Wingstop has been a good investment is a matter of perspective. If you were lucky enough to participate in the initial public offering of $19 per share in June, you should be content with 25% gains. On the other hand, the stock is down considerably from the euphoric post-IPO highs of $35 per share, now sitting near the follow-up offering price of $24 per share.
Wall Street appears positive on the fast-casual chicken wing restaurant. According to data from Thomson Reuters, out of six listed research firms, four have a buy or outperform rating on the stock with Goldman Sachs upgrading its opinion from neutral earlier this month. Overall, these analysts have a median price target of $28 per share, or 17% above the current price.
There are risks, however. Here's what investors need to know about Wingstop.
Can the company continue to grow? Wingstop investors, of which I am one, need to see continued growth in store openings and in domestic same-store sales figures. Last year was a great year, with the company increasing its total store count by 133 units, or 19%, to 845 units. In 2016, the company expects to add an additional 125-130 new units. On the surface, flat unit growth seems slightly disconcerting for the company considering it's valued for growth, but CEO Charlie Morrison remarked in the company's conference call that the company has a pipeline of 530 sold commitments from franchisees, placating my fears. Most of the company's restaurants are franchised, with only roughly 20 being company-owned, and most (93%) being in the U.S.
On the other hand, I'm watching same-store sales closely. Systemwide domestic same-store sales are slowing. Over the last four years, that figure has increased, but not by ever-growing amounts: 13.8% in 2012, 9.9% in 2013, 12.5% in 2014, and 7.9% last year. In the fourth quarter, that figure was 5.9% with management predicting that figure to drop to the "low-single digits" in fiscal year 2016. The company expects total revenue to increase 13%-14% this year, presumably due to the new store counts.
To be fair to management, it's difficult to keep a high same-store sales figure when you're adding new units at a high clip, since same-store sales only include restaurants open at least a year, but to predict low single digits indicates a headwind to growth. The company can continue to grow its top line by opening new stores in the short run, but may have problems attracting new franchisees if same-store sales languish.
Image Source: Wingstop
While not a perfect comparison, Buffalo Wild Wings also expects single-digit same-store sales growth this year. Buffalo Wild Wings has a much higher percentage of company-owned and -operated restaurants, is a true casual dining restaurant versus Wingstop's fast-casual concept, and has a much larger menu. However, the biggest difference is size. Last fiscal year Buffalo Wild Wings reported $1.8 billion in total revenue versus Wingstop's $78 million haul. In light of Buffalo Wild Wing's same-store sales guidance, I'd like to see Wingstop's figures higher, but the company's top-line guidance eases my fear in the short run.
Perhaps the biggest risk is not related to operationsWingstop wasn't the biggest beneficiary of cash during its IPO last year. Of the nearly 6.7 million shares the company sold, 4.5 million were on behalf of other shareholders. The $35 million in net proceeds the company received went to pay down debt and to terminate a management agreement with Roark Capital Management, a private-equity group. After the secondary offering, Roark Capital still controls nearly 50% of the common stock. It appears Roark is looking to exit the position to some degree. If the firm decides to exit the position entirely, it could drive the stock's price down in the short term. In the long run, of course, the company's fundamental performance will drive investor returns.
There are risks, of course, but there always are with small-capitalization companies. With that said, Wingstop appears to be on a roll. With a market capitalization under $700 million, if the company can continue to grow restaurant counts and the top line at the levels it has recently produced, it could end up the company is massively undervalued considering its potential.
The article Will Wingstop Provide Tasty Returns? originally appeared on Fool.com.
Jamal Carnetteowns Wingstop. The Motley Fool owns shares of and recommends Buffalo Wild Wings. Try any of our Foolish newsletter services free for 30 days. We Fools may not all hold the same opinions, but we all believe that considering a diverse range of insights makes us better investors. The Motley Fool has a disclosure policy.
Copyright 1995 - 2016 The Motley Fool, LLC. All rights reserved. The Motley Fool has a disclosure policy.