Will Wells Fargo Raise Its Dividend in 2016?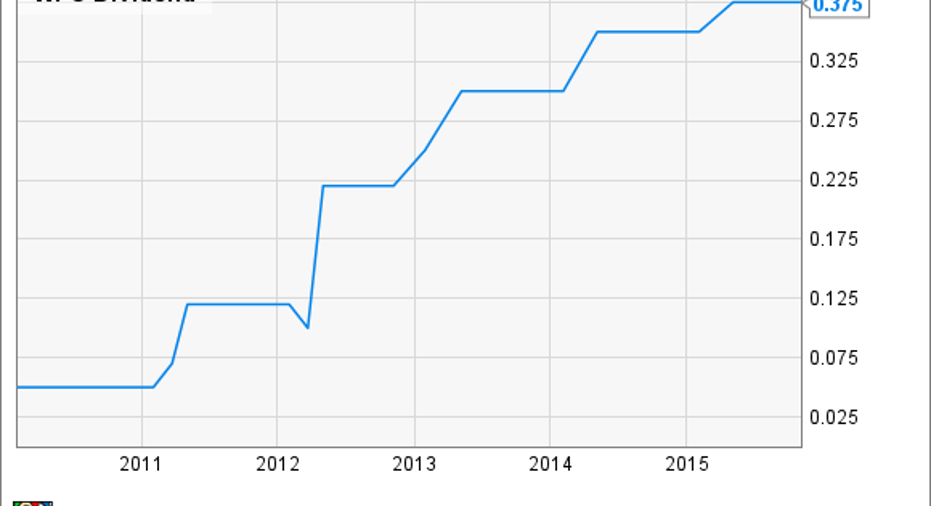 Wells Fargo ranks among the best in the business when it comes to returning capital to shareholders. It's for this reason, elaborated on below, that I believe the nation's soon-to-be third biggest bank by assets is likely to increase its dividend in 2016.
The most obvious reason that shareholders can expect Wells Fargo to increase its dividend this year is that it's already all but said that it will. When asked at an industry conference last month about the importance of raising its dividend payout ratioin 2016, CEO John Stumpf said:
To this end, the California-based bank's goal is to return between 55% and 75% of its earnings each year to shareholders via dividends and share buybacks. It remains to be seen exactly where Wells Fargo's total payout ratio will end up for 2015, but it's trending toward 60% based on the first three quarters of the year. This leaves ample room for growth given that the figure is at the low end of the bank's target range.
The last five years have borne this out. Wells Fargo has raised its dividend every year since the financial crisis. Its most recent increase, in the first half of 2015, amounted to a 7% boost. A pattern has emerged, in other words, suggesting that Wells Fargo puts its money where its mouth is.
Finally, as Stumpf alluded to above, there's reason to believe that Wells Fargo's earnings per share will continue to increase in the year(s) ahead. Higher interest rates should fuel its net interest income -- the amount of money a bank makes from borrowing money from depositors and reinvesting the funds in higher yielding interest-earning assets -- which will boost its bottom line. Additionally, Wells Fargo's share repurchase program is reducing the number of its shares outstanding.
These forces have pushed the bank's earnings per share (on a trailing 12 months' basis) up from less than $3.90 in 2013 to more than $4.13 in the third quarter of last year. Without offsetting increases to its dividend, in turn, Wells Fargo's payout ratio would otherwise fall.
The only reason to think that Wells Fargo wouldn't raise its dividend in 2016 is if it runs into problems on the 2016 stress test, the results of which are due in March. As a systematically important financial institution, the Federal Reserve has veto power over Wells Fargo's capital plans. But there's little reason to think that the central bank would use that power to second-guess Wells Fargo, which has a clean record when it comes to the stress tests and employs one of the most profitable and conservative business models in the industry.
Long story short, it seems clear (to me) that Wells Fargo will increase its dividend for a sixth consecutive year in 2016.
The article Will Wells Fargo Raise Its Dividend in 2016? originally appeared on Fool.com.
John Maxfield has no position in any stocks mentioned. The Motley Fool owns shares of and recommends Wells Fargo. The Motley Fool has the following options: short January 2016 $52 puts on Wells Fargo. Try any of our Foolish newsletter services free for 30 days. We Fools may not all hold the same opinions, but we all believe that considering a diverse range of insights makes us better investors. The Motley Fool has a disclosure policy.
Copyright 1995 - 2016 The Motley Fool, LLC. All rights reserved. The Motley Fool has a disclosure policy.