Will Vera Bradley Inc. Sink or Swim in 2016?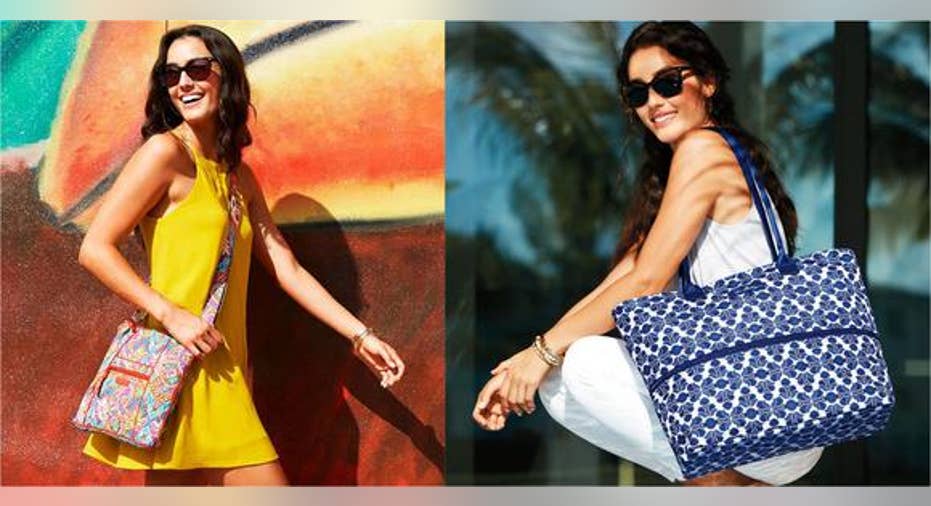 Shares of Vera Bradley have surged more than 40% over the past six months, thanks to rebounding sales and earnings growth for the handbag and accessories company. However, that recovery is more tepid than the price growth suggests -- sales only rose 1% annually to $154 million last quarter, while net income fell 9% to $15.7 million, or $0.41 per share. Nonetheless, those numbers beat revenue estimates and matched on the bottom line. Let's take a closer look at Vera Bradley's business to see how the stock might fare this year.
Source: Vera Bradley.
To sink ...The "affordable luxury" market that Vera Bradley caters to can be a tough one to thrive in. A key problem is that employing steep promotions or selling products through outlet stores boosts sales but can cheapen overall brand appeal. If a brand loses that "luxury" reputation, consumer price expectations fall even further, reducing margins and making it tougher to sell high-priced items. This is the trap that ensnared affordable luxury players likeCoach , Michael Kors , and Vera Bradley in the past few years.
The problem with Vera Bradley is that its positive sales growth is driven by new store openings rather than rising comparable store sales. Although revenue rose 1% year-over-year last quarter, its total comps, including e-commerce, actually fell 4.6%. This means that if Vera Bradley hadn't opened 15 full-line and 11 factory stores during the quarter, its revenue would have declined. This also means that sales at its established stores are still falling year-over-year. The company attributes that decline to its intentional reduction of promotional activity, which boosted margins but reduced both online and brick-and-mortar traffic.
This ensnares Vera Bradley in a catch 22 -- to strengthen its bottom line, the company must reduce promotions, but to generate stronger sales that feed into the bottom line, it must increase promotions or open new stores. Unless the company can break this cycle, it could run out of room to expand and need to start closing weaker stores. Vera Bradley alsohas a trailing P/E of 27 times, lower than Coach (30) but much higher than Michael Kors (14) and the industry average (18).
Source: Vera Bradley
... or swimOn the bright side, Vera Bradley' elimination of "hyper-promotions" between 60% to 70% off and a 20% reduction in promotional days in 2015 strengthened its gross margins, which rose 580 basis points annually to 58.2% last quarter. Combined with new designs, they could help the company regain some pricing power. Vera Bradley also believes that higher-margin MFO (made for outlet) products can help it firmly establish a boundary between its cheaper and pricier offerings.
That approach somewhat resembles Coach's turnaround strategy, which required scaling back its outlet stores, reducing its store count, removing logo bags from outlets, and hiring Loewe and Mulberry designer Stuart Vevers to remake its handbags. Thanks to that comprehensive strategy, Coach now expects "low single digit" sales growth in 2016, compared to a 13% decline in 2015.
Even though Vera Bradley's comparable store sales most recently fell 4.6%, it still represents a major improvement from the 9.5% decline seen in theprevious quarter and a 14.4% decline a yearearlier. If that trend continues and comps growth turns positive, the company wouldn't need to depend on new store openings to generate top line growth. Add expanding margins, and Vera Bradley could finally post sustainable top and bottom line growth.
Analysts believe that the company will generate 2.8% sales growth this year and 4% next year. Earnings are expected to rise 12.5% annually over the next five years, which gives it a 5-year PEG ratio of 1.7. While that ratio doesn't fall within the "undervalued" threshold of one or less, it's much lower than Coach and Michael Kors' respective PEG ratios of 2.4 and 3.2. That makes Vera Bradley a better value in terms of earnings growth potential.
The verdict: Vera Bradley will swimFor now, the odds are in Vera Bradley's favor. As long as its reduction of promotions keeps boosting margins and comparable store losses continue to narrow, the company's sales might eventually strengthen without the crutch of new store openings. If that growth translates to the double-digit earnings growth Wall Street expects, the stock could even outperform its peers over the long-term.
The article Will Vera Bradley Inc. Sink or Swim in 2016? originally appeared on Fool.com.
Leo Sun has no position in any stocks mentioned. The Motley Fool owns shares of and recommends Coach. The Motley Fool owns shares of Michael Kors Holdings. Try any of our Foolish newsletter services free for 30 days. We Fools may not all hold the same opinions, but we all believe that considering a diverse range of insights makes us better investors. The Motley Fool has a disclosure policy.
Copyright 1995 - 2016 The Motley Fool, LLC. All rights reserved. The Motley Fool has a disclosure policy.